With an endorsement from Andre Agassi and Steffi Graf, you've got to take a look at Head Racket Sport's new YouTek Six Star. The Six Star utilizes Heads YouTek technology, which incorporates different technologies in one frame.The Six Star has the new Inner and Outer QuadFace, which extend the stringbed at key points of the frame providing longer strings and an enlarged sweetspot resulting in maximum power. Unlike the Two Piece Control Ring used in the YouTek Five Star, the Six Star is outfitted with a Four Piece Control Ring, which in addition to the 2 and 4 o'clock positions, adds on to the 8 and 10 o'clock positions to provide even more control.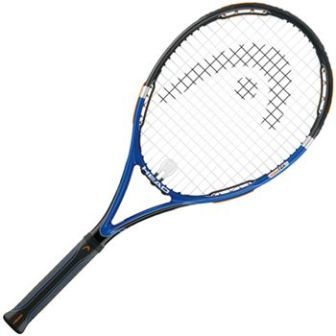 The Six Star is considered a "game-improvement" racket, which means that it's designed to really let you experience the sweet spot of the racket.  No more framing the ball, and it provides better accuracy and fewer mis-hits to those who really want to improve their groundstroke and volleying game.  And while the pro's generally use smaller-head rackets for more control, power and flexibility, the Head Six Star rivals those smaller rackets because of its weight and QuadFace design.The Six Star also has Multizone Grip, which offers players greater comfort and control during play thanks to its unique, smooth, sweat-absorbing non-slip surface. The Six Stars 107 square inch head provides players with a forgiving and large sweetspot.
A 9.6-ounce strung weight also makes this stick very mobile at any position on court, and a 27 1/3″-length will give players extra leverage on both serves and groundstrokes.I really like this racket.  Historically, "game-improvement" rackets have been some what of a handicap for me because, while they really allow you to strike the ball with accuracy, they don't provide the mobility of a tournament racket that many of the pro's use.  The Head Six Star is different.  It has all of those "game-improvement" qualities, but the racket glides through the air like a smaller, more mobile racket.  It really combines the best of all worlds.  The Head Six Star is probably the best "game-improvement" racket you can buy, and I wouldn't be surprised if a couple of ATP or WTA ranked-players switch to this new Head phenom.
MSRP: Around $249
Published on May 26, 2010