iQapps has announced their Trip Journal 5.0 (www.trip-journal.com) for iPhone, with full Facebook integration to share vacations in real-time with friends and colleagues from anywhere in the world.  Trip Journal 5.0 utilizes iPhone's GPS features to geographically mark photos, media, journal entries and more on an interactive map, which are all instantly uploaded and viewable to Facebook friends.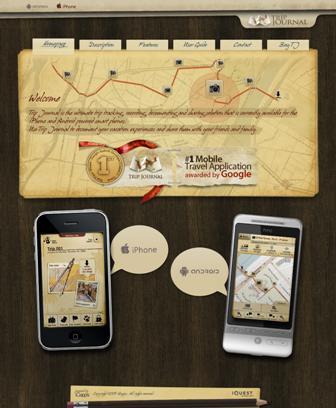 Friends charting a trip can comment on and interact with uploaded content, and the traveler receives instant notification of all replies.  Trip Journal 5.0 also features direct uploads to Flickr, Picasa, Twitter and other social networking hubs to create the best interactive travel experience available for iPhone.
Trip Journal 5.0's new features include:
Live GPS-enabled trip sharing with all your Facebook friends — share your vacations around the globe right as they happen, and instantly receive feedback and comments from friends as they chart your journey with envy
Fully interactive map, route, photo, media, comment and waypoint features all tied to iPhone straight from your Facebook profile
The most advanced utilization of iPhone GPS for Facebook travel-sharing to-date
Upload media photo and journal entry content instantly to dozens of other sites, including Twitter, Picasa, Flickr and more directly from the application
Trip Journal can also manage several trips simultaneously, allowing multiple travelers to share their vacations from a single iPhone.  Available for other smartphone platforms as well, Trip Journal creates a real-time travel sharing experience with superior versatility and convenience.
"Trip Journal 5.0 creates a whole new interactive experience for the global adventurer," said Radu Iuhas, Product Director for iQapps.  "Stream your vacation live through Facebook, right from your mobile device, from anywhere in the world to your friends at home.  Tying Facebook and iPhone together through the Trip Journal offers a whole new way to share your travels."
Trip Journal 5.0 is available at the iPhone App Store as a free upgrade to all existing Trip Journal users.  The app received a $100,000 prize from Google for innovative concept and design in December 2009.  For new customers, a special promotional price of $0.99 will be available, followed by its standard price of $2.99.  Trip Journal has been recognized as the #1 Google Awarded Travel Application with for the best trip tracking, recording, documenting and sharing features currently available for the iPhone.
www.iqapps.eu, available for Android as well
Published on May 28, 2010