Amazon.com Inc., the world's largest online retailer, plans to introduce the next version of its Kindle electronic-book reader in August, according to two people familiar with its plans.
The device will be thinner and have a more responsive screen with a sharper picture, the sources said, who didn't want to be identified because the plans aren't public. The new Kindle won't include a touch screen or color, they said.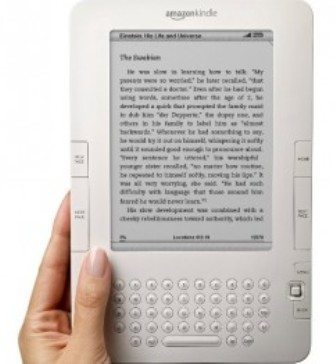 Amazon.com, which introduced the Kindle in 2007, faces increased competition from Apple's iPad, a tablet device that lets users browse the Web, watch video and read digital books. The company also faces a renewed  hallenge from Sony Corp., which introduced a touch-screen e-reader last year. Sony also added a service that lets users download books wirelessly, matching a feature of the Kindle. Amazon.com Chief Executive Officer Jeff Bezos said this week that the company was concentrating on wooing committed book readers and that a color display screen is "some ways out."
"I've seen some stuff in the laboratory, but it's not quite ready for prime-time production," Bezos said May 25 at the company's annual shareholder's meeting. The Kindle uses a black-and-white screen that mimics the appearance of paper.
The new version will have sharper contrast that makes e-books look more like real books, the people familiar with the product said. The delay during page turns also will be shortened. The iPad, meanwhile, uses a full-color LCD screen.
About 6 million e-readers will be sold this year, up from 3 million last year, according to Forrester Research Inc. The Kindle has about 60 percent of the U.S. market, followed by Sony with 35 percent, the Cambridge, Massachusetts-based research firm estimates. Earlier this year, Amazon.com bought a company called Touchco, which specializes in touch-screen technology, according to the people.
Published on May 31, 2010