Combining a high-performance NVIDIA® ION™ graphics processor with a choice of energy-efficient dual-core Intel® Atom™ 330 or single-core Atom™ 230 processors, the ZOTAC MAG delivers an eco-friendly computing experience that still packs a performance punch in a compact 186mm x 189mm x 38mm package.
"As users start equipping every room in their house with computers for a true networked digital home experience, space and power conservation becomes an issue, especially for larger houses," said Carsten Berger, marketing director, ZOTAC International. "With the ZOTAC MAG series, we're providing users with a system suitable anywhere inside a house. The compact size, performance and energy efficiency makes the ZOTAC MAG perfect for all computing uses."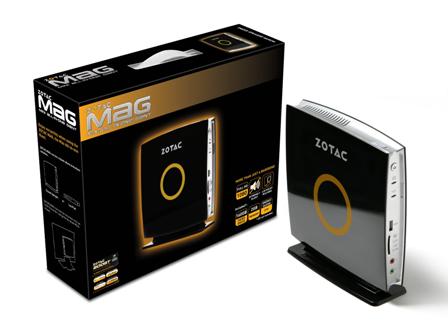 The ZOTAC MAG is the world's first system to combine a slim chassis with sleek good looks and a completely ready to use system, but still let owners select their own operating system. Whether it's Windows XP, Vista, 7, 32-bit, 64-bit or Linux, the ZOTAC MAG ships without an operating system so the end user can choose what they want to run. Inside the ZOTAC MAG, a 160GB hard drive and 2GB of DDR2-800 memory join the NVIDIA® ION™ graphics processor and Intel® Atom™ processor for a complete system. You need only add a keyboard, mouse, choice of a display and operating system.
"We evaluated the market demands for miniature PC systems and every user has different operating system preferences for their digital home connected PCs. By letting the end user select the operating system they want to load, they're in control of making it the perfect digital home connected system for their preferences," Mr. Berger added.
In positioning the ZOTAC MAG, you have a few options. You can lay it flat on a surface, on it's stand or mounted to the back of a monitor with VESA mounting holes.  The ZOTAC MAG features an array of connectivity options with compatibility with current standards, including eSATA, 6 USB 2.0 ports, Gigabit Ethernet, VGA, HDMI (Full HD 1080p compatible), optical S/PDIF output and a 4-in-1-memory card reader (SD/MS/MS Pro/xD). Wireless 802.11n WiFi is also integrated for quick network transfers. It's time to play with the ZOTAC MAG – the world's first everywhere PC.
General details
New ZOTAC MAG systems
World's first everywhere PC
NVIDIA® ION™ graphics processor
Intel® Atom 330 or 230 dual or single-core processors
2GB of DDR2-800 memory
160GB 5400RPM HDD
Dimensions: 186mm x 189mm x 38mm
Stand and VESA monitor mount included
No operating system installed
Gigabit Ethernet
802.11n WiFi integrated
4-in-1 memory card reader (SD/MS/MS Pro/xD)
NVIDIA® CUDA™ technology
NVIDIA® PureVideo™ HD technology
Priced at around $300, the main difference between the ZOTAC MAG and the ZOTAC ZBOX line which I wrote earlier about, is the ZOTAC MAG ships as a complete mini-PC that's ready to use and only requires installation of your favorite operating system. The ZOTAC ZBOX series, on the other hand, is a barebones solution that lets you install your own SO-DIMM memory and 2.5-inch SATA hard drive or solid-state drive.
The ZBOX features a new case design that makes it DIY friendly and only requires two thumb screws to open up and one thumb screw to secure the hard drive in place. The ZBOX also has additional ventilation holes for enhanced cooling properties – additions only made possible by the revised case that's slightly thicker than the ZOTAC MAG.
Nevertheless, both the ZOTAC MAG and ZBOX ship with a stand and VESA monitor mount that lets you place the mini-PCs in 4 different ways – flat on a surface, standing up or bolted to the back of a VESA 75/100 compatible monitor or television. The VESA mount can be used as a wall mount for a stealth behind-the-TV/monitor install or shown off to everyone.
The MAG is a very inexpensive but powerful box.  I installed three different types of OS's, and they worked right from the gun.  And because the MAG is an all-in-one solution, it can literally take the place of almost any PC you have in the home or office…..with the added convenience of its size, allowing you to fit or retro-fit the unit literally anywhere.
I love these types of PCs.  Nothing extra installed.  It gives you power, compactness, and all the necessities to run some serious computing jobs. And its perfect for the 1st-time PC custom builder who wants a backbone of hardware, but can negotiate other features as he sees fit.  Great value.  This is a winner.
Published on June 7, 2010