Savant™ Systems LLC announced the introduction of two premium iPad in-home application docks that enable you to operate your iPad from a desktop or in-wall cradle. Savant's new docks allow you to purchase five, six, even seven iPad controllers for the price of one traditional touch panel. Savant has changed the landscape of home control and entertainment by leveraging the speed, power and affordability of the Apple iPad.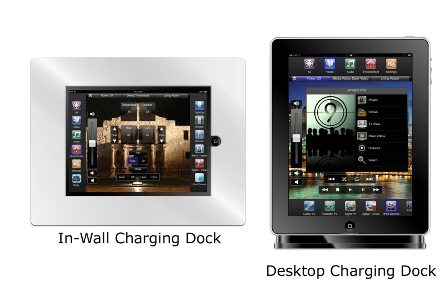 Both the desktop and in-wall docks enable you to take full advantage of Savant's extensive experience writing Apple software applications for the home automation market place, resulting in an iPad-based control solution with rich graphics that is easily tailored to the needs of each end user. Savant has established the iPad as the most powerful and versatile portable device for any home, and combined with the company's legendary On-Screen Display (OSD) technology, has raised the bar with easily customizable, user-friendly operability.
"With Savant's iPad app, you have an Apple machine talking to an Apple machine," explained CEO Robert Madonna. "Savant controllers have an Apple computer embedded internally and our user interface was engineered specifically for the iPad, making traditional control applications look antiquated by comparison," Madonna added. "Our first-to-market dock products make it possible for Savant dealers to provide far more overall system value at a fraction of the cost to the consumer than with any other competitive automation technology," Madonna concluded.
Savant's configuration tool enables integrators to custom build iPad-based solutions requiring dramatically less programming and set-up time than traditional control platforms. Savant's Desktop Dock (MSRP $350) transforms the iPad into a cost-effective desktop touch panel that powers the iPad while allowing for full navigation of Savant's automation and control solutions as well as the numerous applications available for the iPad. The dock safely secures the iPad without sacrificing the convenience or portability of the device in any way. Savant's desktop package is comprised of a charging cradle and power supply.
Savant's In-Wall Dock (MSRP $500) secures the Apple iPad within an attractive housing, making it easy for the homeowner to utilize the iPad as the most powerful and cost-effective touch panel interface on the market. The in-wall dock supports both landscape and portrait (horizontal and vertical) installation configurations and provides a removal notification warning, which will alert you if the iPad has been removed from the dock without authorization. The In-Wall Dock is comprised of a docking cradle paired with a low-profile magnetically attached faceplate.
A dealer of Savant's products, Craig DeAndrea of Woodbridge Stereo Video, says, "We had an end-user reach out to us who owned a legacy automation system in his theater room, along with a totally independent keypad- based multi-room audio system. This client expressed an interest in finding the most advanced iPad-based control option, so we designed a Savant package for the customer that accommodated all of the automation expectations for the entire home. Set-up and customization with Savant is an intuitive and efficient process—programming time was tenfold less than the old legacy solution. Savant's iPad-based system is fast, stable and completely reliable; the client couldn't be more thrilled."  www.savantav.com
Published on June 14, 2010