eMachines latest, the Mini-e ER1402, has a very slick integrated stand that makes it look almost like a piece of furniture. It's not shy on specs either.  The Mini-e ER1402 sports an AMD Athlon II Neo CPU, NVIDIA GeForce 9200 GPU, 2GB DDR3 RAM, 4 USB 2.0 ports,built-in card reader, 160GB HDD, HDMI port and 802.11b/g/n WiFi.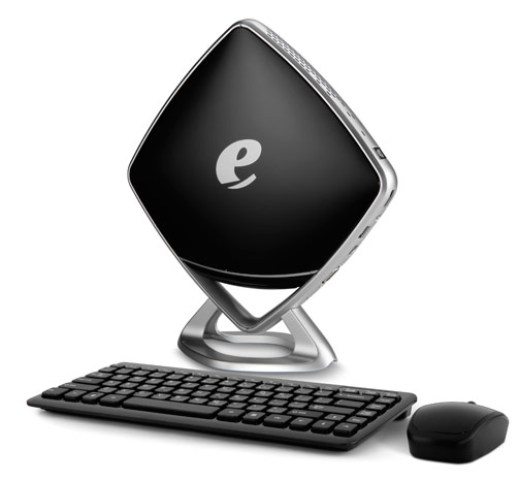 It also has the ability to connect to most HDTVs for multimedia viewing, and it's portable enough to transfer it to any room with little work, or even take it on the road for hook-up to an external monitor.
The Mini-e ER1402 is available now for $299.99.  Here's the release….
New eMachines Mini-e Creates the Ideal Home Entertainment Center with a Perfect Balance of Compact Design, Features and Affordability

Looking More Like Modern Art Than Computer, the eMachines Mini-e ER1402 Small Form Factor Desktop is a Great Addition to Any Home

June 25, 2010 08:03 AM Eastern Daylight Time

IRVINE, Calif.–(EON: Enhanced Online News)–eMachines® today introduced its newest and most radically designed small form factor desktop, the Mini-e Home Entertainment Center. The size, weight and thickness of a small book, the unique glossy black diamond shaped chassis "floats" in a matte silver pedestal, while emitting a soft ambient green glow along the lower edge.

"It's an inconspicuous, streamlined computing solution for any room of the home where consumers want to enjoy movies, photos, music and other online entertainment."

Just 7.1 inches in diameter and weighing just 9 pounds, the slim and compact Mini-e ER1402 provides full HD multimedia entertainment and every day computing capabilities. While it looks great in a main living area, it can also snap to the back of most monitors or TVs, serving as a home entertainment center and streamlining limited work areas.

Simple to set up and enjoy, the Mini-e has built-in 802.11 b/g/n wireless, making it easy to connect to the Internet. The HDMI interface allows it to instantly connect to a big screen TV and an S/PDIF port allows the system to digitally connect to a home audio system. With the included wireless keyboard and mouse, families can easily play popular flash-based social media games, surf the web, view and edit photos, stream video content from Netflix® or Hulu®, or watch HD movies comfortably from the sofa.

"Today's cost-conscious consumer will find style, features and affordability come together beautifully in the low-cost eMachines Mini-e," said Steve Smith, senior business manager, consumer desktops for eMachines. "It's an inconspicuous, streamlined computing solution for any room of the home where consumers want to enjoy movies, photos, music and other online entertainment."

Powered by Microsoft Windows® 7 Home Premium 64-bit, an AMD Athlon™ II NEO Processor, NVIDIA® GeForce® 9200 graphics and 2GB of memory, the ER1402 is also powerful enough to be used for basic computing tasks, such as word processing, VOIP calls, email, spreadsheets or managing family finances.

Its intelligent design provides excellent airflow around the CPU, while ports and slots arranged around the sides allow quick and easy access and convenient cable management.

The ER1402 includes four USB 2.0 ports, a multi-in-one digital media card reader and a 160GB(1) hard drive. A mounting kit, available as an accessory, enables it to be easily attached to the back of a flat-panel monitor or a big screen TV.

The eMachines ER1402-05 is available now from leading retailers nationwide for $299.99.