The TruLink 1-Port 60 GHz WirelessHD Kit enables high definition wireless transmission between your television and your HDMI components. You can have full HD 1080p signal from your computer, Blu-ray player, set-top box, gaming console or other HDMI device to your HDMI-enabled television. The 60 GHz transmission capability means greater flexibility in your home theater setup by allowing you to place the in-room components up to 33 feet apart.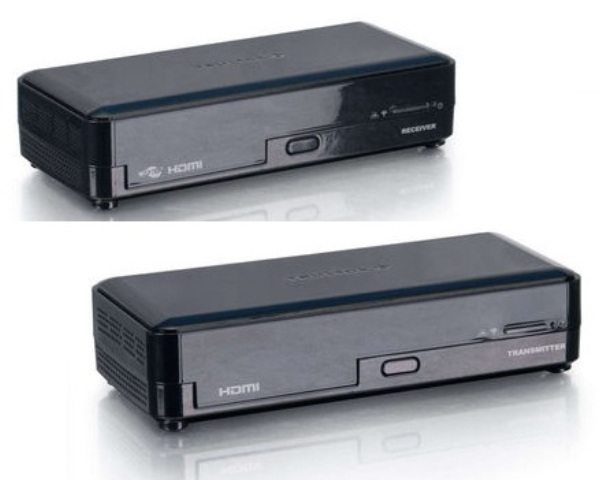 The TruLink kit, which includes the wireless transmitter and wireless receiver, is nice because you don't have to wire and cable it. By offering true uncompressed audio/video transmission, the TruLink WirelessHD kit is a quick, convenient and reliable cable replacement. This plug-and-play solution requires no software, no drivers and no setup. Simply connect the receiver with the HDMI component and instantly transmit content to your television.
Here are some specs……
Supports wireless transmission up to 33ft/10M in-room (longer distances may be supported depending on the environment
Plug-and-play solution means no drivers, software, or setup required
Auto Power function will automatically turn off the attached component when the transmitter is turned off
Transmitter and receiver each have on/off switch to conserve power when not in use
Transmitter and receiver are wall-mountable
WirelessHD 1.0 certified
Meets Digital Transmission Content Protection (DTCP) protocol
Compatible with other WiHD enabled consumer electronics bearing the logo
Supports Deep Color, x.v.Color Dolby True HD, and DTS-HD Master Audio
FCC and CE approvals
36 antenna array provides a strong wireless signal
Data transfer rates of up to 4 Gbps
Supports true uncompressed [email protected] resolutions
Supports 7.1 channel surround sound
[adsense]
With the kit, you get One 60 GHz Wireless HDMI Transmitter, One 60 GHz Wireless HDMI Receiver, Two 1.2m HDMI v1.3 cables, One IR (Infrared) Remote for power control, Two 12V DC Power Adapters (1.5m cable length), One wall mounting bracket for the receiver and not a bad-written User Manual.  You do need an HDMI port to use this, however, besides that this kit is a breeze to setup and use.  And the video quality is the best I've seen in a wireless transmission device.  Below is listed some requirements should you choose to purchase one of these.
System Requirements:
Available HDMI port on connected component, Available HDMI port on television/monitor
Processors:
Primary Processor LPC2106

Secondary Processor Sil9134 (Receiver) Sil9135 (Transmitter)

Memory:
Black/White printing ink

TRULink logo engraved

Interface:
HDMI® 1 Port HDMI V1.3 input (Transmitter)

HDMI 1 Port HDMI V1.3 output (Receiver)

Wireless:
60GHz: 36 Antenna Array Ceramic package

Range: 10 meter in-room

Transmitting Power: 27dBm (Receiver)

Receive Sensitivity: -65dBm (Receiver)

Transmit Power: 17.5dBm (Transmitter)

Reset Button: Pin hole switch on side

Power Switch: On/Off (hard shut-off)

LEDs: Power; Strong; Weak; Link (signal indicators)
Operating Environment
Operating Temp. 0°C to 40°C

Storage Temp. -30°C to 70°C

Operating Humidity 10% to 90% Non-Condensing

Storage Humidity 5% to 90% Non-Condensing

Power Consumption
13.32W/12.12W(Max/Typ),

Sleep mode 2.5W

External Power Supply
AC 90-230V @ 60Hz input,

DC 12V 1.5A output

Dimensions
Unit Size: 187 x 85 x 45.5 (Transmitter and Receiver)

Unit Weight: (g) 367g+/- 10g
While the TruLink 1-Port 60 GHz WirelessHD Kit retails for around a salty $500, it is a perfect accessory for your media center, and the price is well worth the headaches of wiring other like-devices. Best of all, you really don't lose any transmission quality, even though it's wireless.
Published on July 21, 2010