The perfect combination of fuel efficiency, torque, power, and weight, the STIHL MS 362 C-Q is engineered to save pro users both time and money.  It features advanced engine technology, and delivers up to 20% greater fuel efficiency and 70% fewer emissions compared to previous models.
Designed for logging, thinning, arbor work and large woodcutting jobs, the MS 362 CQ chain saw features a new pre-separation air filtration system that allows for fewer filter changes and longer runtimes. The simplified starting procedure gets you started quicker, while the advanced anti-vibration system allows you to keep working for longer periods of time and with greater comfort.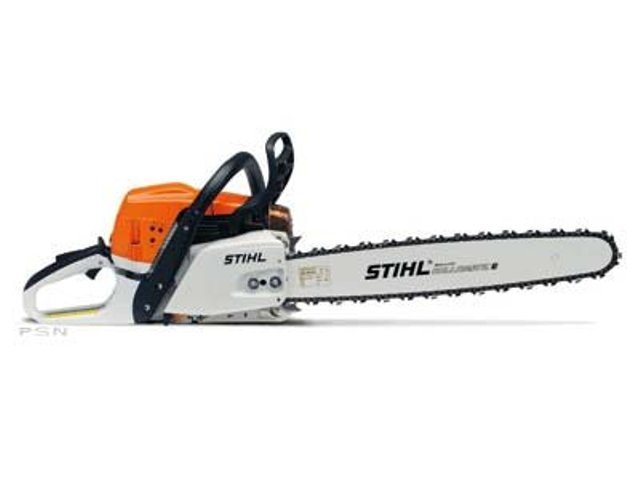 Other features of the MS C-Q include a toolless fuel and oil cap with retainers, side-access chain tentioner, and decompression valve. The STIHL MS 362 C-Q has the patented STIHL Quickstop® and a second manually-activated chain braking system. This means double the safety, and very little chance of serious accidents.  Additionally, as part of a new platform design concept, the MS 362 C-Q allows for quicker, more streamlined serviceability from your local STIHL dealer.
I had a chance to use the STIHL MS 362 C-Q, and it was a treat. When it comes to the hard work of felling trees and cutting them into firewood, there's just no substitute for the chain saw. A couple of hours with the STIHL is enough to prepare a pickup-full of firewood or to whittle down a big pile of brush created by a windstorm that just swept through.
Chain saws have been around for nearly 90 years and have improved steadily all along. The STIHL MS 362 C-Q has really taken more than just a steady step forward in this category.  While it's easy-starting, well-mannered and high power-to-weight ratio specs are nice, the MS 362 C-Q cuts with a vengeance. In fact, it's so good, it's hard to find any fault with this model.
Still, clear differences emerge between homeowner and pro ­models. The STIHL MS 362 C-Q would qualify as definitely a pro model.  And with so many features, particularly the QuickStop feature and the advanced anti-vibration system, the 362 C-Q stands alone.  STIHL also pays particularly close attention to the little details to make life easier- like the toolless fuel and oil cap with retainers, the side-access chain tentioner, and the decompression valve.  All of these seemingly simple renovations seem to really round-out the 362 C-Q.
[adsense]
If you're looking for a serious machine, try out the STIHL MS 362 C-Q.  It won't disappoint, and is easily the best pro-model chainsaw out on the market.  Retails for around $800-$900.
Here are some specs……
STIHL Quickstop® and second chain braking system
Advanced engine technology (low fuel consumption and reduced emissions / more power)
Pre-seperation air filtration system
Advanced anti-vibration system
Toolless fuel and oil caps with retainers
Side-access chain tensioner
Decompression valve
STIHL OILOMATIC® saw chain. STIHL makes its own saw chain.
Ematic™ bar includes a polymer ramp reservoir which holds bar oil until it can be picked up by passing chain. This can reduce oil usage by up to 50%.
Bumper spikes provide better control, making cutting easier.
Spark arrestor muffler has large baffles which reduce noise level and contain a screen designed to reduce the emission of sparks.
STIHL Quickstop® chain brake system is designed to stop the chain in fractions of a second. Can be manually activated or activated by inertia, if the kickback force is sufficient.
Front hand guard designed to reduce the risk of injury.
Front handle is designed for a secure grip and ergonomically angled for comfort.  Protected spark plug – protected, yet easy to change.
Large starting handle is easy to grip.
Smooth clean design has no rough edges to snag on clothing or brush.
Air filter cover is easy to remove for fast and easy filter cleaning or replacement.
Master Control Lever™ is a single lever operating the choke, starting throttle lock and on-off switch.
Rear hand guard reduces the risk of injury, as well as providing wide area for foot placement during starting.
High-tech polymer housings are lightweight, withstand greater impact, and are corrosion-resistant.
Translucent fuel tank allows operator to easily check fuel level before starting work.
Anti-vibration system helps reduce operator fatigue.
Toolless fuel and oil caps require no tools to open or tighten. Cap retainers help keep cap from being lost.
IntelliCarb™ compensating carburetor measures air on clean side of air filter and adjusts metering diaphragm in carburetor. Keeps rpm levels even when filter begins to clog.
Easy-access carburetor adjustment screws let you adjust the carburetor for local cutting conditions and altitude.
Decompression valve makes starting easier.
Easy2Start™ system reduces resistance which eliminates the need for a strong, fast pull of the starting cord. Available on some models.
Electronic ignition provides easier starting and smoother running.
A second braking system reduces the risk of injury in some circumstances if so equipped.
Purge pump primer lets you prime the carburetor without flooding it. Standard on some models.
Replaceable "in tank" fuel and oil filters lower cost and are easy to maintain.
ElastoStart™ handle has built-in shock absorber for smoother starting.
Inboard chain brake requires less maintenance and makes saw chain sprocket easier to remove.
Automatic bar and chain oiler lets operator concentrate on cutting, not on bar lubrication.
Quick Chain Adjuster is a toolless chain adjuster (not on all models).
Chain catcher helps reduce the risk of operator contact by a chain if it should break or derail.
Throttle trigger interlock must be depressed before the trigger can be activated.
Published on August 3, 2010