The LPC 100 from Canada's Stealth Computers is a tiny, 1,2 kbs, brick-size PC, that packs quite a punch for its miniscule footprint.
Available in either an Intel Dual Core Celeron T3100 or an Intel Core 2 Duo P8400 processor, the the LPC100 stuffs up to 4GB of DDR3 memory and a 500GB hard drive. Other featuers include 3-USB ports, a DVI-I Video, 2 PS/2 ports and I/O connectivity, all at a slightly steep $995.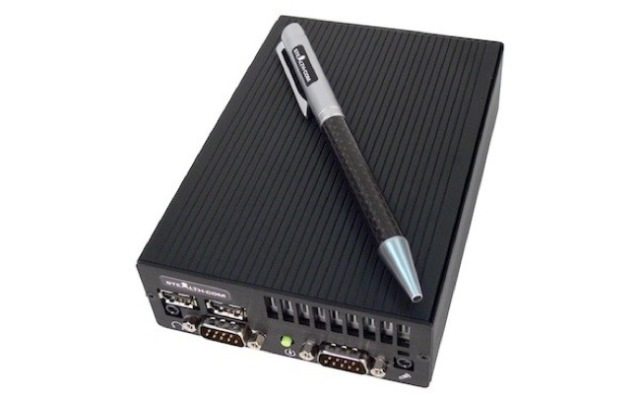 Here's the release…..
Stealth.Com Introduces a New Ultra Compact Mini PC.
Small Enough to Fit in Your Hand Yet Outperforms Most Desktop and Mobile Computers Available Today
Toronto ~ July 2010 – Stealth.com Inc. (Stealth Computer) a leading ISO 9001 manufacturer of industrial rugged computers and peripherals has released a new form factor of mini pc, the model LPC-100 their smallest to date.
The new Stealth ultra small form factor PC offers tremendous processing power in a tiny package that measures only 4.0″ x 6.1″ x 1.45″ (102mm x 155mm x 37mm) or about the size of a paperback novel. The machine weighs in at a mere 1.2lbs or .62kg. The Stealth ultra small PC outperforms most other small sized PC systems due to the integration of the latest Intel® Core™ 2 Duo mobile processors. The LPC-100 is available with a standard Intel Dual Core Celeron T3100 (1.9GHz) or optional Intel Core 2 Duo processors P8400 (2.26Ghz) or T9400 (2.53Ghz). Stealth's space saving computer utilizes the Intel Mobile GM45 Express Chipset featuring Intel's graphic media accelerator with superior 3D graphics performance. Basic configurations of the LPC-100 start at $995.00 USD and is shipping now.
"The Stealth Model: LPC-100 offers more processing power per square inch than any of the small form factor computers we have built to date. This full featured machine utilizes the latest Intel core 2 duo mobile processor technology outperforming most of today's desktop and mobile PCs and it does so in a fraction of the space." stated Ed Boutilier, CEO of Stealth.com Inc.
The LPC-100 mini PC features a multitude of I/O connectivity built directly into its impressively small design such as; Gigabit LAN, 3-USB, 2-Serial, 1-DVI-I Video, Audio In/Out and 2-PS/2 ports. The LPC-100 supports up to 4GB of DDR3 memory and has a built-in 2.5″ mobile hard drive with up to 500GB's of storage space for archived data. For applications that require extra high shock, vibration and wide temperature ranges an optional SSD (Solid State Hard Drive) is available. Systems are compatible with Microsoft Windows 7/XP, Linux etc and can be custom configured to meet the exact needs of the OEM or end user.
[adsense]
Stealth's LittlePC products serve a demanding market where powerful solutions are being deployed in space-challenged applications around the world. Embedded Control, Digital Signs, Kiosks, Mobile Navigation, Thin-Clients, POS & Human/Machine Interface are just a few of the applications that are ideal for Stealth's industry trusted products.
About Stealth
Founded in 1990 Stealth.Com, is a leading manufacturer of specialized Computers and Peripherals. The company is ISO 9001 registered and continually develops innovative products designed to meet the exact needs of their clients. For two decades Stealth has provided thousands of proven reliable product solutions that have assisted clients with a myriad of applications. Our impressive customer base includes a wide range of customers from single man operations to Fortune 500 companies, Military installations and Governments worldwide. www.stealth.com
Stealth Computer Predecessor, the WPC-500F
Published on August 3, 2010