Logitech's new K800 Wireless Illuminated Keyboard is the wireless version of last year's Logitech MK700. An ambient light detector and motion sensor creates the right amount of light for each environment while conserving battery — up to ten hours on a single charge, which then gets recharged via a mini-USB. It also uses Logitech's PerfectStroke system, promising uniform tactile feedback across the entire surface of the key.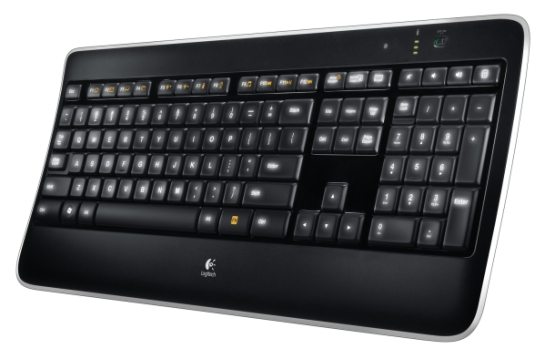 The Logitech's K800 Wireless Illuminated Keyboard is available now for $100.
Here's the release…..
The Wireless Keyboard with a Nightlife: Logitech Unveils New Illuminated Keyboard
Logitech Wireless Illuminated Keyboard K800 Features Smart Backlighting
FREMONT, Calif. – Aug. 18, 2010 -Logitech (SWX: LOGN) (NASDAQ: LOGI) today introduced the rechargeable Logitech® Wireless Illuminated Keyboard K800, delivering bright, precise illumination – day or night. The newest Logitech keyboard features ambient light and motion sensors, ensuring that you have the right amount of backlight when you need it, while conserving battery life when you don't.
"The Wireless Illuminated Keyboard K800 is perfect for someone who values both form and function," said Denis Pavillard, vice president of product marketing for Logitech's keyboards and desktops. "The Wireless Illuminated K800 keyboard includes features that make it a standout – smart backlighting, Logitech® Unifying technology, our PerfectStroke™ key system and Logitech Incurve keys™ – and presents it all in a very stylish and sleek package that's sure to please."
The Wireless Illuminated K800 backlighting automatically adjusts based on the amount of light in the room using ambient light sensors. Motion sensors detect your hands as they approach to turn the backlighting on and to turn it back off when your hands move away. As a result, you'll enjoy bright, precise illumination and more battery life – up to 10 days of battery life without recharging. (Actual battery life will vary with use, settings and environmental conditions.)
The Wireless Illuminated K800 is always ready when you need it thanks to the micro-USB cable that lets you recharge while you type. Due to the fast, flexible recharging, you'll never need to replace the batteries. Instead, you can simply plug in the universal micro-USB cable to recharge the onboard batteries.
Because a good keyboard needs to deliver a good typing experience, the Logitech Wireless Illuminated keyboard includes the PerfectStroke™ key system and Logitech Incurve keys™. The PerfectStroke key system helps make every stroke comfortable, fluid and whisper-quiet. And the concave design and softly rounded edges of the durable Logitech Incurve keys position your fingers properly and invite your fingertips to glide from key to key, hour after hour. Additionally, the letters and characters on the keys are very durable and won't wear off.
The Wireless Illuminated Keyboard K800 is also the latest in a line of Logitech® Unifying-compatible mice and keyboards that feature the tiny, leave-in receiver – so small you can leave it in your laptop. Unifying-compatible keyboards feature Logitech® Advanced 2.4 GHz wireless connectivity, virtually eliminating delays and dropouts.
Pricing and Availability
The Logitech Wireless Illuminated Keyboard K800 is expected to be available in August for a suggested retail price of $99.99 (U.S.). You can learn more about the Wireless Illuminated Keyboard K800 on our blog or you can visit