This just in from AccessoryGeeks.com…….
Protect Your iPhone, iPad, DS Lite or BlackBerry with the Ultimate in Green Style
August 22, 2010 – Walnut, CA – AccessoryGeeks® announces an exclusive and one-of-a-kind TPhone line of eco-designed wood iPhone® and iPad® cases.  Each case is unique because it is made from 100 percent real wood that adds a natural look while providing solid protection. The wood cases are available for iPhone 3G, 3GS (sliding) and 4G as well as the iPad, Nintendo® DS Lite and BlackBerry® Bold™ 9700.  The cases are easily attached by simply snapping them on the back of your device. Cases start under $25 and are available at www.AccessoryGeeks.com.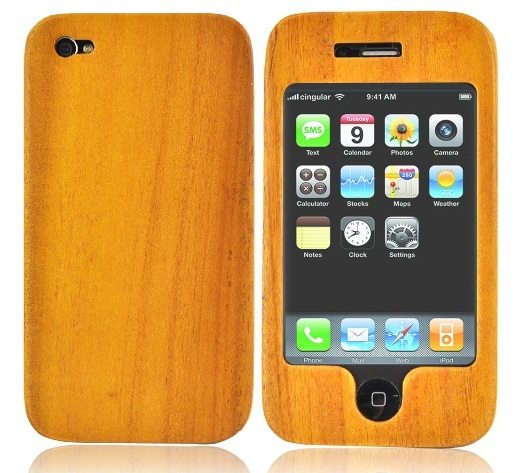 Compared to plastic and silicone cases, the wooden iPhone cases are more environmentally friendly because they are biodegradable. Furthermore, because part of the creation process is done by hand, they leave a smaller carbon footprint than cases created by machinery that uses chemicals.
Unlike other wood cases on the market, AccessoryGeeks' TPhone cases are made from one piece of wood so they are not glued together in pieces, resulting in additional durability. These covers emit subtle, natural wood scent that will eliminate unpleasant odors in your bags or pockets. The exotic wood types range from Sonokeling and Gmelina from the jungles of Indonesia, to hard Jackfruit and even Teak, which is the fastest regenerating wood on earth.
Cases are precisely crafted for easy access to all buttons, phone features and ports without having to snap on and off for use. These woods have a natural ability to absorb a tremendous amount of shock, resulting in impregnable protection for your device.
"Our customers are demanding more eco-friendly options for all their accessories and what is more natural than real wood," commented Vice President, Karen Kang.
"AccessoryGeeks wants to meet and exceed all our customers' accessory needs and in a timely fashion when the latest devices hit the streets to help keep them from harm."
The line of TPhone cases are made from environmentally-friendly materials and are bio-degradable which helps customers minimize their carbon footprint.
About AccessoryGeeks
AccessoryGeeks is a California based online retailer that provides top quality cell phone accessories, iPod accessories and iPad accessories. Products are currently available with no-cost shipping to residents in the U.S. and Canada. For more information visit AccessoryGeeks.com or call 1-866-GEEKS-93 or email