If you like to entertain, or are a super-fan of wine, the Skybar ONE Wine System is the ideal way to offer up the perfect glass every time. This unique system chills, pours and preserves all of your favorite wines, and is perfect for the connoisseur who needs a serving and preserving solution for fine wine libation.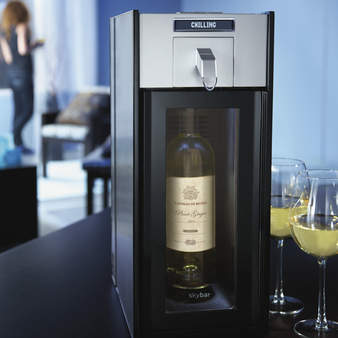 Available for $399.99, the Skybar ONE Wine System is particularly useful for preservation. You see, when you open up a bottle of wine, oxygen in the surrounding air starts to interact with the fermented juices, and the lifespan of the wine immediately begins to decrease. For the times when you may only want a single glass, the Skybar ONE can preserve the rest of the wine without it spoiling.  Its"Natural vacuum technology" keeps air away from the liquid, preventing the wine from turning sour.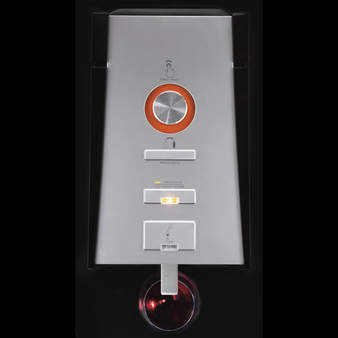 The electronic Skybar ONE Wine System chills, ideally preserves and dispenses a single bottle of wine perfectly. The next best thing to a wine cellar, the ONE Wine System has every feature imaginable to deliver wine at its finest quality.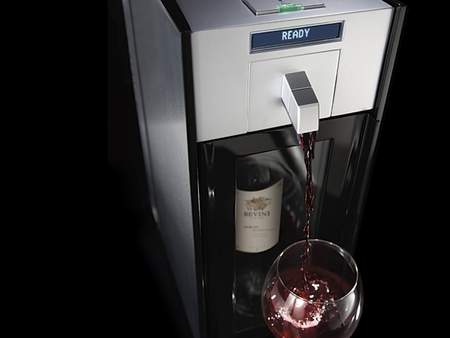 Temperature is another critical aspect of wine. Heat alters the balance between all of the ingredients in a glass. The ONE Wine System will chill and store win at an ideal temperature for wine. Skybar's advance cooling system offers 15 preset temperatures for different wines, and an adjustable control for wines requiring lower temperatures.
Enjoying the wine is a simple matter of placing the glass underneath the dispenser and pushing the pour button. You can also see the bottle through the glass cabinet, so you know what you're drinking.
The SkyBar One System is a luxury item, yes, but if you entertain frequently and serve nice wine at your functions, the SkyBar is a must have and quite impressive.  It won't dissappoint.
SkyBar One Wine System
SkyBar WP1000 Wine System