The new G700SE has a 12.1 megapixel sensor, wide-angle zoom lens and 720p high definition movie capability.  It also adds Bluetooth and Wi-Fi functionality, it's water and dust resistant and it's able to withstand rough use. The new camera can also use optional units to provide GPS and laser barcode reader functionality.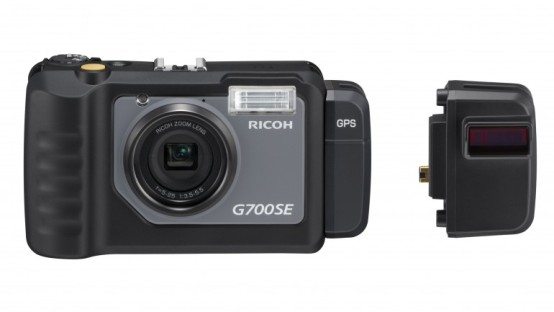 Ricoh's G700SE rugged camera is aimed at the professional who needs a tough camera for work on building sites, maintenance jobs or emergency situations like fires and accidents. It's waterproof to a depth of 16.4 feet (5m), sealed against dust and has been built to withstand a drop from 6.5 feet (2m) and tested to U.S. Department of Defense MIL Standard 810F. It can also be cleaned using ethanol and sodium hypochlorite disinfectants.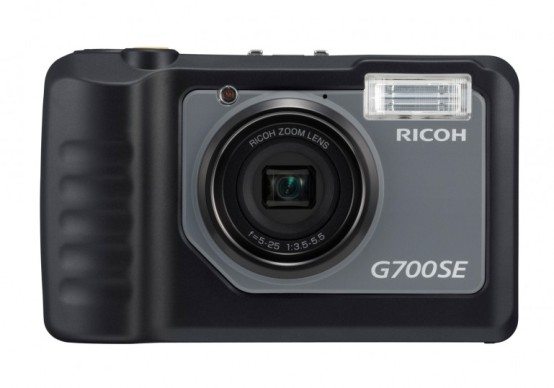 The G700SE has a 12.1 megapixel CCD sensor, ISO64 to ISO3200 sensitivity and a 28 to 140 mm wide-angle, 5x optical zoom lens. To the rear it sports a 3-inch, 920,000 dot transmissive LCD display and is capable of 720p movie recording in motion JPEG format. Images and movies are stored on SD/SDHC media cards, and the camera can be powered using the included battery, which is claimed to be good for about 360 shots between charges, or a couple of AAA-sized batteries for a 40-shot buffer while the main battery is charging.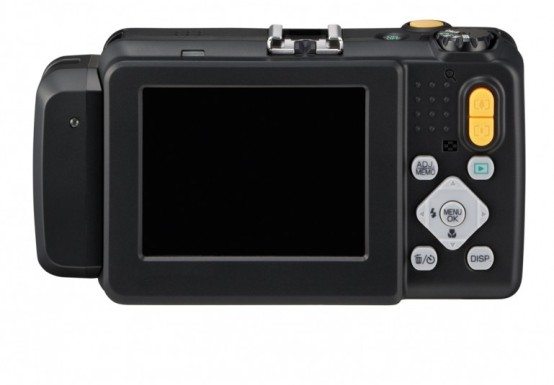 Also included is the ability to password protect the camera to help stop unauthorized access and a memo function for adding audio or text to image data.
The new 4.67 x 2.79 x 1.61-inch (118.8 x 71 x 41 mm) G700SE also has 802.11b/g wireless LAN and Bluetooth 2.1 with EDR functionality too. An optional GP-1 GPS unit can be connected to the side of the camera body to add positional information to images. The unit also includes an electronic compass and a log function that tracks the camera's movements. Even with the addition of the GPS unit, the camera remains water and dust resistant to IP64 standards and can withstand a drop of 3.93 feet (1.2m).
Although the camera itself can recognize one and two-dimensional bar codes, there's an optional laser barcode reader unit which can read striped one-dimensional barcodes. As with the GPS unit, the barcode reader also connects to the camera's body and retains its rugged credentials when in place, able to withstand a drop of 4.92 feet (1.5m).
Ricoh sees the new rugged addition to its Business and Outdoor range as being a useful tool for "facility maintenance (electric, gas, and water utilities; roads; etc.), disaster planning, and other functions of local governments, police departments, and fire departments; photo management in hospitals; production line management in the manufacturing industry; and warehouse management in the transport industry."
The G700SE is scheduled to release mid-October. No word on pricing.