After launching only two weeks ago, and simultaneously setting the broadcast and entertainment industries abuzz, ivi TV (pronounced ivy) now turns its focus to its primary goal — attracting consumers who seek relief from paying high cable TV bills and more freedom regarding how and where they watch TV. ivi TV delivers what we've all been waiting for — live TV on the Internet. The downloadable application offers retransmission of live broadcast TV signals from NBC, CBS, ABC, Fox, ABC, PBS, CW, Telemundo, and many more.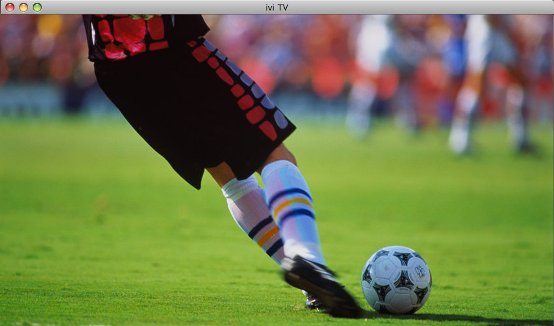 With more content available than Hulu, ivi's service fuels a rising cord-cutting trend among many consumers looking for content they want to view directly from the Internet instead of through costly cable television subscriptions.  ivi TV's legal offering, in conjunction with a legal movie-on-demand site like Netflix, for example, can literally save hundreds of dollars a year with its $4.99 monthly cost, in comparison to the average cable TV bill of $71.00.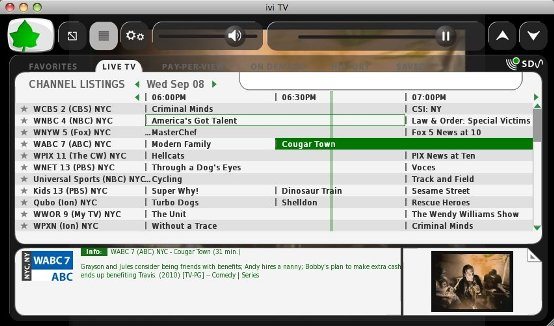 With a simple download of the lightweight app, anyone on the most basic computer can be watching live TV anywhere, anytime they have an Internet connection.  ivi TV's push for consumers comes with a new lifestyle video created to demonstrate ivi TV's TV anywhere' offering. The video features voiceover talent from David H. Lawrence, who played the popular villain character Eric Doyle on the hit NBC show "Heroes".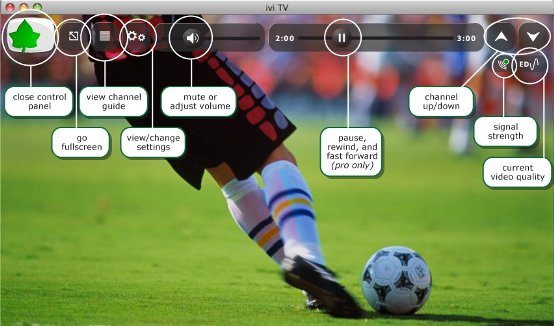 Here's the release…..
ivi, Inc., Empowers Consumers to Cut-the-Cord and Turn On ivi TV – Live TV Online
Brings TV to the Web Delivering the Most Compelling and Affordable Solution in the Marketplace – and More Content Than Hulu
ivi TV™ is making it easier than ever for consumers to cut-the-cord and free themselves from the tyranny of paying high cable bills for access to live television content. In an ever-increasing new consumer trend, they can now easily access popular TV programming by downloading ivi TV's app from its website. The online cable system's app is easy-to-use and transforms nearly any internet-connected device into a "TV" allowing the user to watch live TV anytime, anywhere.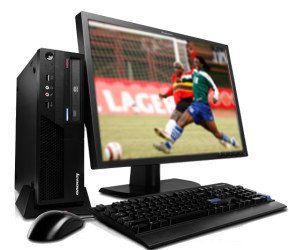 At $4.99 a month for all major network programming, it is significantly cheaper than cable TV bills, which average $71.00 a month. As cable TV bundle pricing goes the way of the landline telephone business, ivi TV now delivers what consumers have been waiting for since the dawn of the Internet boom – live television over the Internet, without buffering or other issues often experienced at video on demand (VOD) sites, like YouTube.
"We are the consumer's and television industry's new best friend," said Todd Weaver, ivi founder and CEO. "ivi TV gives consumers a unique way to watch more television – on their own terms – while simultaneously solving significant technological problems for the broadcast industry as it provides a scalable distribution platform that includes a revolutionary security methodology to protect content. When breaking news occurs, people rush to sites like CNN.com that have a set cap on simultaneous viewers. That leads viewers to seek out news from alternative sources that are often user-generated sites that don't pay for use of the content. ivi TV pays content owners and scales considerably better than any alternative platform."
ivi TV is cross-platform, delivering live, continuous TV on Mac, Linux and Windows alike. The platform is available via a downloadable app for $4.99 a month after a free 30-day trial with pause, rewind, and fast-forward functionality available for an extra $0.99 cents a month. Additional broadcast channels, more mobile devices, and higher resolutions are product enhancements soon to be added.
"ivi TV is an experience people can feel good about. It is a legal online alternative to expensive cable services that have failed to innovate and offer consumers the choices they want. People are increasingly informed about their options and won't continue paying for something they don't need.  ivi TV enables consumers to carry their subscription with them accessing just the content they want, wherever and whenever they want," Weaver added.
Popular Programming Available On ivi TV™
Sports
NFL, MLB, PGA, NHL, NASCAR, MLS, NBA, WNBA, College Football, Tennis, Cycling, Kite-boarding, Swimming, Track and Field, Softball, Triathlons, Volleyball, Motor cross, Gymnastics, Xtreme Sports, Motocross, and Rugby, among others.
Top Shows
NCIS on CBS, House on FOX, Bones on FOX, Grey's Anatomy on ABC, Supernatural on The CW, Smallville on The CW, Criminal Minds on CBS, One Tree Hill on The CW, Lie to Me on FOX, The Vampire Diaries on The CW, Gossip Girl on The CW, Desperate Housewives on ABC, Fringe on FOX, The Gates on ABC, How I Met Your Mother on CBS, Glee on FOX, CSI on CBS, The Big Bang Theory on CBS, Two and a Half Men on CBS, Heroes on NBC, 90210 on The CW, The Mentalist on CBS, Lost on ABC, CSI: NY on CBS, Family Guy on FOX, Castle on ABC, The Office on NBC, Brothers & Sisters on ABC, 24 on FOX, Law & Order: Special Victims Unit on NBC, Private Practice on ABC, Big Brother on CBS, The Simpsons on FOX, Chuck on NBC, Friday Night Lights on NBC, Prison Break on FOX, CSI: Miami on CBS, Persons Unknown on NBC, FlashForward on ABC, NCIS: Los Angeles on CBS, The Event on NBC, 30 Rock on NBC, Rookie Blue on ABC, Beverly Hills, 90210 on FOX, Medium on CBS, Friends on NBC, The Game on The CW, Cold Case on CBS, Modern Family on ABC, America's Next Top Model on The CW, Law & Order on NBC, Scrubs on NBC, Dancing With the Stars on ABC, and much more.
News
20/20, 48 Hours, 60 Minutes, ABC World News Now, ABC World News Sunday, ABC World News With Diane Sawyer, Access Hollywood Live, Al Punto, Alarma TV, America This Morning, Up to the Minute, BBC Newsnight, BBC World News, CBS 2 News, CBS 2 News at 11PM, CBS 2 News at 5PM, CBS 2 News at 6PM, CBS 2 News at Noon, CBS 2 News Saturday, CBS 2 News Sunday, CBS 2 News This Morning, CBS Evening News, CBS Evening News With Katie Couric, CBS Evening News With Russ Mitchell, CBS Morning News, CBS News Sunday Morning, Dateline NBC, Early Today, El Informador, Evening Magazine, Extra, Eye on New York, Eyewitness News, Eyewitness News at Noon, Eyewitness News This Morning, Eyewitness News Up Close, Face the Nation, Fox 5 News at 10, Fox 5 News at 5, Fox 5 News at 6, FOX News Sunday With Chris Wallace, Fox NFL Sunday, Good Day Early Call, Good Day New York, Good Day Wake Up, Good Day Wake Up 2, Good Morning America, Heroes Among Us, Hispanics Today, Inside Edition, John McLaughlin's One on One, KING 5 Early Morning News, KING 5 Morning News, KING 5 Morning News on KONG, KING 5 News, KIRO 7 Eyewitness News ,KOMO 4 News, Made in Hollywood, Made in Hollywood: Teen Edition, McLaughlin Group, Meet the Press, NBC Nightly News, New Jersey Capitol Report, New Jersey Now, New York Nightly News, New York Nonstop, New York Nonstop Morning Mix, New York Now, Nightline, NJN News, Northwest Indian News, PBS NewsHour, Talk Stoop, The Chris Matthews Show, The Daily Buzz, The Debrief with David Ushery, The NFL Today, The Whole Truth, This Week in Baseball, This Week With Christiane Amanpour, Thread NY, TMZ, Today in New York, Up to the Minute, Washington Week and many more popular news programs.
Top Reasons Consumers Love ivi TV™
-ivi TV saves its users money. At $71.00 a month for cable TV, that adds up to $852.00 annually. At $4.99 a month, ivi TV adds up to less than $60 annually.
-Adding a basic Netflix account to stream legal movies on demand and the annual cost for ivi TV and Netflix combined is only $167.00.
-Multi-tasking – watch live TV online while finishing that research paper, chatting with friends on IM, or connecting across social networks.
-No clunky hardware to install, or boxes to clutter.
-ivi TV is eco-friendly. No packaging or soon-to-be obsolete boxes.
-Minimal system requirements – ivi TV works on the most basic PCs and its technology adjusts the stream according to one's available bandwidth.
-No set-up fees or other hidden costs that cable companies are infamous for.
-No assembly required – watch live TV in 3 simple steps. 1) Download. 2.) Double click to install 3.) Sit back and watch all of one's favorite TV shows.
-Be part of the future today. ivi TV is cutting-edge technology putting the user at the forefront of innovation ahead of offerings from Google TV and Apple TV.
-Delivers a traditional television viewing experience online with an intuitive channel guide offering full-screen toggle, on-screen guide with easy channel selection, settings area, picture-in-picture, volume adjustment, time-shifting (pro feature), and simple channel up and down controls, just like on a remote control.
-ivi TV appreciates its users. No hassle cancellation, free 30-day trial.
About ivi, Inc.
ivi TV ™ endeavors to make the world a better place by providing a high-quality viewing experience while offering consumers what they want in the way they want it, with more choices, less hardware, and higher standards than other modes of online content delivery. At the same time, ivi TV increases eyeballs for channels and advertisers, continuing and adding to the live television tradition in an innovative and sustainable manner. Consumers, broadcasters and advertisers alike will agree that live television, most notably sports and news programming, is here to stay. The solution is ivi TV. And the time is now. ivi, Inc., is based in Seattle. For more information, please visit http://www.ivi.tv