V-MODA has just introduced their Vibrato Noise-Isolating Earphones, available at the Apple Store.  Uniquely designed, their made from Zinc Alloy and feature a Kevlar fabric cable with 3-button remote and mic.  They are the latest for iPhone, iPad and iPod products, and also are compatable with most other players and phones.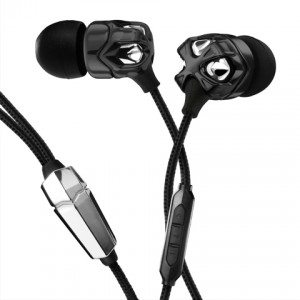 Here's the release…..
V-MODA DEBUTS UNIQUELY DESIGNED VIBRATO IN-EAR HEADPHONES
Visually stunning headphones feature patented Zinc Alloy construction and hybrid silicone ear tips for superior comfort and brilliant sound
HOLLYWOOD, CA (October 20, 2010) – V-MODA, the authentic music lifestyle brand and manufacturer of award-winning headphones, introduces the Vibrato noise-isolating in-ear headphones, now available in Apple stores nationwide. Crafted from Zinc Alloy and featuring a Kevlar® fabric cable with a 3-button remote and microphone, the Vibrato is the ultimate multi-purpose earphone.
Designed for music lovers with style, the Vibrato is impeccably sculpted from premium Zinc Alloy using patented die-casting metal technology.  This innovative process gives the Vibrato a special geometric design, usually only seen on fine jewelry or watches, and a solid, durable feel, unlike most plastic or aluminum headphones that feel fragile.
"Vibrato was masterfully tuned in collaboration with professional musicians to recreate the sensations of a live music or club experience," said Val Kolton, Professional DJ and CEO of V-MODA. "Apart from the great sound, it has a distinctive angular look and a solid, luxurious feel that can only be truly experienced first-hand."
Constructed with an 8mm dynamic HD neodymium driver, the Vibrato delivers vibrant bass, vivid mid-range, and vivacious highs.  Its BLISS noise isolating technology effectively reduces background noise and enables a deep bass.  In addition, V-MASQUE technology enforces a strict tolerance for high and low frequency ranges, so that every note on the Vibrato sounds as flawless as the next.
Following extensive research and development, V-MODA engineered a hybrid silicone ear tip to create a secure seal, allowing for the ultimate listening experience. The Vibrato includes four sizes (XS, S, M, L) of ear tips to insure a comfortable fit, as well as V-MODA's patent-pending sport earhooks with ACTIVE FLEX technology.  Allowing the listener to move freely without worrying about the headphones falling out, these earhooks are a great option for gym rats and outdoor enthusiasts.
The Vibrato comes with an in-line 3.5 mm microphone and remote control for users with smart phones. The remote control offers complete management of calls and music, featuring volume control, music and video playback, voice memo recording and the ability to answer calls on any iPhone.*
Like all V-MODA headphones, the Vibrato is put through rigorous testing to ensure rock solid durability.  Crafted with Kevlar® reinforced fabric cables, a 45 degree angled plug and a 24k gold plated jack, the Vibrato withstands several tests to ensure it's built to last. Furthermore, every Vibrato comes with a two-year V-MODA premier warranty and is eligible for the V-MODA Replay Replacement Program, which gives a 50 percent discount to replace any damaged headphones.  To see more information and videos on V-MODA's dedication to quality and durability, visit
The Vibrato is currently available for $129.99 through Apple's retail stores, soon to be on Apple.com and
shop.vmoda.com.  For additional information, please visit www.v-moda.com.
ABOUT V-MODA:
V-MODA is the authentic music lifestyle brand based in the heart of Hollywood that is distinguished by its fashion-forward design, unparalleled quality and unequivocal passion for music. V-MODA products are the result of fusing professional DJ and CEO Val Kolton's verve for Italian design with the essence and allure of Hollywood. Together with the world's most influential DJs and musicians, V-MODA is forging the remix revolution.