Casio Tryx Camcorder With 360-Degree Swivel Frame
—Available starting April for $250, the Casio Tryx is a 1080p cam has a full 360-degree swiveling frame that surrounds the 3-inch 460k pixel touch screen.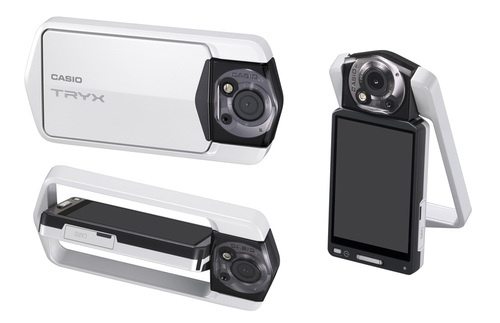 This camcorder is almost all screen real estate. It looks more like a media player, but the frame allows for a lot of comfortable and innovative grip variations, and obviously it can be used as a kickstand, which turns the Tryx into a media player.
With a 12.1MP back-illuminated CMOS sensor, the Tryx should shoot very good 1080p video, and with a 21mm lens, it's got a wide angle of view that doesn't scream prosumer camcorder. Rounding out the features are touch focus and shutter, slow-mo video, HDR and 360-degree panoramas.
The Casio Tryx will be available soon for $249.
Posted 1/13/11