Could iPad 2 be coming February 9th?
—Here's what we know.  "iPad 1" was announced on February 27th, a Wednesday of last year . Icons representing the iPad, seen above on the left, show "27″ as the date on the calendar. Apple's latest iOS beta, however, includes a new icon for the iPad that shows a "9″ on the calendar app.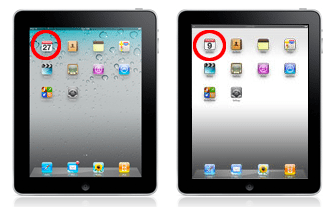 As it happens, February 9th lines up pretty well with earlier rumors of an announcement, and we all know a second-generation iPad announcement is imminent at this point. Oh, and the 9th is also a Wednesday.  Chances are, we could see iPad 2 in all its glory in about 3 weeks.
Posted 1/20/11