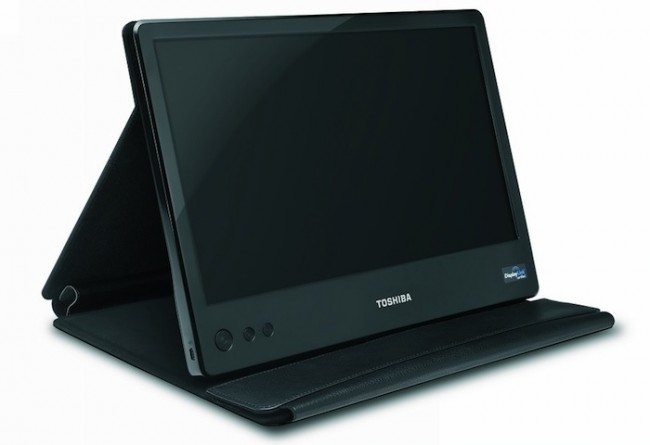 Toshiba's got a nifty little number they just came out with in the form of their 14-inch USB-powered Mobile LCD Monitor.  It sports a 1366×768 resolution, and transmits power and video via the attached computer's USB port.  It's sweet for laptop users and weighs a mere 2.8lb.  For $199.99, Toshiba includes a protective black vinyl carrying case that can fold into an adjustable stand allowing various viewing levels.  The Toshiba 14-inch USB monitor is shipping today at retailers and Tosh direct.
Here's the release…..
Toshiba Unveils 14-Inch USB-Powered Mobile LCD Monitor

IRVINE, Calif. — March 22, 2011— Toshiba's Digital Products Division (DPD), a division of Toshiba America Information Systems, Inc., today announced the 14-inch USB-powered Mobile LCD Monitor, ideal for adding an additional screen to any Windows-based laptop computer at work, school, home or anywhere one uses a laptop.

Featuring a 14-inch diagonal widescreen display[i] with 1366×768 resolution, the Toshiba Mobile Monitor is equipped with the same LCD panel as a laptop to provide clear and crisp images. Weighing only 2.8 pounds and less than one inch thick, this ultra-portable monitor is designed to easily fit in most laptop bags. The monitor's power and video are both through a single USB connection, eliminating the need to carry an AC adapter or video cable.

"The Mobile Monitor allows traveling businesspeople and students to conduct on-the-spot presentations and share content without the need for a bulky projector or having to crowd around a laptop screen," said Paul Collas, director of Accessory Marketing, Toshiba America Information Systems, Inc., Digital Life Products and Services.

Via video over USB technology from DisplayLink™, the Toshiba Mobile Monitor can also be used as an additional screen in extended mode for serious work, home and on-the-go multitasking.

As an added bonus, the Mobile Monitor includes a protective black vinyl carrying case, which quickly folds into an adjustable stand that can be set to various viewing levels and also deftly houses the monitor's USB cable.

Pricing and Availability
The Mobile Monitor is now available at toshibadirect.com as well as a variety of major consumer electronics and computer stores nationwide starting at $199.99 MSRP[ii].

Images are available at http://bit.ly/ToshibaMobileMonitor1Q2011.

Connect with Toshiba on Twitter at twitter.com/ToshibaLaptops and on Facebook at www.facebook.com/ToshibaLaptopsUS.