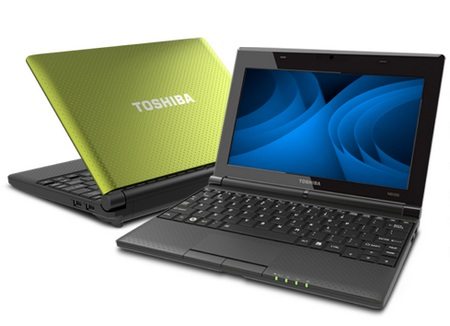 No matter which of the 5 colors you choose (turquoise, blue, brown, lime green, and orange), the Toshiba Mini NB505-N508 netbook is a pretty solid buy considering its $300 price tag. Though the model is missing a Gigabit Ethernet port and Bluetooth connectivity, the integrated Wi-Fi, 3 USB ports and SD card reader make up for its shortcomings. The 8-hour battery life is extended by the energy efficient LED-backlit screen and single-core Intel Atom N455 processor.  Those that need a full-size keyboard will really enjoy this little number, as its keys are comfortably wide with a nice-sized trackpad to boot. Users who are attached to their keyboards will love that this notebook has a full-sized QWERTY, paired with a comfortably wide trackpad. Above-average performance, even with the single-core, and a dirt cheap sticker make this a top pick amongst the netbook swagger.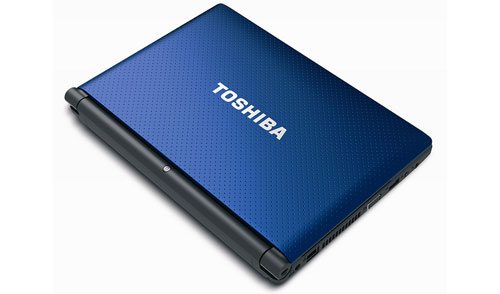 The [amazon_link id="B004G8QZPG, B004G8QZQ0, B004G8QZQA, B004G8QZPQ, B004G8QZQK, B004G8QZQU, B00303G9F4, B004MF194A" target="_blank" ]Toshiba mini NB505 [/amazon_link]netbook is pretty snazzy as well, with its stylish, rubberized EasyGrip design in a spectrum of fashionable colors.  It also gives you the reliability, compatibility and simplicity you want with Windows 7.  Easy to use, the Toshiba… can you spell intuitive?  And small.  You can throw this sucker in a purse.  Deceiving though, you'd be surprised that the screen is an ample 10.1" diagonal display, and Toshiba provides "Smart Features" to enhance your mobile life.
The Toshiba Mini NB505 – N508OR is one of the thinnest netbooks on the market at just 1.4 inches thin, and it weighs less than 3 pounds.  I did mention the battery, but let's have another go at it…. 8 HOURS!  The Toshiba Mini NB505 offersa full day of computing without a recharge.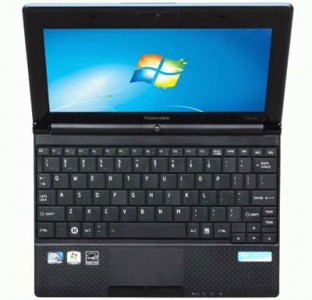 The mini NB505 won't heat up much either . I found it still cool after about a half-hour of continued use.  One small caveat is its plastic keys vs. it's more sophisticated brother, the NB305, which has a chiclet-style metal keyboard.  Having said that, the typing experience was good enough with a strong tactile feedback.
The 250 GB hard disk drive is protected using an integrated 3D impact sensor, which detects freefalls, shocks and vibrations. The Toshiba mini NB505 also features a USB Sleep-and-Charge port, (like most of the Toshiba laptops and netbooks), which allows external USB devices such as mobile phones and personal media players to charge from the netbook even when it is turned off. Other features include fast DDR3 RAM, an integrated webcam, and a mono speaker.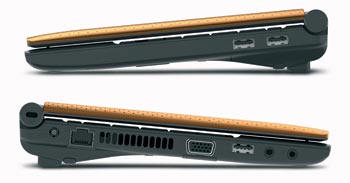 Finding a netbook with this performance less expensive than $299 would be a very difficult challenge, so for the price, the[amazon_link id="B004G8QZPG, B004G8QZQ0, B004G8QZQA, B004G8QZPQ, B004G8QZQK, B004G8QZQU, B00303G9F4, B004MF194A" target="_blank" ] Toshiba mini NB505 [/amazon_link]delivers grace and power. The EasyGrip finish, large keyboard, and stellar battery life equates to a supreme bargain.
Amazon has some slight discounts on this product.  You can purchase it below…..[amazon_my_favorites design="1″ width="500″ title="Toshiba Mini NB505 Netbook" market_place="US" ASIN="B004G8QZPG, B004G8QZQ0, B004G8QZQA, B004G8QZPQ, B004G8QZQK, B004G8QZQU, B00303G9F4, B004MF194A " color_theme="Pistachio" columns="3″ rows="4″ outer_background_color="" inner_background_color="" background_color="" border_color="" header_text_color="#FFFFFF" linked_text_color="" body_text_color="" shuffle_products="True" show_image="True" show_price="True" show_rating="True" rounded_corners="False"/]

Check, out the specs…..
Toshiba mini NB505 Netbook Key Features
10.1-inch LED backlit widescreen display (1024 x 600-pixel resolution) provides richer colors and clearer definition–perfect for browsing the Internet.

1.66 GHz Intel Atom N455 processor (512 KB L2 cache, 667 MHz FSB) combines performance and energy efficiency to explore the Internet and stay connected while mobile.

250 GB SATA hard drive (5400 RPM)
1 GB of installed DDR2 RAM (667 MHz; expandable to 2 GB)
Integrated Intel Graphics Media Accelerator 3150 video processor with up to 250 MB dynamically allocated shared graphics memory.
Wireless Connectivity

With its Wireless-N Wi-Fi networking capabilities, this laptop provides up to five times the performance and twice the wireless range using 802.11n-compatible routers as you would with 802.11g networks. It's also backward compatible with 802.11b/g networks (commonly found at Wi-Fi hotspots and in older home routers.

Included Toshiba Software:

Toshiba Media Controller offers simplified media sharing. Using an intuitive drag-and-drop interface, it lets you share videos, music and pictures from the media library on your laptop with compatible devices in your home entertainment network, or with other compatible laptops and devices, like an Xbox 360 game console. And you can do it all without moving equipment, burning discs or fumbling with cables.
Toshiba Bulletin Board is an easy-to-use organizational and productivity app that lets you build your own personalized space on your desktop. With Toshiba Bulletin Board, you can quickly and easily manage your to-do lists and calendars, plus create your own custom work area by pinning your favorite photos, documents, links and more.
Toshiba ReelTime helps you cut down the time it takes to search for files. The easy-to-use app takes traditional text-based file structures one step further to help you find what you're looking for more quickly. Accessible from your taskbar, it shows you a visual timeline of your recently accessed files–using graphical thumbnails–so you can easily identify and get to your files faster.

Included Toshiba Utilities:

Toshiba eco Utility makes it easy to go green as you go mobile. Hit the Eco Button and you'll launch the Toshiba Eco Utility, which puts all sorts of easy-to-read information on your screen, and gives you the ability to adjust the power settings on your laptop. It also activates a light showing you're in the Eco Mode. The Toshiba Eco Utility lets you pick the optimal power plan for your situation. Choose High-Performance when you need every watt you can get, Power Saver for the least energy consumption, or Balanced as a perfect blend of the two.

Up to 8 hours, 21 minutes of battery life (6-cell battery; 48 Wh)
Dimensions & Weight: 10.3 x 7.48 x 1.4 inches (WxDxH); 2.9 pounds
Networking, Connectivity & Expansion

3 total USB ports
VGA video output (analog, RGB)
Microphone and headphone jacks
Secure Digital (SD) memory card reader compatible with Secure Digital High Capacity (SDHC), Secure Digital Extended Capacity (SDXC), MultiMedia Card media
Fast Ethernet (10/100)

Microsoft Windows 7 Home Starter

Microsoft Windows 7 Starter makes small notebook PCs easier to use because it puts less between you and what you want to do–less waiting, less clicking, less hassle connecting to networks. Windows 7 Starter combines the latest in reliability and responsiveness with the familiarity and compatibility of Windows.
And the video reviews…..