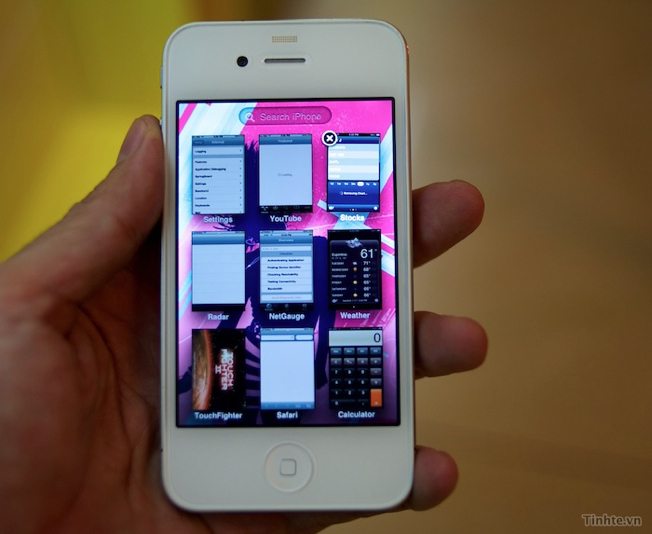 The Vietnamese blog, tinhte.vn, has published a video of what it is claiming might be the iPhone 5 — though it is more likely to be a white iPhone 4 with a storage bump — running a test version of iOS, test build 8A216 of iOS 4,  that includes a new multitasking UI and a revamped Spotlight search function. The videos show a new application switcher in action, complete with a handful of crashing apps. The video could be a custom UI skin running on a jailbroken iPhone, but this site has a history of solid scoops so its believable that this is indeed a new test build of iOS that is running on a white iPhone 4.
This new factory white iPhone 4 has 64GB of storage, and you can clearly see Facebook integration into the OS as opposed to being in an app.  This could finally be the Facebook contact syncing, currently found on webOS, that's coming to iPhone.  Additionally, there's a new File Sharing option in the settings app where you can drag apps to create folders, and there's also a new multitasking Expose-style view.  Check out the videos for all the goods.
For some great deals on the iPhone 4, visit Dialaphone and view the selection of tariffs that they have available on o2 phones online. You can also find out all the latest about the white iPhone 4 release date.