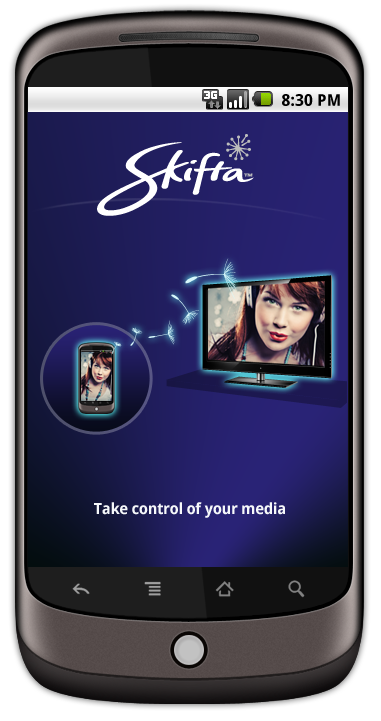 The beta version of Skifta appeared back in February.  It was a cool app for beaming media on your smartphone to any DLNA capable device, especially internet-connected TVs.   Now the full version is available, and it's added a sweet new feature, which allows you to stream media from your other gear to your Android device, over 3G.
The makers of Skifta, Qualcomm Atheros, also announced a new media server plug in for Linux, OS X and Windows that lets you pull music and movies from your home PC to your phone or tablet, even while you're on the road.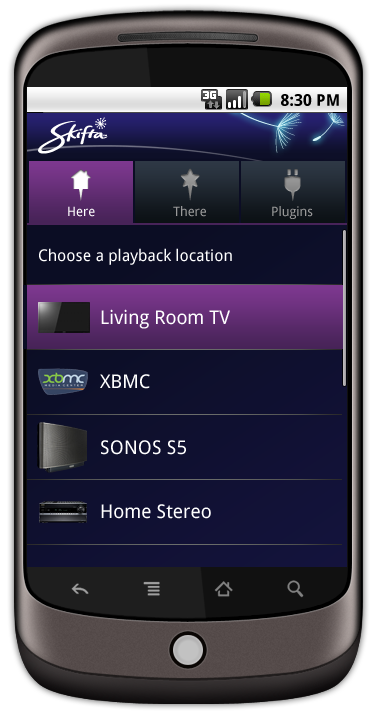 Skifta also has a Channel Library which allows you quickly queue up content from Facebook, TED, ShoutCast, Revision3 and more.
New TVs are a hot gift item during the holiday season, and almost all of them are categorized as smart TVs that can connect to the internet or more impressive, other electronics in your home.  Skifta lets you connect to your TV right from your Android phone (or tablet). Using Skifta you can select music, movies or pictures from your phone and play them right on your brand new TV.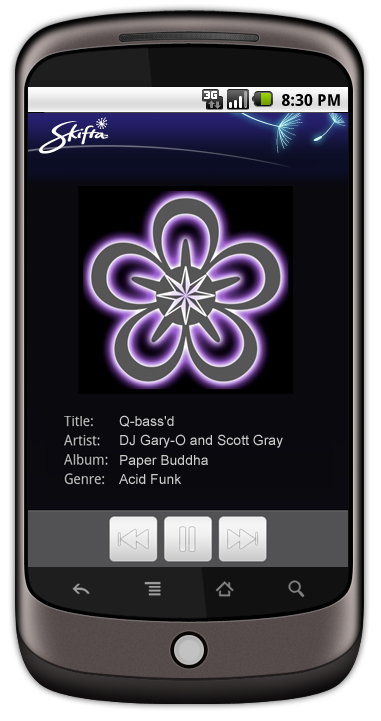 Want to take your digital media with you without actually taking it with you? With Skifta you can — no wires, no downloading or side loading. Control digital media on your phone, from the Internet, and remotely from home, and stream it over Wifi to your TV, PS3 or stereo.
Other cool features:
*Skifta lets you connect to your home computer so you don't have to overload your Android with big media files. Using Skifta you can connect to your home computer whether you are at home or on the go or visiting friends and family.
*Skifta also has a growing roster of cloud channels that you can access including Facebook, Ted Talks, Flickr, Napster and more.
Check it out at www.skifta.com.
Also, check out the video and full press release below…
http://youtu.be/ezP6Ee9HoRo
Qualcomm Atheros Launches Skifta 1.0 for Android to Access Personal Music, Photos and Video in the Connected Home or on-the-go

– New Platform Eliminates Barriers between Consumers and their Media Whether Stored at Home or on Cloud Content Services Like Flickr Photos, Soma.fm Radio or TED Talks –

SAN JOSE, Calif., Oct. 26, 2011 /PRNewswire-FirstCall/ — Qualcomm Atheros Inc., the networking and connectivity subsidiary of Qualcomm Incorporated (Nasdaq: QCOM), today announced Skifta™ 1.0 for Android™ smartphones and tablets. Skifta transforms any Android device into a global media remote control that lets consumers access and enjoy their music, videos and photos at home over Wi-Fi and on the move with 3G from wherever their media resides – at home, in the cloud and anywhere in between. Now, with 3G and Wi-Fi support and a new desktop media server plug-in for Mac, Windows and Linux, Skifta fans have an easy way to use their Android devices to access media collections stored on their home computers without requiring a third-party media server application.

Skifta is the first DLNA Certified™ application capable of streaming personal content to millions of Digital Living Network Alliance (DLNA) and Universal Plug and Play (UPnP) devices worldwide, including TVs, IP-connected stereos like Sonos systems, PlayStation 3 game consoles, Windows 7 PCs and thousands of other connected consumer electronics models. After selecting a photo, song or video stored on the Android smartphone or tablet, users can share this content to any compliant device using Skifta. No wires, downloading or sideloading is required. Consumers just tap on their favorite content, select a connected device and press Play.

A unique feature of the Skifta platform is its Channel library, which eliminates the need for consumers to manage multiple applications to access their favorite media from the cloud. Skifta Channels also give immediate access to Facebook Photos, Picasa, Flickr, Photobucket, Soma.fm, Napster, ShoutCast, Revision 3, TED Talks and more.

"Extensive discussions with our beta group boiled down to this: Skifta should eliminate the barriers between consumers and their media," said Dan Rabinovitsj, senior vice president and general manager, networking business unit, Qualcomm Atheros. "The new version of Skifta addresses this issue with 3G support and media server software, and it goes a step further to deliver a powerful solution that puts the smartphone or tablet at the center of the connected home."

Pricing and Availability

Skifta 1.0 for Android is free to download immediately from the Android Market and is currently available for Android smartphones and tablets (2.2 or higher). The Skifta desktop application for remote access to media stored at home (PC, Mac and Linux) is available at www.skifta.com. For regular Skifta updates, follow us at www.twitter.com/skifta or become a Fan on Facebook at www.facebook.com/skifta.

About Qualcomm Atheros Inc.

Qualcomm Atheros Inc., the networking and connectivity subsidiary of Qualcomm Incorporated, is a leading provider of wireless and wired technologies for the mobile, networking, computing and consumer electronics markets. The organization is focused on inventing technologies that connect and empower people in ways that are elegant and accessible to all. With its broad connectivity portfolio, Qualcomm Atheros provides its global customer base with high-performance, end-to-end solutions featuring Wi-Fi®, GPS, Bluetooth®, Ethernet, HomePlug® powerline and PON technologies. Qualcomm Atheros leverages its substantial expertise in RF, signal processing, software and networking to deliver highly integrated, low-power, system-level solutions that enable customers to create high-performance, differentiated products. For more information, go to www.qca.qualcomm.com.

Qualcomm Atheros and Skifta are trademarks of Qualcomm Atheros, Inc. HomePlug is a registered trademark of the HomePlug Powerline Alliance. Wi-Fi is a registered trademark of the Wi-Fi Alliance. All other trademarks are the sole property of their respective owners.