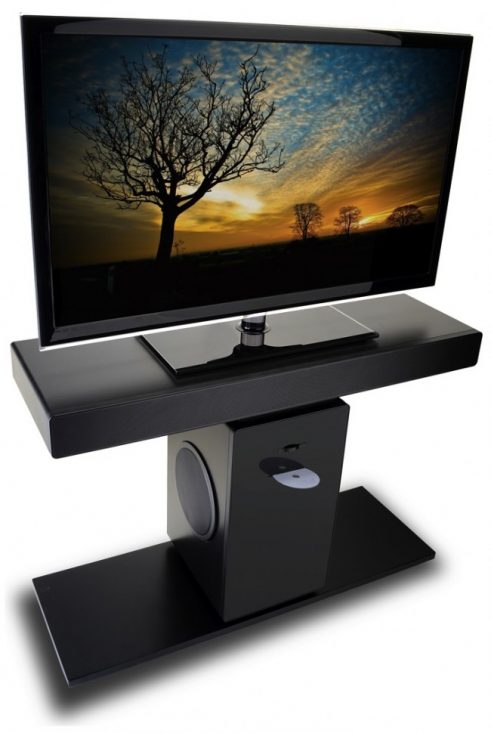 As home theater systems evolve, including the addition of the soundbar and the super tweeters, for the most part, a wide array of companies produce them and offer packages that range from just a soundbar (2-channel), to a soundbar with a subwoofeer (2.1-channel), to a soundbar with a subwoofer that supports a set of wireless rear speakers (5.1-channel).  Add in a PS3, which has a Blu-ray player and plays back movies and TV shows from a variety of sources, and you've pretty much got the home entertainment system worth of any home for under $1,000.   However, this hasn't stopped the folks at In2Technologies from developing an all-in-one setup designed to take you from "zero to 5.1 Surround Sound in 15 minutes."
Just looking at the system, it resembles a glorified stand outfitted with a set of speakers.  But step in a little closer, and you'll notice that it packs in much more: a Blu-ray player; dual 10-inch subwoofers; integrated left, right and center channels; dual down firing 5.25" midbass in the center channel; an iPhone/iPod dock;Ethernet connectivity and support for a set of wireless speakers.  All of this connects to your choice of flat screen via one HDMI 1.4a port.
Pricing and availability are yet known, but if the price is right, which would have to be in the sub $1000 range, this could be a keeper.  We'll have a full review of this product once we see a final production model, which should be coming soon.