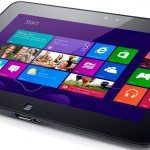 As a leading company in the laptop industry, Dell has unveiled a few new additions to its products; it is the new Latitude 6430u Ultrabook. It is a new addition to the Latitude line. The new release enjoys the same enterprise-class precision reliability as the previous releases do.
When comparing the Latitude 6430u to its predecessor (14-inch notebooks), it will be 16 % lighter and 33% slimmer. It is all about mobility. And when it comes to talking about the battery life, with only a single charge, the device is capable of serving a full day of productivity. This fact is according to the 2007 Mobil Mark benchmark test.
The device was produced to meet MIL-STD-810G testing, meaning, the design is comprehensive and the durability is exceptional. New Latitude 6430u Ultrabook from Dell is compatible with Windows 8.  The price of Dell`s new Latitude 6430u Ultrabook starts at £699 ex VAT.