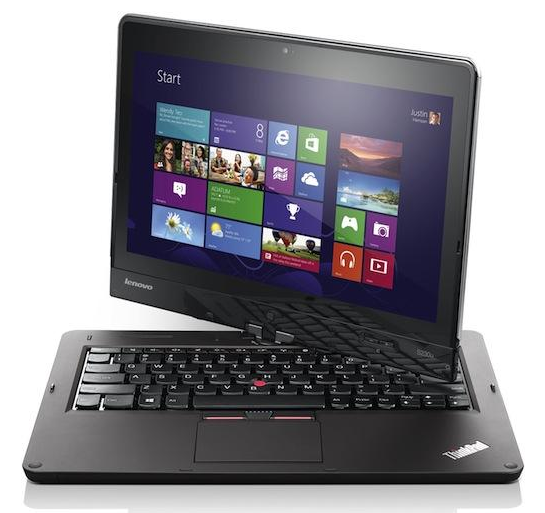 Years ago there was a clear distinction between computing devices. We had PDA's, laptops and desktops and that was it. Eventually manufacturers tried their hands at devices that combined the best of each class, culminating into hybrids, like the old touchscreen notebooks with swiveling displays and cumbersome handling. However, Windows 8 has changed the game a bit. Now there are laptops whose screens fold completely back, ultra books where the display folds on it's hinges, slide keyboards and all manner of clever and not-so-clever workings. Ultimately, customers will decide the winners and losers.
The Lenovo ThinkPad twist is billed a convertible and that holds true to the original definition of a distinct device class. That is, it has a screen that rotates allowing it to be used as a slate. As Lenovo focuses on business-friendly devices, this one has a finely engineered keyboard, a second set of touch buttons and the integrated pointing stick. However we must note that the difference is in the software that runs the device, in that it fully supports the touchscreen functionality. The question is, is it time to make the move to upgrade from the old ThinkPad?
Design
The ThinkPad Twist takes design elements from the ThinkPad family that we all know and love. Solid and serious optics and the island keyboard are not designed to attract ooh's and ah's, but rather the business user Lenovo caters to. The lid has a plastic trim that gives away it's low-end status, and this kind of trim is also featured as the start- and volume button housing. Again, there are contrasting bits in the design that give the look of flimsiness, but when you tote the device in your hands it has a decidedly sturdy feel to it.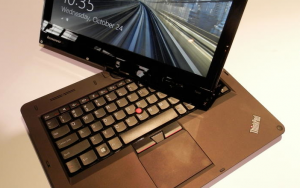 The Twist is a bit heavier than some other convertibles, but the difference is inconsequential and hardly noticeable. Its appearance is conducive to presenting and this seems like the primary application, but that said it still lags behind the tablets in it's operability. It features a sensitive display and comfortable touch handling however the screen doesn't process stylus input which may affect it's perception by the business consumer. The keyboard doesn't deviate markedly from the keyboards on some of it's more recent offerings. It has the chiclet layout (all the rage) but the keys take up more space and this is noticeable more comfortable.
The ThinkPad Twist – hands on review
The Lenovo ThinkPad Twist in action
Display and Software
The hinges allow you to rotate the display (clockwise) to convert it to a tablet but there is a slight bit of lag when changing orientation. When switching back and forth between laptop and tablet use, there are some slight issues, but generally it works fine most of the time. The 12.5-inch touchscreen has a Corning Gorilla Glass coat so it holds up well to everyday wear and tear. It can be viewed well from various angles as the brightness is above average.
In a reverse from current market trends, the Twist doesn't have an inordinate amount of pre-installed apps. Up front you'll see Evernote, Skype, Kindle, eBay, Microsoft Office, and a host of useful maintenance and service apps. Then there is the Lenovo Cloud Storage app from SugarSync. Quick Launch opens the old-school Start Menu that allows easy access to all the applications.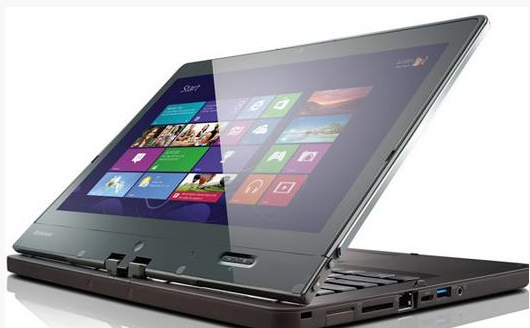 One of the pleasant things is that it includes an ethernet jack and memory card slot, two USB 3.0 ports, 3.5 mm headphone input, rounded out with a mini-display port and HDMI. The power button can be found by the keyboard and there is also the screen-lock when the accelerometer isn't suitable when switching between notebook and tablet mode.
The graphics are powered by Intel's HD 4000 and don't perform markedly better than other ultraportables. Though when gaming, it stays relatively quiet but it does heat up fairly significantly. The overall I/O performance isn't quite as impressive as others in this class that feature an SSD (it comes with 24GB), but it's more than adequate. Unfortunately the battery life on this device is a disappointment to say the least. It tests independently and from Lenovo at around 4 hours under standard conditions (65% brightness, WiFi and a few apps running).
Price and Warranty
The Twist price ranges from $745 with a Core i3 and 320GB to around $1100 with a Core i7, 8GB RAM and 128 SSD. Thats solid price-performance ratio if you compare it to other ultrabooks out there. The warranty is good for one year.
The Twist has a lot that speaks in it's favor like the vivid display, a nice selection of ports, a good price an excellent keyboard and touch functionality. The software is useful and Windows 8 matches up wonderfully with the device features. That said, this looks to be the beginning of a wonderful friendship.