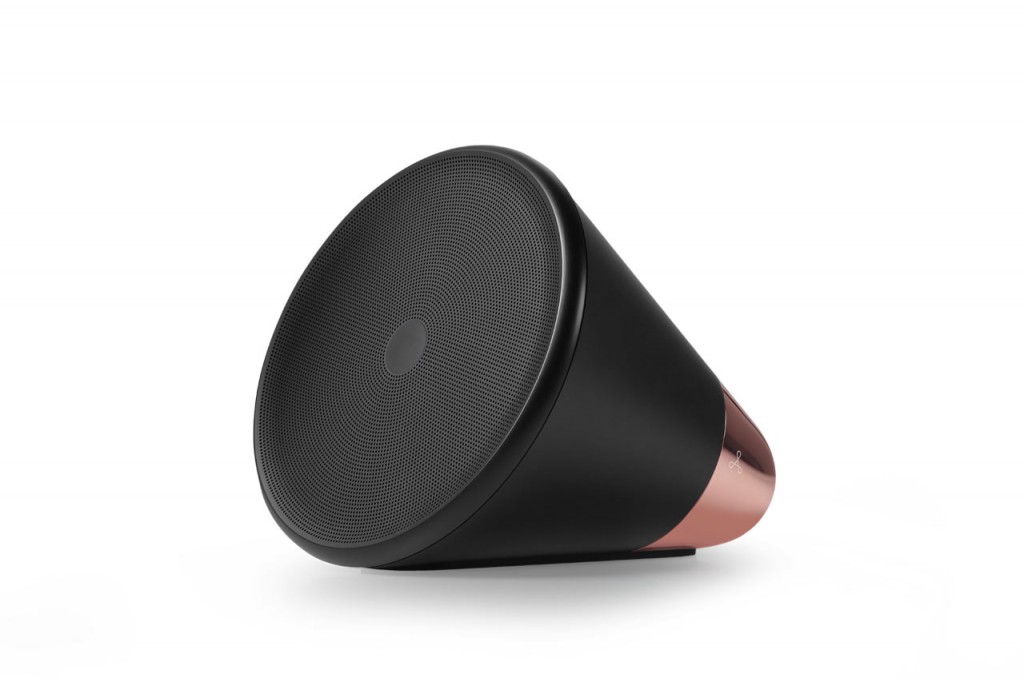 San Francisco-Based Aether Things, a company comprised of high-level designers and engineers, has just debuted their first product, The Cone.  The company calls it a "thinking music player" that attempts to figure out what you like as you listen. This $400 Wi-Fi speaker is powered by Rdio for music and Stitcher for radio and podcasts, with more partners to come in the future. Cone's claim to fame is it's complex algorithm, which it uses to monitor what, when, and where you listen to music. Then it builds on your habits to make choosing music easier.
Why an Algorithm Built into a Music Player
With all of the streaming in the world, at our disposal, Aether wants to make it easier to gather, organize and listen to this music without all of the effort. If you don't want to pick out a playlist, or set up a wireless speaker, Cone is your man. It implicitly knows your listening habits, even from room to room, and builds a listening experience from it all. That's the concept behind Cone.
(From Wall Street Journal)….
Aether Cone Build and Design
Cone is gorgeous, simple and elegant. It packs a 3-inch subwoofer and eight hours of battery life, but it doesn't weigh much. In fact, you can carry it in one hand, but it's larger than it looks thanks to its cone-like profile. The small end is capped in smooth copper, and the whole thing is controlled by three  parts: the on/off switch, the two copper-plated volume buttons, and the wide circular face, which functions similarly to an iPod click wheel.  You control what's playing by giving the outer rim a spin, or you ask Cone for a specific song or artist by pressing a central button on its face.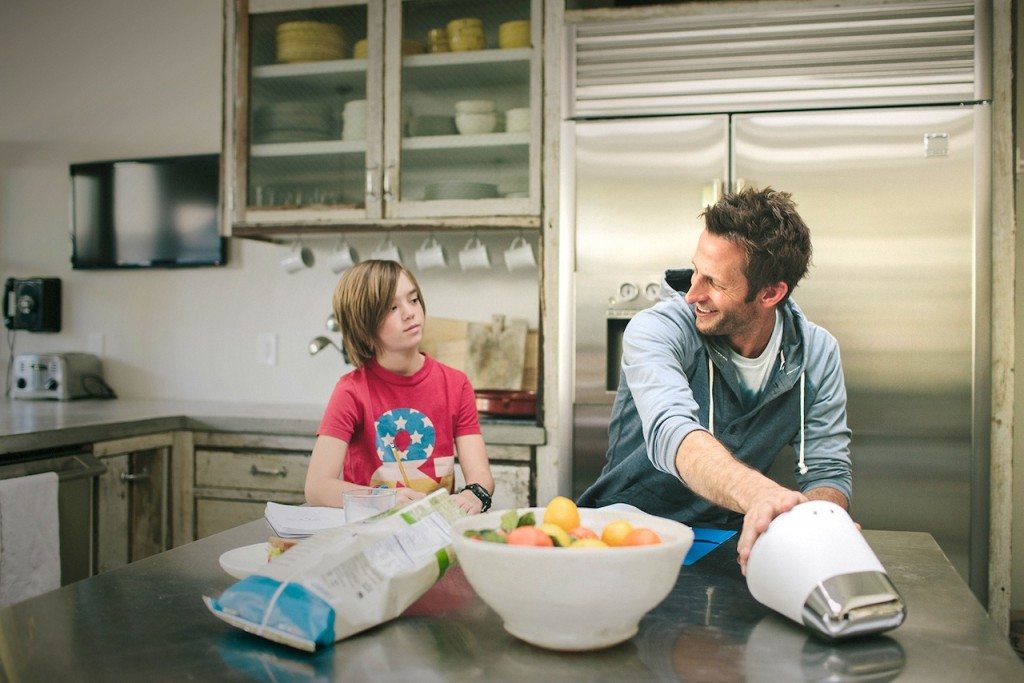 Aether Cone interprets information about your music tastes using its proprietary software, and gauging the way you interact with Cone. It's algorithm crunches your listening habits into a mathematical formula that will know what you feel like listening to before you do. The formula is based on thousands of data points pulled from how you interact with the Cone. Every time you use the speaker, you're adding another data point to your own personal algorithm. If you skip a song, Cone knows not to play it again. If you turn the volume up or down, Cone takes note. Even location matters. If you like soft rock in your bedroom, and Guns N Roses in the den, Cone records dates and locations.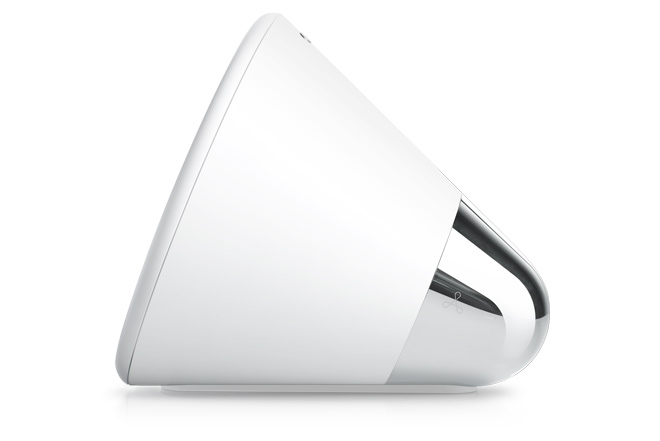 Aether Cone Feature and Use
Using that information, it creates a kind of habitual schedule for you, all the while introducing you to music you might be interested in based on all that big data. What's better, the Aether Cone comes ready, out-of-the-box, although you need iOS 7 or OSX Mavericks, the only two operating systems supported at the moment. To setup, you simply connect Cone to your Wi-Fi network and follow a couple of steps to install and link up the app, which is powered by Aether's launch partner, the subscription streaming service Rdio.
(From Engadget)…
Once the Aether Cone is on, all you need to do to hear it is give its circular face a gentle turn to the right. It will play something random at first until it gets to know you. If you don't like what's playing, give it a spin, and it will find something randomly new. To play something specific, you use the speaker's voice control. At the center of its face is a small button outlined with an LED. To request an artist or song, tap the central button and wait to hear a gentle chime accompanied by a pulsing blue light. That's your cue to ask it to play something. The Aether Cone will process your request for a minute, and if it's successful, a green light will pulse and your song will start playing. If it's not, a red light will pulse and you'll need to try again.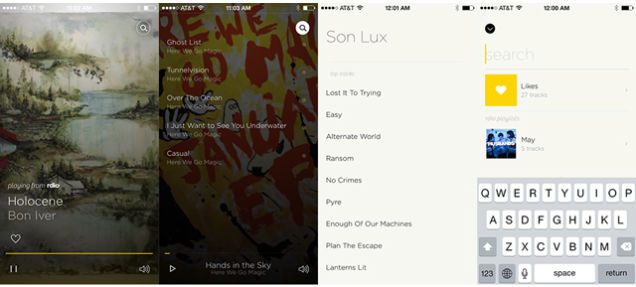 Aether Cone Mobile App
If none of these functions fit your fancy, you can always connect to Airplay, easily streaming anything from your iOS or OS X devices to the speaker. And luckily, Cone is still learning and thinking about what you stream to it from your phone or computer.  The app, however, is most of the nervous system of this endeavor. With it, you can see what song you're currently listening to, and you can star it to add it to a master playlist on your Rdio profile. Here's where you can also control the Aether's Cone's basic functionality from afar, as well, including pause and volume.
Additionally with the app, you can access any playlist you've made on Rdio and search for specific songs on Rdio from the app—essential functionality if you're requesting something obscure or difficult to pronounce. One nice feature of the app is its recall, which lets you see a list of songs Cone has recently played. If you notice a song you like and forget to star it, you can always scroll up to check out the name.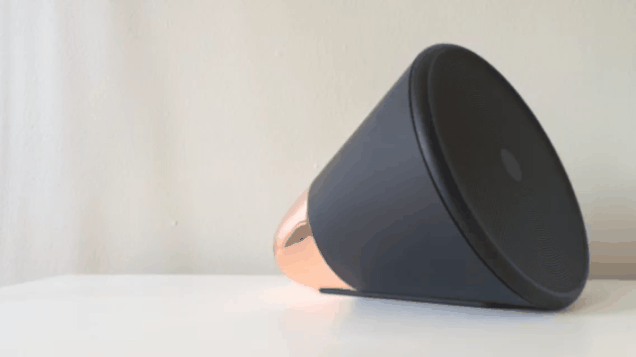 Aether Cone Performance
The Aether Cone's sound quality is spectacular, and can fill a room much like a much larger speaker.  It has deep, rich base, and crisp treble…really a complete joy to listen to. And boy can it thump. Turning the volume up can turn your living room into a small concert hall.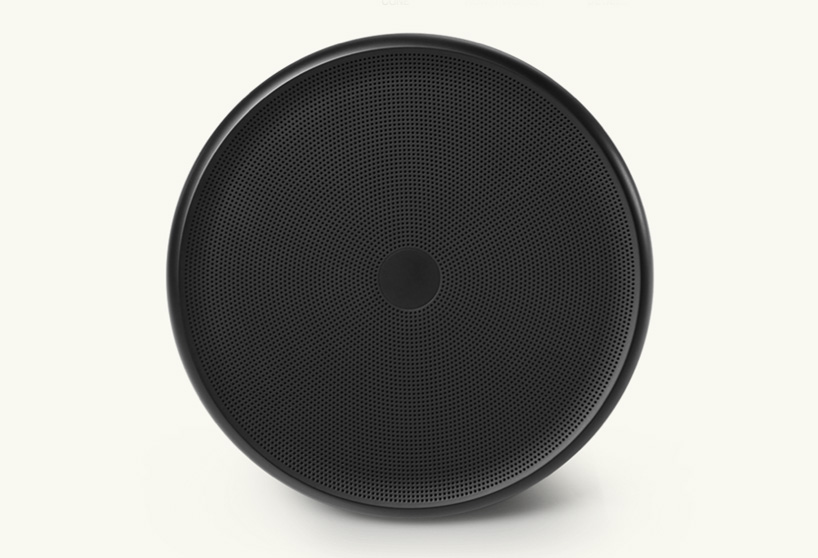 The battery life is also excellent, with eight hours of play before you have to plug it back in to charge.  And the app does a great job of organizing and introducing you to new songs and bands.
(From Digital Trends)…
Aether Cone Verdict
While the software will still continue to need developing, it's a revolutionary, out-of-the-gate concept, and it works pretty well for what it claims it can do…learn your music habits and create playlists based on them. Aether describes the Cone as a piece of hardware that's designed to grow along with the software. Bottom line, the Aether Cone is a winner, and its machine learning concept is space-age, and on the verge of a new revolution in media.