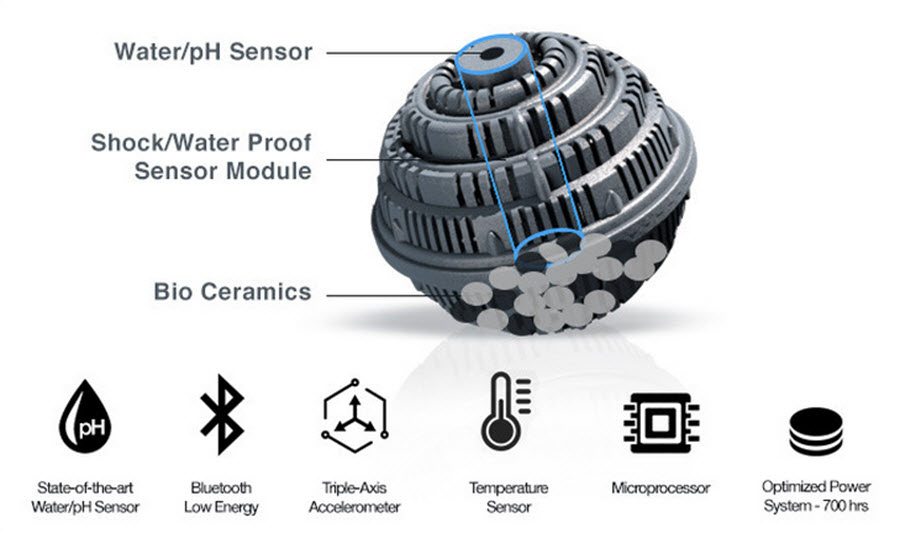 Would you like to do 1,000 Loads of Laundry, all without any detergent, chemicals, dyes or perfumes?  Meet Crystal Wash 2.0, small cartridge balls that  launder clothes amazingly efficiently, clinically demonstrated to be as effective as detergent and lasts up to 1000 washes.  Additionally, they can be recharged by placing them in the sun.
Crystal Wash 2.0, is actually the second iteration of this product, and dubbed the "connected" version, which will make it even easier to use because it now gives you a set of tools & features that will help you do your laundry better.
Crystal Wash 2.0 uses an embedded state-of-the-art pH water sensing chip and a micro-controller with Bluetooth capability inside the current Crystal Wash ball with Bio Ceramic 'pellets'  – giving you the ability to do 1,000 loads of laundry with no detergents, no chemicals, no dyes and no perfumes.
The Crystal Wash original retails for $49.99 and can handle 1,000 loads of laundry. The new Crystal Wash 2.0, the "connected" version, will make it easier than ever to use by supplying you with tools and features to help you do you laundry better.  By embedding a state-of-the-art PH water sensing chip and micro-controller with Bluetooth capability inside the current Crystal Wash ball, you will be able to receive notifications – recharge alerts, temperature sensor, pH levels, wash cycle, TDS (total dissolved solids) and more.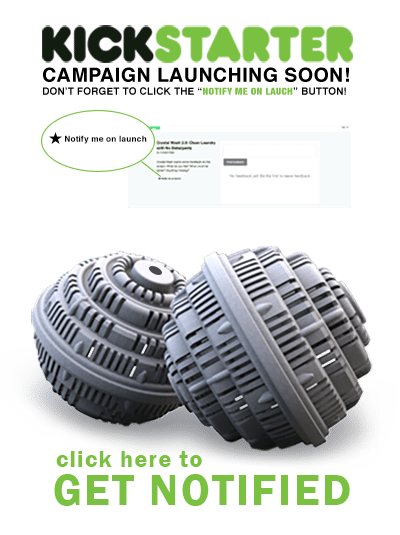 Kickstarter Project
The Crystal Wash 2.0 Kickstarter will start today, and runs for 39 days with a $100,000 goal.  The company will accept a pledge of $5 or more with an estimated retail cost of $59.99 for the final product and an estimated ship date in September 2015…and they will ship anywhere in the world.
Crystal Wash 2.0 Technology
The technology behind Crystal Wash uses Bio Ceramics from the earth – they look like polished stones.  They naturally clean your clothes as effectively as laundry detergent, but with none of the harsh chemicals and are gentler on your clothes and skin.  They will not fade colors, there are no perfumes or overbearing scents – just 100-percent natural – and it is eco-friendly, natural and non-toxic.
The Bio Ceramics do two key things to your laundry water – they raise the pH level to 8.5 or greater.  This shrinks the water molecules to a size that allows them to soak out the dirt within the fabric.  The second key is they also create Hydrogen Peroxide that disinfects the clothes by killing bacteria and odor.
As the Bio Ceramics collect all of those odors, dirt and waste from you clothes, they have to be 'recharged' so the pH level stays higher than 8.5.  But even 'recharging' is simple enough – every 30 days (or 30 loads) just sit the Crystal Wash balls out in the sun for an afternoon.  There is nothing else for you to do and after the 'recharge,' they will be as effective as when you used them the first time.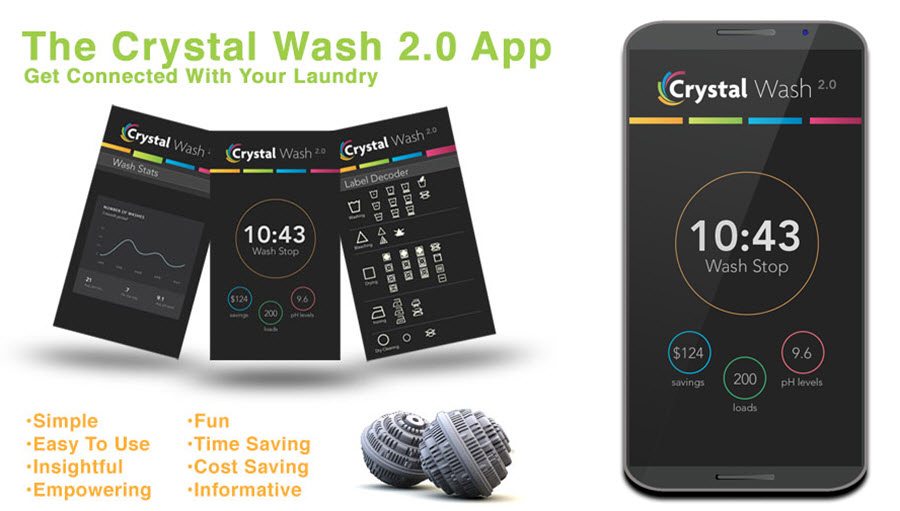 Crystal Wash 2.0 App
The app on your smartphone, connected via the Bluetooth transmitter inside the Crystal Wash 2.0, will automatically remind you anytime you need to handle any maintenance.  The Crystal Wash App features: Real-time Wash pH Levels – Recharge Alerts – Wash Complete Alerts – Wash Cycle Tracking Stats – Graphs, Counters, Social Sharing – Savings Tracking – Crystal Wash – Wash Cycle Counter – Time to order new Crystal Wash – Stain guide – and Label decoder.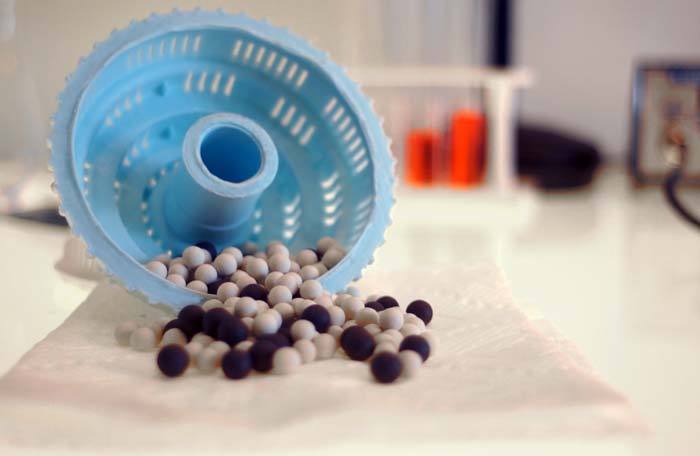 The development team has gone through a few prototype phases and are now working on how to miniaturize the components to fit inside the current Crystal Wash ball.  The electronics must be able to withstand the harsh environment within a washing machine – water, shock and temperature exposure.  Advances are being made and they reached a milestone in their R&D process by building a 'lab on a chip.'
Check out the Crystal Wash 2.0 Kichstarter campaign here.