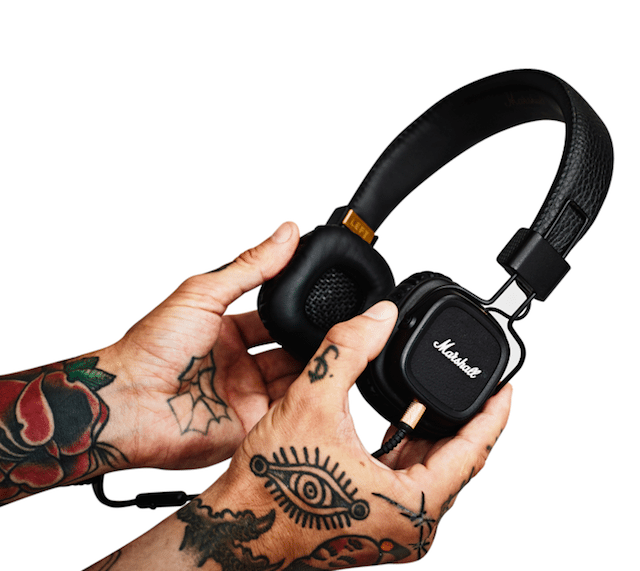 While Marshall has always been the go-to brand for professional musicians needing a good amp, the company also entered the headphone business a couple years back, and their latest Marshall Major II Headphones offers a great addition to the on-ear line, particularly since they're offering a few new product shades to the mix including black, white and brown.  In fact, starting from March 25th, the various colors of the Major II headphones will hit over 90 countries.
New Design and Improved Ergonomics
The Marshall Major II headphones sound as good as their impressive name, and a great follow-up to their predecessor. Not only do you get updated sound, but you also get a new design, not to mention increased durability and improved ergonomics, which will certainly give way to a whole new level of listening experience.
Sound Advancements
Additionally, the Marshall Major II headphones are built to last, offering advanced sound features that include customized drivers, allowing it to deliver deeper bass, as well as additional extended detailed highs, a refined mid-range and an overall lower distortion. There will also be a detachable double-ended coil cord with mic and remote that comes equipped with an L-plug end, so that you get to enjoy improved durability. Marshall even throws in a carrying ease.
Dual 3.5 MM
Finally, the dual 3.5 mm jacks on the Marshall Major II headphones give you the freedom to pick the side on which you prefer to wear your cable on, or simply to plug in and share your music with your fellow music lover.  Marshall is selling the Major II cans for around $125.
Check out the full press release and stay tuned for a full review on the Marshall Major II Headphones…
Marshall Major II Headphones FULL PRESS RELEASE