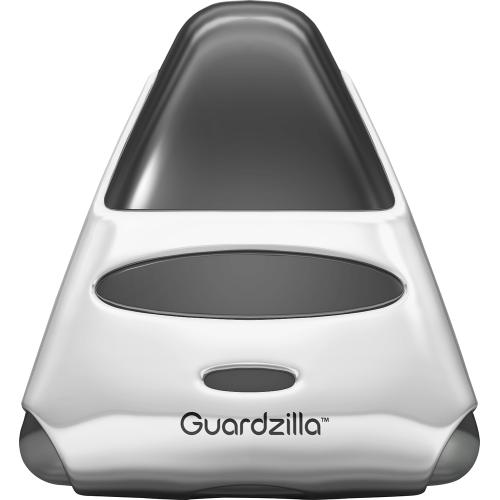 It's no secret that the wireless security camera business is thriving, and a new entry to the market, Guardzilla, an under-$100-pricepoint-no-monthly-fee security device, is making some waves.  Add to that the fact that you can set this sucker up in 60-seconds, and it's starting to lead the charge in this product sector.
Guardzilla Set-Up
A quick one-sheeter set-up card is included in the box, and four steps later, you have the Guardzilla operational. You simply place the camera where you want, plug it in, download the app for Android or iOS, join Guardzilla's temporary Wi-Fi network, then follow along through the configuration wizard to join your permanent LAN. That's it.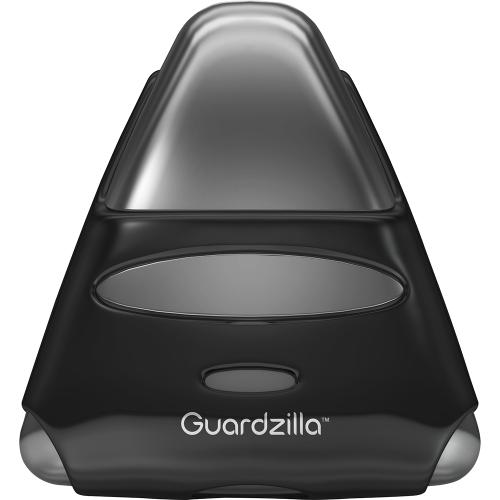 Guardzilla Controls
Guardzilla is managed primarily from a very 5-button admin screen on your smartphone, allowing you to do things like arm or disarm, review activity history in the monitored room, and check live video feeds. The "Panic" button lets you quickly trip Guarzilla's 100-decibel built-in audible alarm, in case you're an dire danger. Guardzilla can also be configured to set off the alarm or keep an eye out for motion, and subsequently capture snapshots when movement is detected.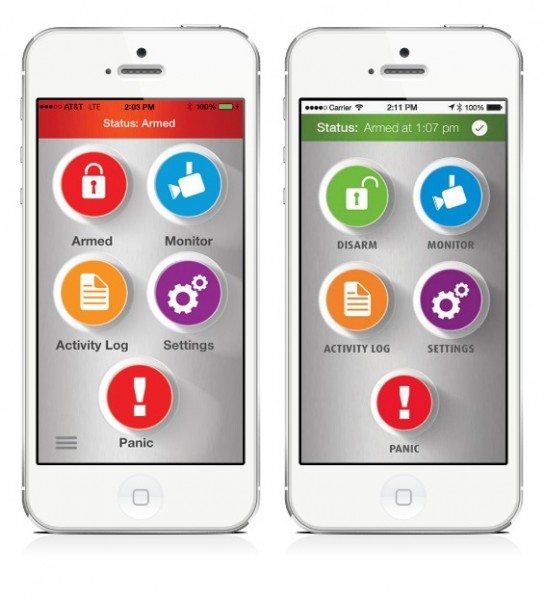 Night Vision
What makes Guardzilla sort of unique is that it includes a night-vision mode, which can be disabled if need be. If Guardzilla detects movement in its frame, it snaps a series of three photos, and then saves them in the Guardzilla app. Plug a MicroSD card into the device Guardzilla, and you can record video either continuously or only when the alarm is tripped.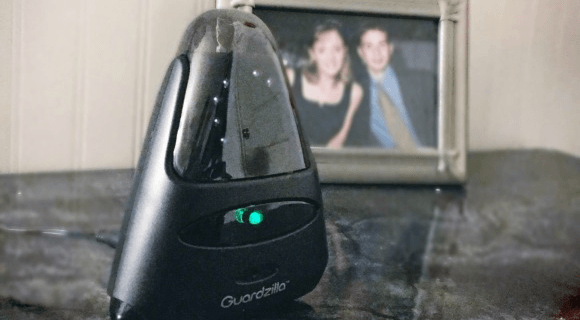 Testing the Guardzilla
When we tested the device, motion sensitivity is pretty dependable and works well.  Five sensitivity levels are available, and the Guardzilla delivers 640 x 480 pixel resolution for the images it captures, so photo quality is really good. Both day and nighttime stills are high quality and crisp.  Additionally, the app is very intuitive and a breeze to use and control.
One of the big selling points of the Guardzilla is its ability to arm the device when you leave the house.  Guardzilla offers three ways to get notifications that motion is detected, and the alarm has been tripped: push notifications within the app, text message or email.  All work pretty well, except email is a little slow getting to the user.
Included with the kit is a tinted and transparent lens cover, so you can change the aesthetic of the device, which is nice.
Bottom line
Guardzilla is perfect for an apartment dweller or dorm room, and you can use several Guardzillas to monitor an entire house as well. For the price, it's tough to beat, particularly because its wireless, it has night-vision, you can remotely use the device and it's so easy to setup.
The company says that continues to revamp its app, including  a new two-way audio feature. Those in the market for a simple security setup with some cool features and an affordable price…look no further than Guardzilla, available in black or white.