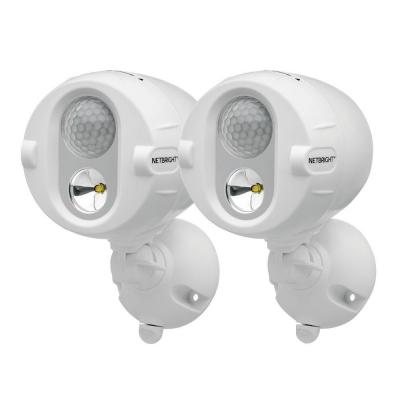 NetBright Technologies just introduced a line of networked wireless lighting products, which use radio frequency connectivity to link multiple spotlights on one network for LED outdoor lighting, and offer a killer security solution for homes and commercial buildings.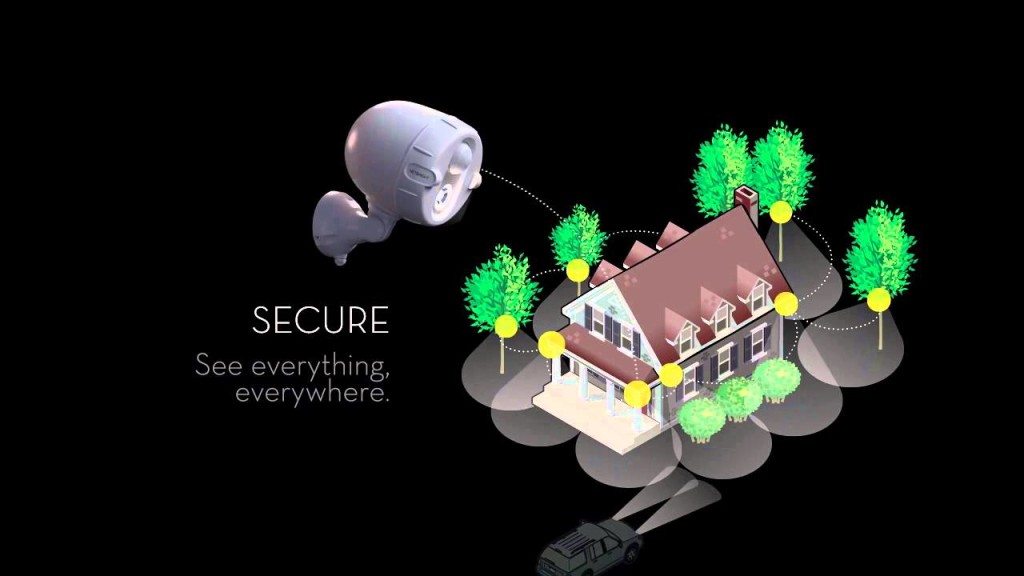 NetBright is Energy Efficient
The NetBright wireless LED lights contain motion sensor for a great security application, and the spotlights also utilize super-efficient LEDs, which provide a year or more of LED outdoor lighting on one set of 3 D-cell batteries.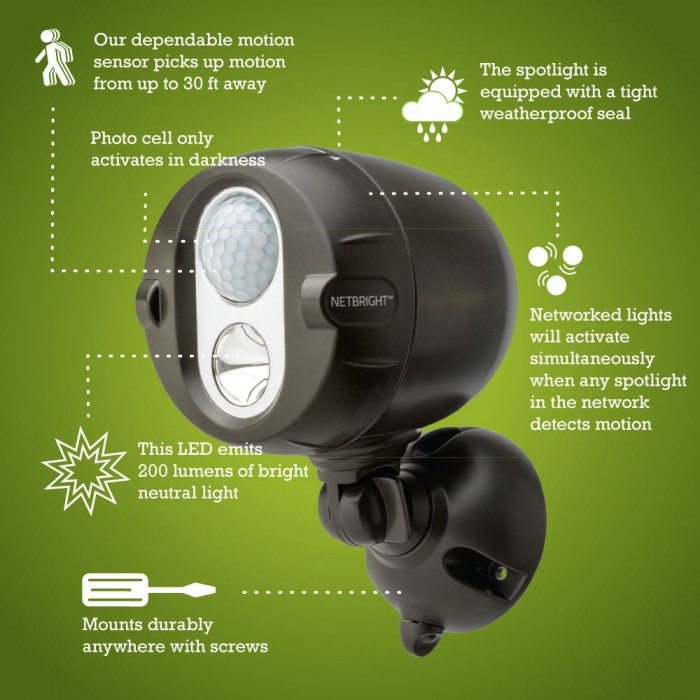 Networked
The real magic behind NetBright is the ability to network these devices. As mentioned, the lighting units use radio frequency transceivers to allow the lights to create a private wireless communication network and operate in coordination with other lights in the system. When one NetBright Spotlight detects motion, it automatically illuminates and sends an "ON" signal to other spotlights in its network, triggering them to illuminate as well. The last unit to detect motion will turn off after 30 seconds of inactivity and send an "OFF" command to the other units, turning all of the lights in a group OFF at the same time. Pretty nifty, huh?
200 Lumens
Each NetBright Spotlight provides 200 lumens of energy efficient light, with each set of three D-cell batteries providing up to 5000 activations. Each light is also equipped with four channels, creating separate networks that can, for example, allow front and rear spotlights on a home or building to operate independently. And get this: Up to 50 spotlights can be connected on each of these 4 channels within one NetBright network, and they can operate at a range of up to 200 feet. This means that this system can satisfy even the largest buildings for security lighting needs.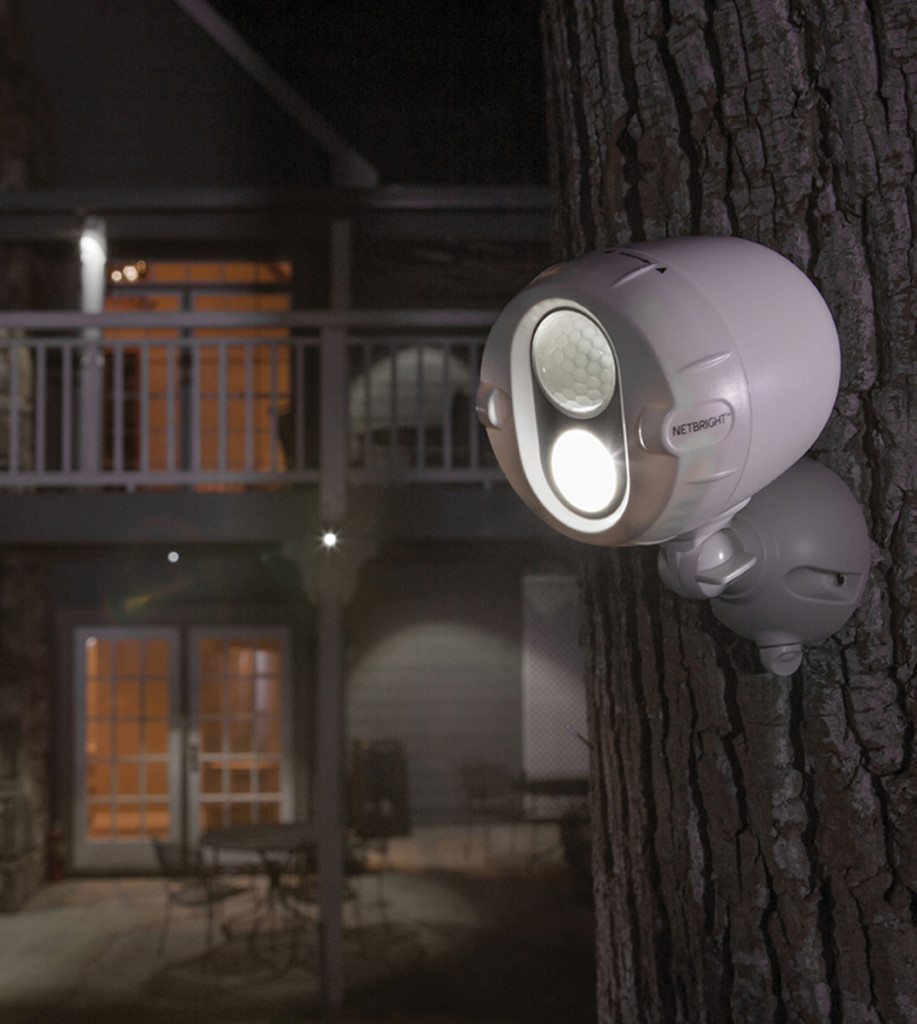 Wireless
The NetBright Spotlights are wireless and do not require an electrician for installation. It's a complete DIY system, and mounting is simple, taking less than 5 minutes to install. You can place them anywhere you need bright light, and all without any wires. Additionally, the spotlights have water resistant seals and UV resistant material for use in all weather conditions.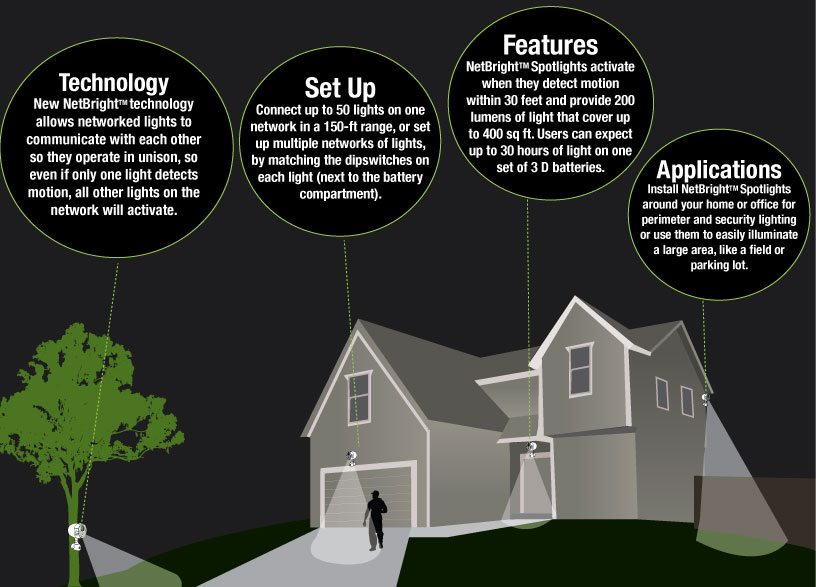 Availabilty and Bottom Line
The NetBright Spotlights are extremely bright, and offer great lighting solutions, both for aesthetics and security. The network wireless feature is the real beauty here, allowing up to 50 Netbrights to operate independently or interdependently of one another. This means that if you require more lighting, you can still keep them on the same system without additional wiring. The NetBright Spotlights are available now, running around $40 for each. If you buy a multi-spotlight kit, you obviously save some money from the per-unit price. The bottom line, though, is that the NetBright systems are a real deal breaker in terms of outdoor security lighting. Networked, wireless, weatherproof, long-battery-life and a breeze to install…what more can you ask for. They are available today.