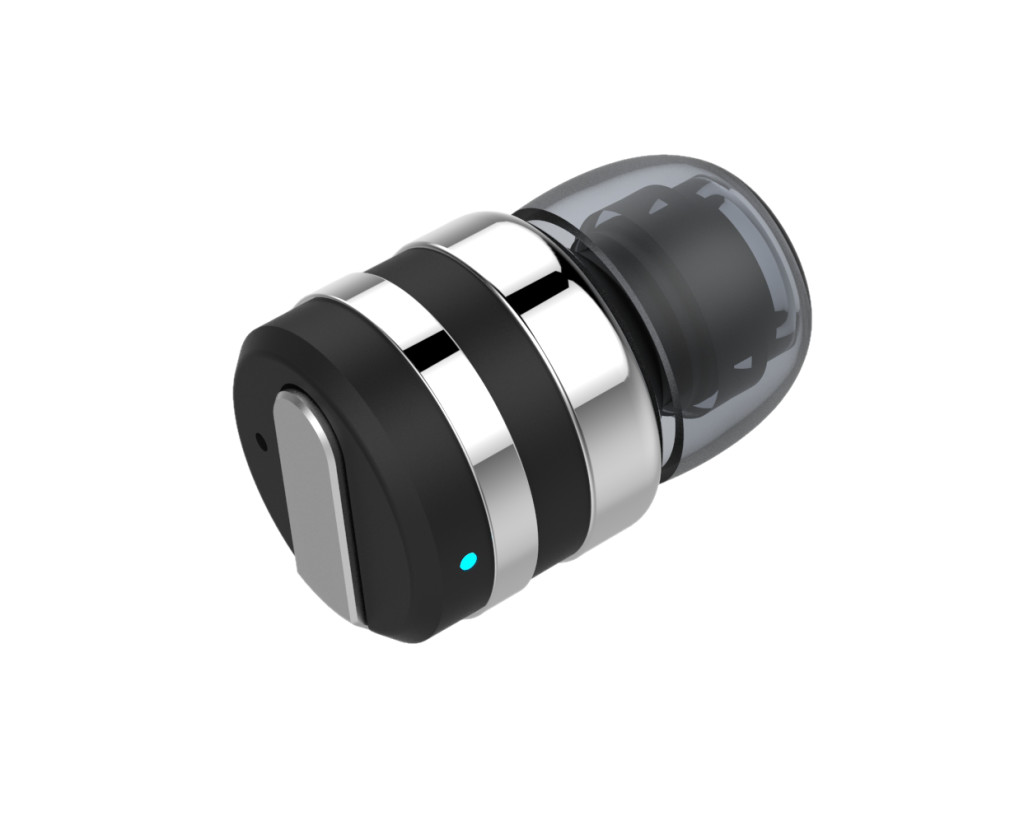 I, for one, am still a fan of the Bluetooth earpiece. In fact, it's an absolute necessity for business, and it's tough to talk on a phone without it…I don't care if the phone call only lasts 2 minutes.
It's no secret that the breadth of Bluetooth earpiece products out there in today's market is astronomical. There are tons, and they all are roughly the same in design, features and function…until we got our hands on the Schatzii BULLET.
 
Schatzii BULLET Design
The BULLET's appearance alone strikes up serious intrigue and curiosity. After all, it's less than the size of a thimble, and its very remeniscent of a device the Secret Service and other covert groups might use to communicate. What gadget freak doesn't like that?
The Schatzii BULLET Bluetooth 4.1 Earpiece is not only tiny, but it's charging system is rather remarkable as well. Obviously a device this small is going to run into some battery issues, and that's where the charging tube comes into play.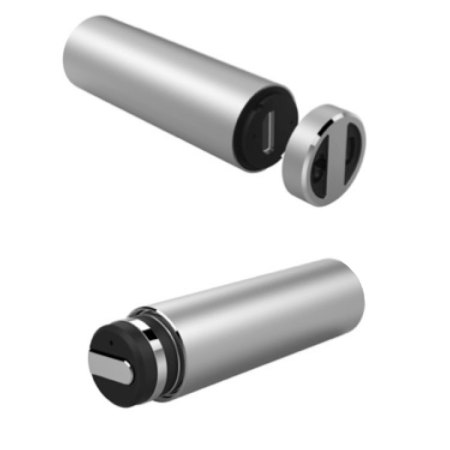 The BULLET's earpiece measures just 2cm x 1.5cm, weighs in at around 3.5 grams, and it literally rests inside your ear. Did we mention that this is the entire device? There's no other FOB or accessory that accompanies it.  The BULLET's size and form factor make it an extremely comfortable Bluetooth earpiece to wear, unlike most of the other competition out there.
 
Schatzii BULLET Battery and Charging
Of course the BULLET would be a perfect device if not for the battery issue, as previously mentioned. True, you do get around 80-hours on standby, but honestly that only equates to about an hour and a half of real talk-time….nothing like you get with say a Plantronics Edge, which gives you around 5-6 hours of real talk time.
But Schatzii has a solution. When the battery runs out, you simply place it in the charging tube, which doubles as a wireless and portable power pack that can recharge the earpiece up to three times on a single charge. Yes, you have to charge the charging tube as well, but you can do both at the same time….that is, charge the charging tube while the earpiece is attached.  This gives you a charged earpiece, and a power pack reserve when you need it. The charging tube is also a convenient way to carry your earpiece, because suffice it to say, the BULLET because of its size can get lost very easily.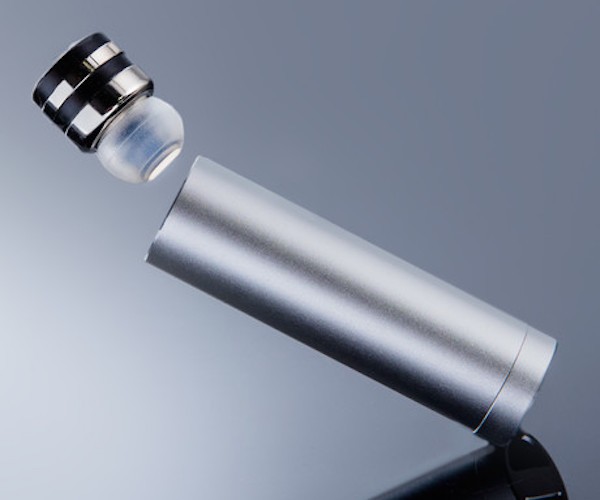 The earpiece just snaps magnetically into place, and recharges in around an hour, a pretty snappy charging time for a Bluetooth Earpiece. Both the earpiece and power pack together only measure around 6.3cm x 1.5cm, so portability is a huge selling point.
 
BULLET Performance
Schatzii includes a red LED light on the BULLET itself when charging, and then it goes out when it's fully-charged. You recharge the power pack or the power pack and charging BULLET together using the supplied micro-USB cable. The micro-USB port resides underneath the base cap on the other end of the charging tube. The cap has a twisting latch as well, so it doesn't fly open.
The BULLET itself snaps firmly into the other end using a strong magnet, and trust us, it stays in place. It won't come lose in your pocket or a purse.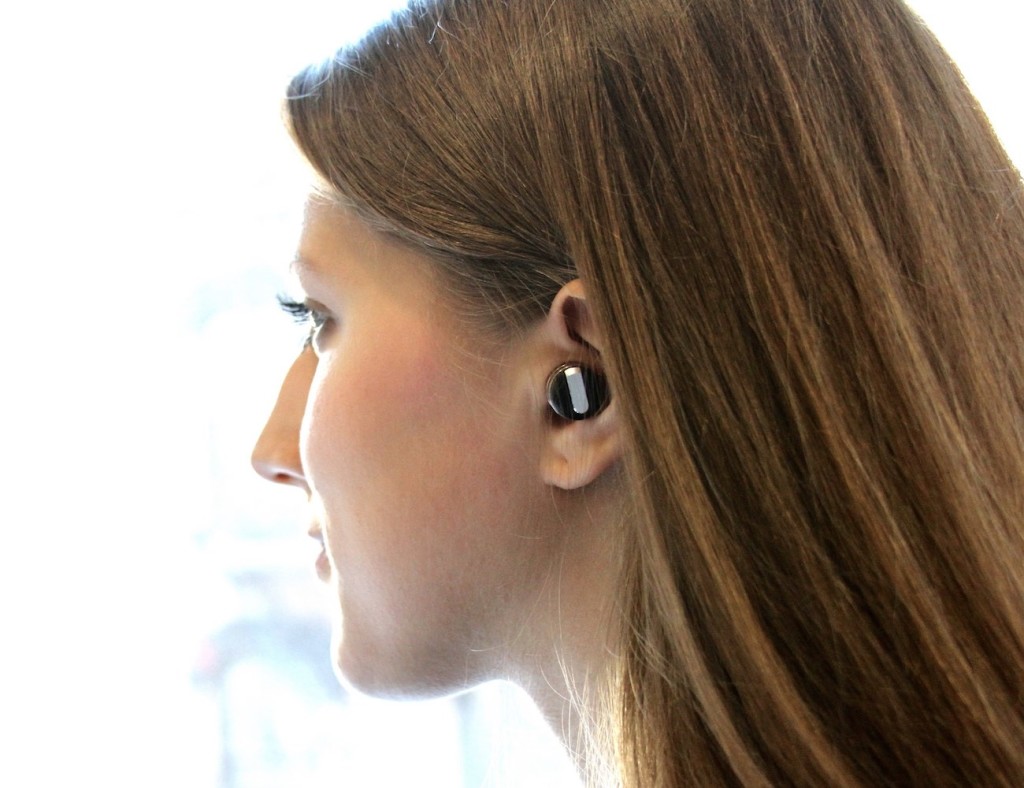 Sound quality was a bit of a surprise. I wasn't expecting much, especially for a Bluetooth device this small, but the Schatzii BULLET actually sounds pretty good. Voices are distinct, loud, and reportedly, background noise stays at a minimum. Of course the BULLET is not the ideal device when listening to music, but it works OK in that regard as well. For phone calls, however, it works really well, even in loud environments thanks to its built-in noise-reduction technology.
 
Price and Bottom Line
The Schatzii BULLET runs around $150, definitely not the cheapest on the market…not even close, but of course you're paying for the design, portability, and the very cool charging system. Add to that the fact that the BULLET actually works!  It has above-average call quality, good noise cancelling technology, and a good enough battery life (with charging capsule) to last you throughout the day.
We recommend the Schatzii BULLET Bluetooth 4.1 Earpiece, and you can purchase it here.