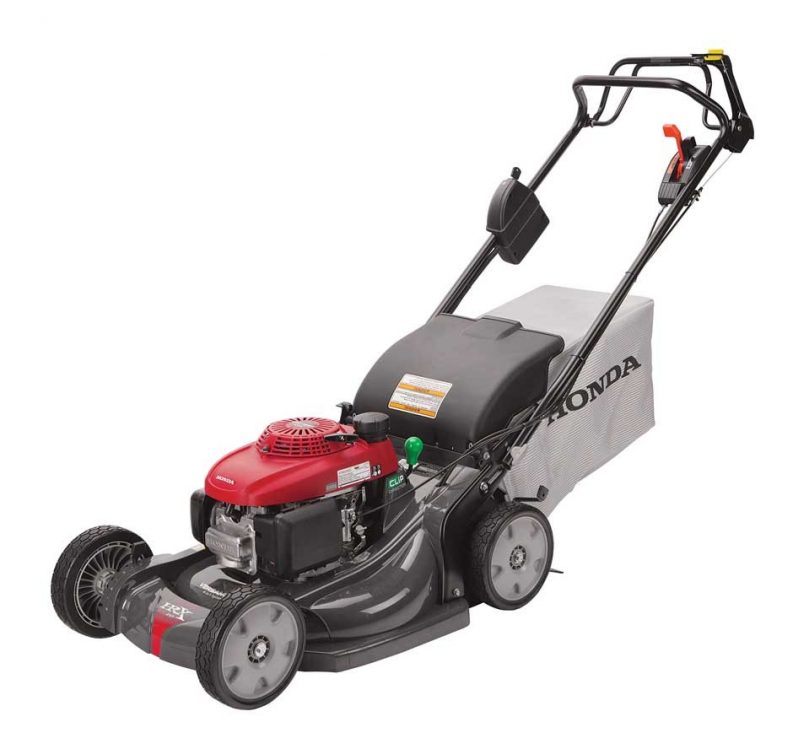 There are two kinds of folks: Those who love mowing the lawn, and those who loathe it. But someone's gotta do it for a good half of the year…at least. Southern Floridians have it on their to-do list year-round. And using a good mower can make all the difference in the world, from ease of use to results a mower produces to the time it takes you to get the job done.  With so many models out there, though, what is the best?
We think we have the answer. It's the Honda HRX217HZA, and it's a beast. Powered by an electric start Honda GCV engine with Auto Choke, and which also includes a Rechargeable Cyclone battery that holds a charge for a full season, HRX cruise control (Hydrostatic) transmission, and ignite speed-control with comfortable levels between 0 to 4 MPH, the Honda HRX217HZA is hard to beat.
It also includes a Roto-Stop blade brake clutch, which starts and stops blades with the engine running, a Micro Cut twin blade system that uses 4 cutting surfaces for ultra-fine clippings, an impact resistant Nexite deck that doesn't dent, rust or corrode, and a 3-position folding handles that allows for easy storage.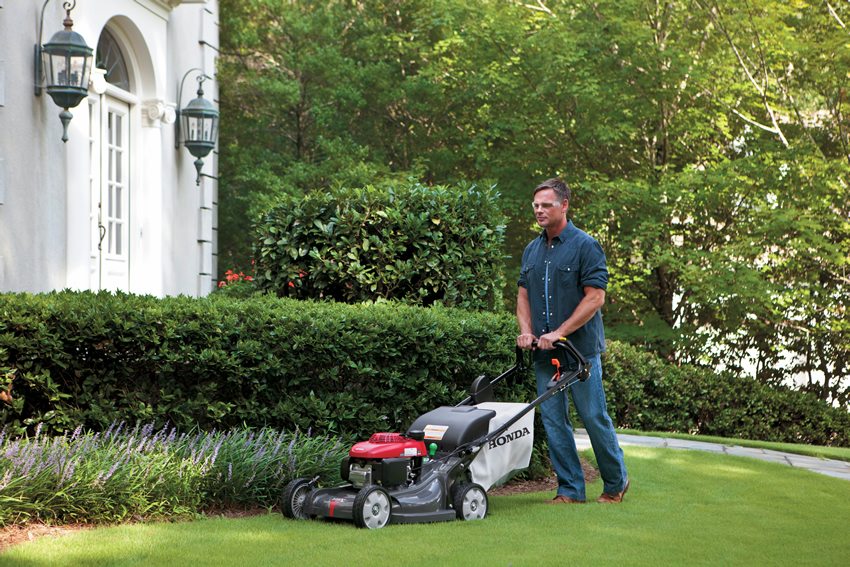 Honda HRX217HZA Engine
Let's talk about the engine for a bit. The Honda HRX217HZA uses a premium Honda GCV190 186cc 4-Cycle Engine, which provides a superior engine life over it's competition, as well as sustaining power and super easy to start. The Honda GCV engines also offers a quiet, yet powerful and lightweight combination for a variety of demanding applications including both residential and even commercial use.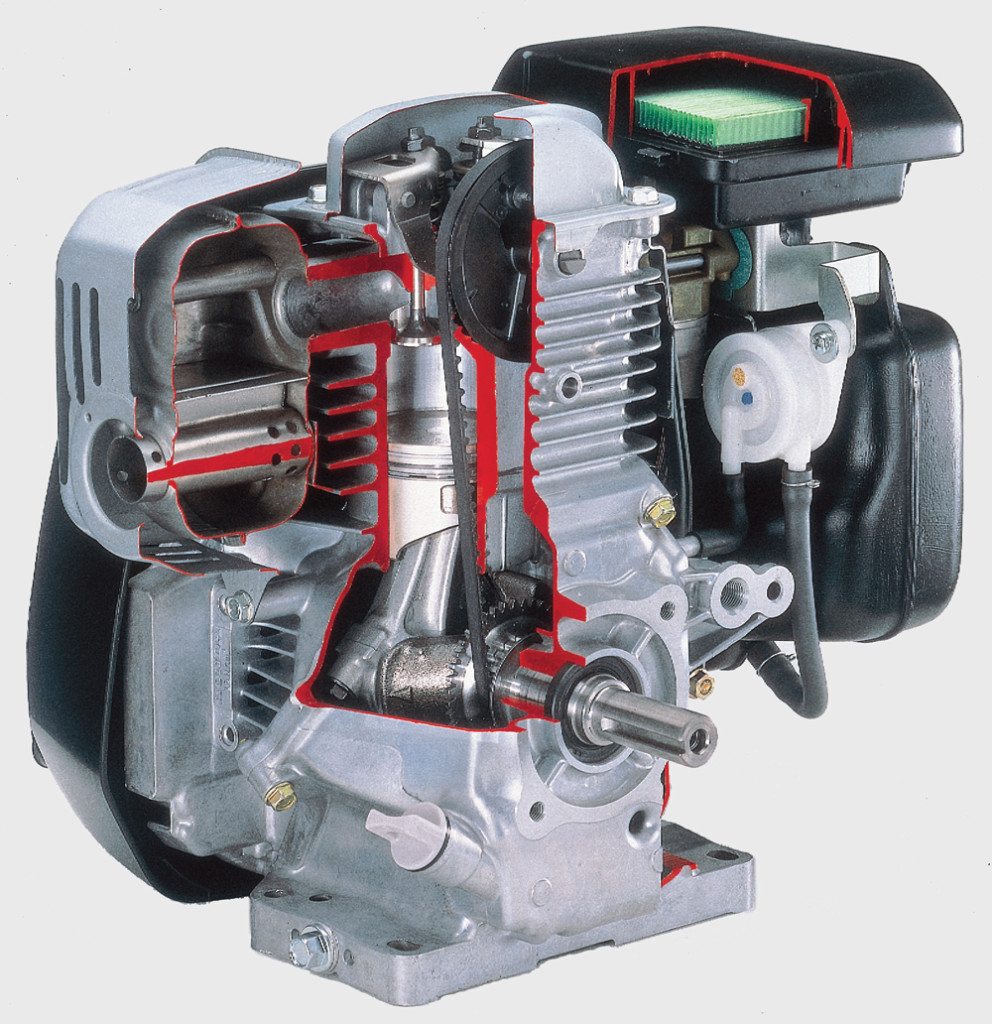 A truly innovative combination of a compact combustion chamber, a tough resin overhead cam configuration and a uni-block construction, all features help significantly reduce fuel and oil consumption as compared to conventional side-valve engines.  It also has powerful torque across a wide RPM range, which helps reduce engine speed drop from sudden load increases. Honda's simple design has made the this engine Series lighter and more compact than any engine in their class. Plus, simple construction has minimized the number of parts, making the engine more reliable and easier to operate.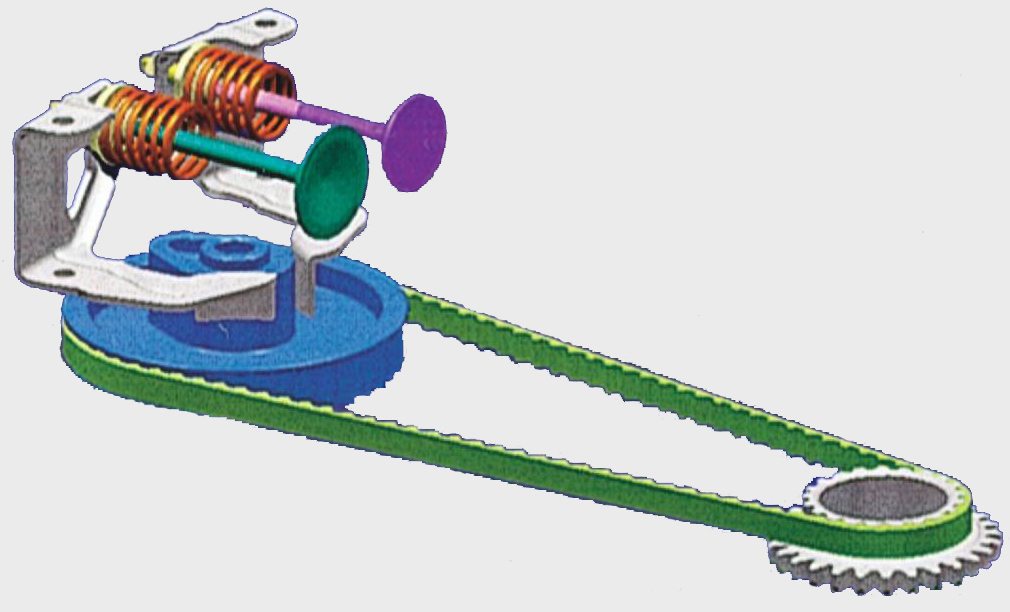 Honda's GVC 190 engine also uses the world's first small engine internal timing belt, designed to last the lifetime of the engine. Small engine timing belts are usually external and are subject to wear caused by dirt.  Honda's internal timing belt runs in oil, eliminating the need for conventional drive gears.  What does this mean? It means improved lubrication, reduces engine weight, produces high-output, improves fuel efficiency and provides a super quiet operation.  It also means that the Valve-train and gear noise is minimized, and Honda precision engineering and components result in lower vibration.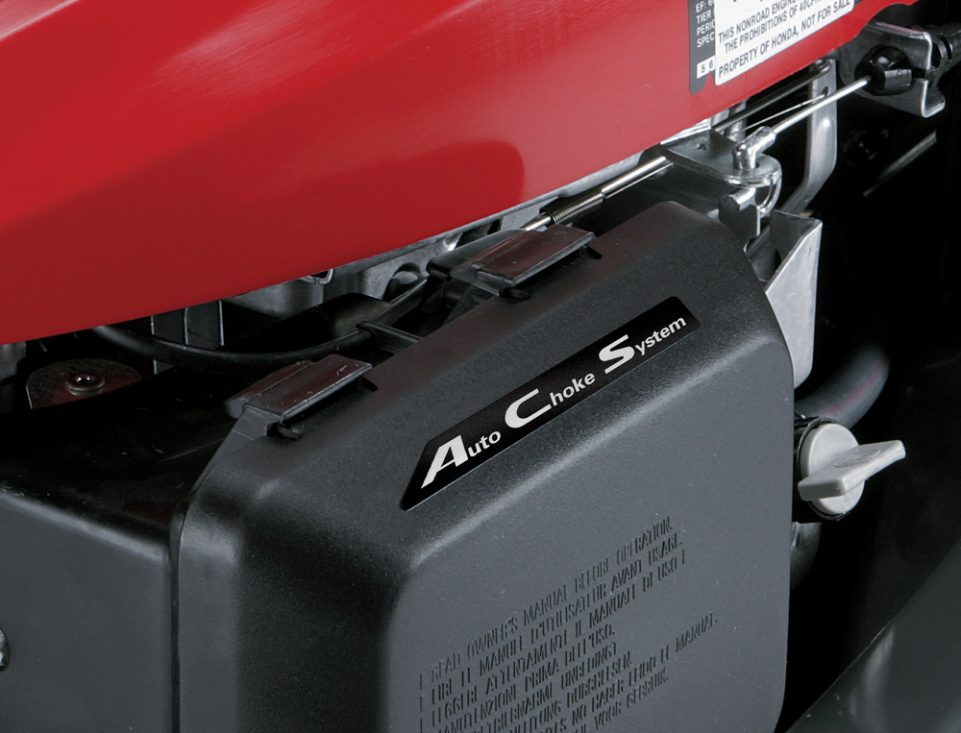 Auto Choke and Mechanical Decompression Systems
One of the main benefit's of the Honda HRX217HZA lawn mower is it's Auto Choke System. This user-friendly system is truly automatic, eliminating levers and cables. In other words, the engine starts easily whether cold or hot, and is ready to use immediately. Once the engine is up and running, the Auto Choke automatically returns to an optimal operating position.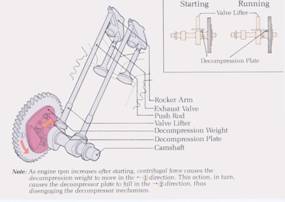 Honda's Automatic Mechanical Decompression system on the Honda HRX217HZA is designed to give you quicker, easier starts. This system, which is connected to the camshaft, reduces compression by opening the exhaust valve slightly when the engine is being started.  This reduces the amount of force needed to start the engine and improves starting performance.  The system disengages automatically after the engine starts to prevent any power loss during operation.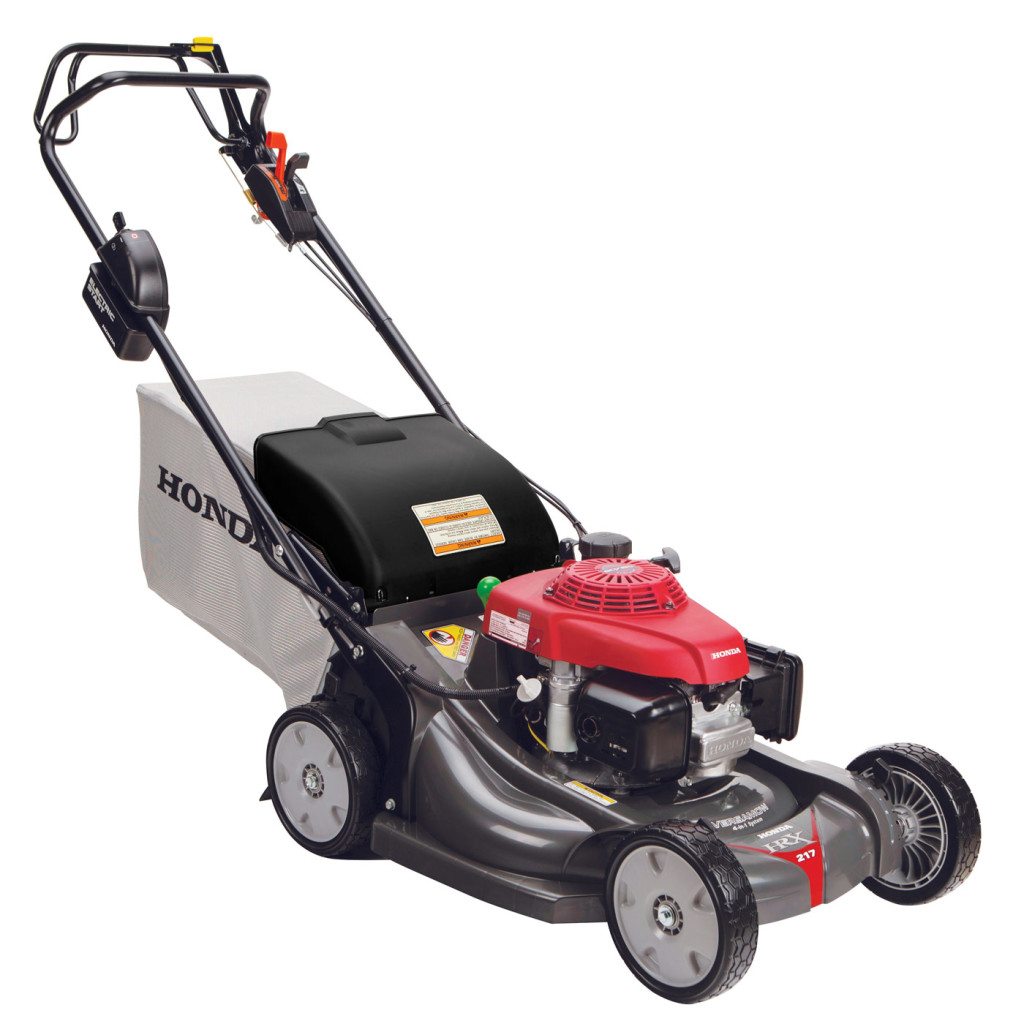 Bells and Whistles
On board the Honda HRX217HZA has an Electric Start with Advanced Cyclon Battery Technology. This on-board battery charges automatically when the mower is in use. Additionally the Cyclon sealed lead-acid battery technology delivers 100s of starts on a single charge, and electricity is fed to a small starter motor integrated into the engine.
Honda's Hydrostatic Cruise Control Transmission on the Honda HRX217HZA allows you to set and easily change your speed for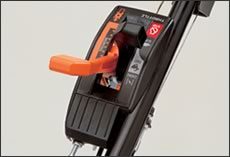 outstanding control. You can choose any comfortable speed between 0 and 4 mph.  In fact, it offers you an infinitely variable, self-propelled speed settings. When you need to change your speed, the control is right there on the handlebar. Choose from 9 different preset "maximum" speeds using the orange shift lever. Then use the clutch lever to vary your speed from zero up to your preset maximum as you are mowing. And of course, you can change your preset maximum at any time. It's easy and convenient to use.
Unlike other variable speed systems, Honda's Cruise Control lets you set your speed and forget it. No need to constantly push or lean to make this mower go. If you need to pause to empty the bag or take a break, just like a car, Honda's Cruise Control enables you to save your preferred mowing speed, then immediately return to it when you start mowing again.
The Honda Cruise Control Hydrostatic transmission uses a hydraulic pump and motor, just like you'd find in professional riding equipment. Ground speed is varied by changing the rate of flow of the hydrostatic fluid. There is no "slipping" belt or clutch to wear out. It's heavy duty and remarkably durable. Honda is the only manufacturer to offer this top of the line hydrostatic transmission on a standard lawnmower.
The Honda HRX217HZA lawn mower also has Roto-Stop® Blade Brake Clutch, which allows you to start & stop blades with the engine still running. You can step away from the mower without having to restart the engine. With traditional zone start mowers, when you let go of the handlebar, the engine shuts off. You have to restart the mower to continue. This can be a hassle, especially if you are bagging. Roto-Stop stops the blades from turning, but keeps the engine running. This feature is very convenient when you're emptying a grass bag, moving debris or toys out of the way, or transporting the mower over sidewalks or gravel.
The 21-Inch Worry-Free Nexite® Cutting Deck with Lifetime Warranty offers you a high impact resistant material, which does not dent, rust or corrode.  NeXite was developed to resist dents, rust and corrosion, and has similar strength and impact resistance to polymer materials commonly found in football helmets and car bumpers, where it's critical to have a strong, yet lightweight material. NeXite is amazingly strong. In fact, Honda engineers like to demonstrate these decks' durability by driving over them with a Honda Pilot.
Honda's NeXite decks offer both a superior material and a superior design. The shape of the deck is extremely important to the mower's performance. Honda engineered the deck on the Honda HRX217HZA to ensure it will provide optimal performance in a variety of conditions including better vacuum lift and volume to keep grass circulating longer; Precision clearance between the deck and the blades to improve circulation; and unique design diverts clippings back into the blades to reduce clipping size further.  Strong, attractive, and incredibly durable, the NeXite deck is an ideal mower deck.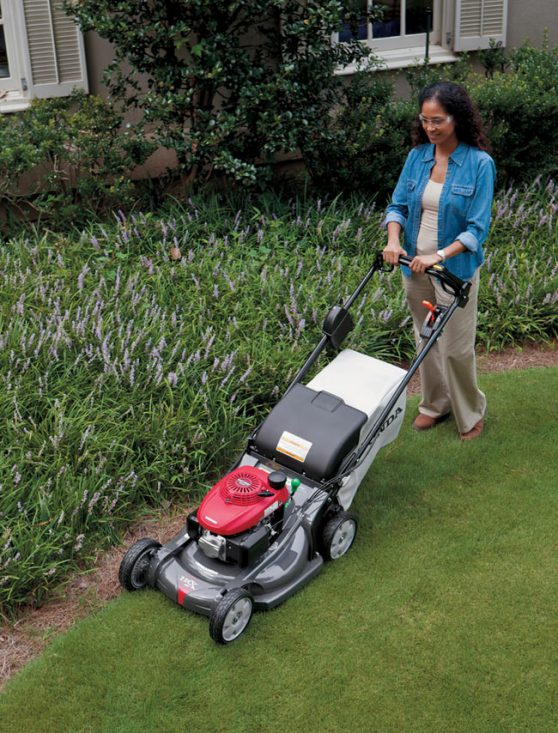 Versamow and MicroCut Twin Blade Systems
Honda's patented 4-In-1 Versamow System w/ Clip Director Control helps you mulch, bag, rear discharge or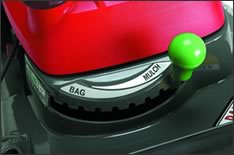 shred with zero parts to lose, maximizing the flow of grass clippings and minimizes clogging. This revolutionary technology allows you to choose how much grass is bagged and how much is mulched. You can even choose different combinations of both at the same time. And no tools, plugs or attachments are needed. The unique design of the Versamow System results in superior cutting performance and a better looking lawn.
The Versamow system is controlled by a knob called the Clip Director, which is built into the deck. The Clip Director is attached to a sliding door located under the deck which controls the direction of the grass clippings. In full bag mode, the opening in the deck is fully open, allowing all the grass clippings to enter into the bag. When the Clip Director is moved to the middle notches, the sliding door is now partially closed. Some clippings will go into the bag, and some will be finely mulched and directed onto the ground. In full mulch mode, the door is completely closed. All clippings will be finely mulched and directed to the ground.

The Honda HRX217HZA also has the MicroCut™ Twin Blade System with four cutting surfaces to cut grass into tiny pieces. This allows you to mow up to 50% farther between "empties" when using rear bagger. With the included high-capacity 2.5 bushel rear grass bag and quick release 3-position handle, the two blades result in more "bites" into the grass, cutting the grass into smaller pieces. The leading upper blade makes a major cut at the front. Then the lower blade makes a smaller cut. The clippings then circulate around inside the deck, with the blades continuing to cut them into smaller and smaller pieces. This results in a better looking lawn, a superior cut by lifting grass blades, and better mulching performance.
Twin blades produce finer clippings. That means less clumping and a better look for your lawn. And smaller clippings decompose faster, allowing valuable nutrients to go back into your lawn to help feed it and keep it green.  Additionally, it improves better bagging performance because the smaller clippings allow your bag to hold more. That means emptying the bag less often, which means less time and effort on your part to mow your lawn.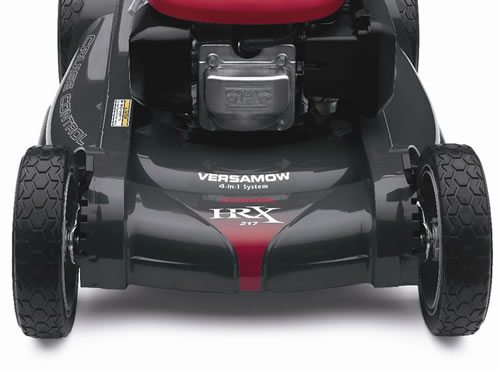 Performance and Bottom Line
The Honda HRX217HZA is a solid all-around mower that gets high praise for its excellent mulching and bagging capabilities. The self-propelled motor means you don't have to muscle it up and down large or hilly yards, and a new control system makes it easier to keep the speed constant. The strong, four-stroke engine powers through tall, wet grass, and the durable NeXite deck carries a lifetime warranty.
Combine this endless set of features with the fact that every mower part of the HRX217HZA is easy to access and maintain (oil fill, spark plugs, etc), you've got a Honda mower is a true winner. It performed outstandingly in both dry and wet weather, large and small lawns, and steep incline and decline surfaces. It maintained a very stable speed in both high and low gear, and the quiet operation is a dream to use. The Hydrostic Cruise Control is by far our favorite feature, and dare we say that, with the Versamow and Microcut technology, this is the best mulching lawn mower out on the market…EVER!
Finally, thanks to Auto-Choke and Electric Start, you never have to worry about this thing starting. The engine starts easily whether cold or hot, and is ready to use immediately. We highly recommend this mower, the Honda HRX217HZA. You can purchase it for $899 through Honda, here.