First introduced by Samsung months ago was the SmartCam HD Plus. Now the company giant further's its line with their new SmartCam PT ($229). The SmartCam PT is a pan-and-tilt DIY home security cam, which lets you see into blind spots where other cameras can't. Along with other cool features, the Samsung SmartCam PT is definitely something to consider if you're serious about home security.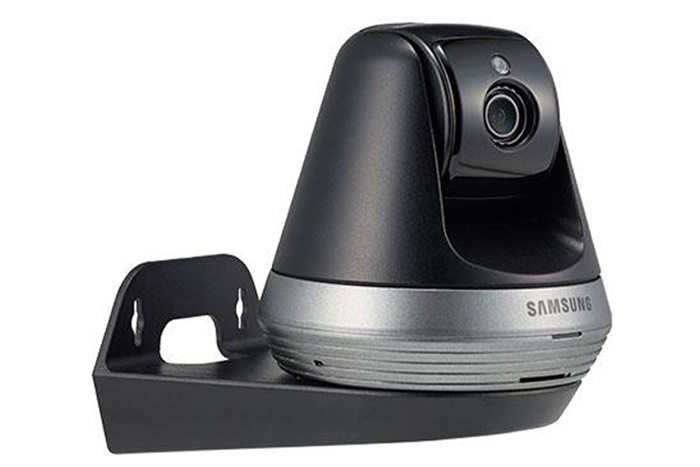 Samsung SmartCam PT Design & Features
Design-wise, the PT is shaped like sort of an inverse cone. In the middle is the camera itself, which swivels on its base. You can either set the SmartCam PT on a shelf, or secure it to a wall with the included bracket kit.
The lens of the camera has a 96-degree field of view, and it can pan another 350-degrees and tilt on a 155-degrees arc. This field-of-view is massive, and once you point the camera towards an area you want to monitor, you'll never have to reposition the camera again. It covers everything!
The SmartCam PT can record up to 128GB locally to an onboard microSD card. Other features include night vision, two-way audio, sound and motion alerts, an auto-tracking feature, which allows the camera to follow a single object or person, and a privacy mode when you're at home and don't want to be monitored.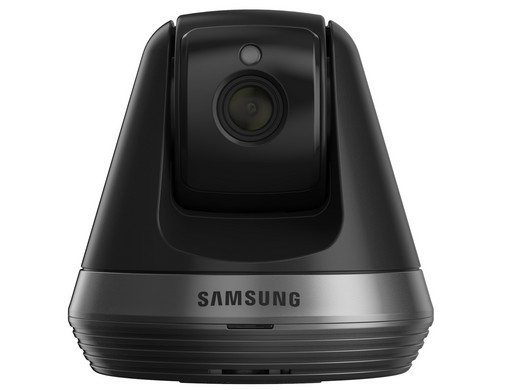 Setting up the SmartCam PT
The SmartCam PT is controlled by the Samsung SmartCam app, and setup is a breeze. You simply press the Wi-Fi setup button on the underside of the camera's base for the app to see it, and then follow the onscreen prompts to connect to your wireless network. There's also an option for connecting the camera over your hardwired LAN.
Once connected, the SmartCam PT appears on the app's home screen. Tapping on it takes you to the camera's live feed and navigation. From there, you can manually record video to either the microSD card or to your smartphone. You can also trigger the mic to communicate with whoever is near the camera. You can also adjust the feed's resolution.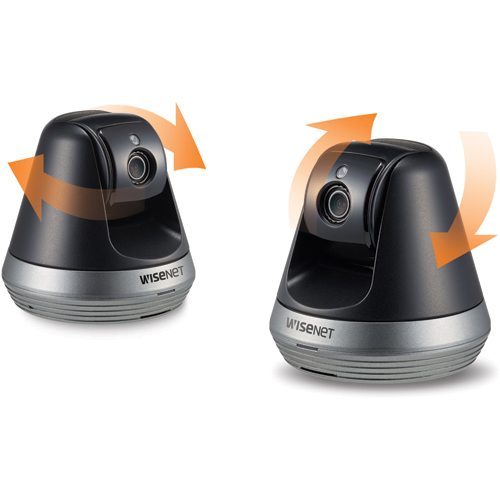 Other Features and Usage
Of course the biggest selling point of the PT is its motorized pan-and-tilt. Using the four directional buttons, you can long-press to move the camera smoothly along its horizontal or vertical travel, or tap them for incremental movement when you want to perform a sweep of the room. With very little lag time, it's very precise in its movement, and you can also set presets of up to three camera positions that can be implemented with a single touch.
You can also adjust the sensitivity of audio and motion sensors independently, and the Auto Track lets you shadow a pet or child, which incidentally, works famously. You can also restrict monitoring to up to three motion-detection zones, such as entry points to a room. This can cut down on the amount of unneeded alerts.
The privacy mode, in our opinion, is one of the better features. Instead of turning off motion and audio detection or unplugging the camera when you get home, you can activate this feature, which tilts the camera toward its base and shuts it down. You can also schedule privacy mode to activate automatically at certain times of day.
The SmartCam PT records video at up to 1080p, and the FullHD setting gives you fabulous detail, rich colors, and smooth playback making it easy to make out faces in both day and night mode. To access your videos, you can retrieve them from the different playback folders provided.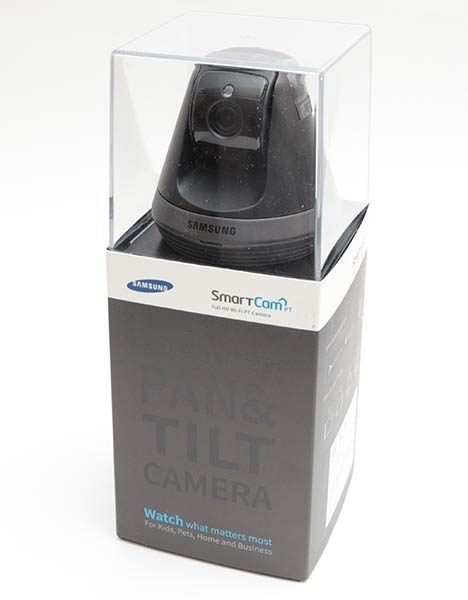 Conclusion
The SmartCam PT is a winner and really a device that doesn't take much setting up or repositioning. It's also probably the best camera on the market to cover large spaces without needing to purchase multiple cameras. It delivers great video and audio, and it's feature-rich, including the auto-tracking feature, which is very useful, as well as privacy mode and onboard storage. We highly recommend…probably the best home security camera you can find for the money.