You've probably seen those Amazon delivery drones, you know, the pilot-less little aircraft that deliver Amazon packages to people in remote areas. They call the Amazon Drones Program, Prime Air. Tests have been going on for a while with these drones, and certainly, that's where the giant online retailer wants go with respect to delivering their millions of products to customers.
But first things first, Amazon needs to button up their infrastructure before they have a chance of making this whole logistics vision happen. They'll also need to seal the deal with the Federal Aviation Administration if they want to fly anything in the sky that says "Amazon."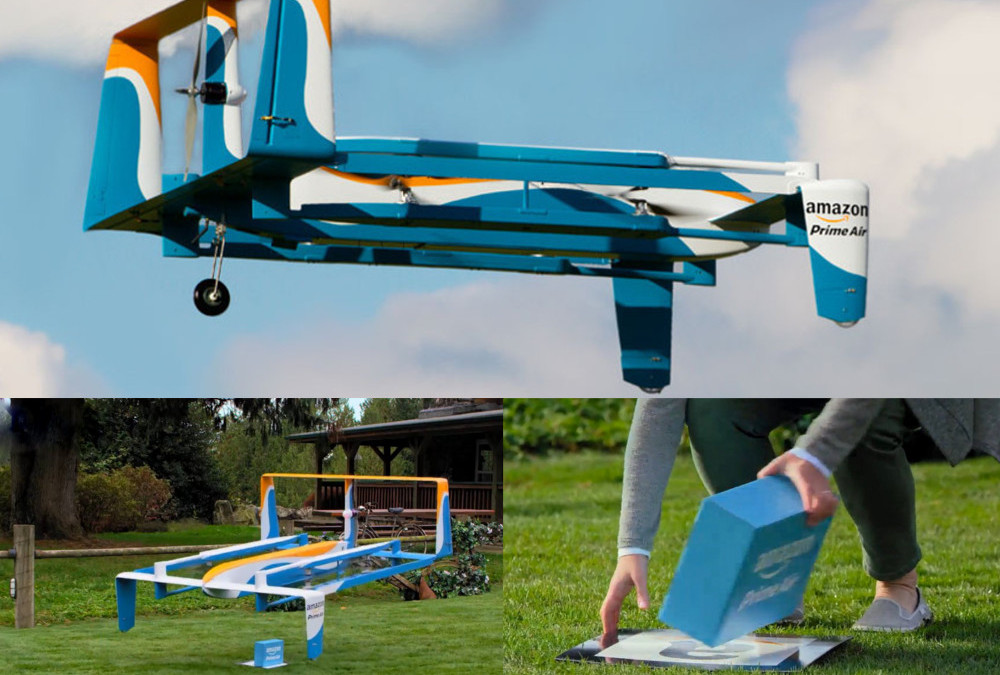 While Amazon has been making good inroads with the design of its Prime Air drone, it has also been filing several patents detailing ideas related to various aspects of its proposed delivery service, including a sort of "beehive" drone tower that would operate in urban areas and manage multiple drones on delivery runs across the city. Amazon has also thrown around the idea of a flying warehouse blimp housing an Amazon warehouse and a drone airport.
Amazon Drones…the Future?
The latest idea from Amazon is for a network of multi-purpose mobile facilities capable of maintaining drones and acting as a hub for deliveries. Get this, the facility would be located on moving ships, trains and other kinds of vehicles, enabling its delivery drones to be quickly deployed to areas where customer demand is known or anticipated, which would be calculated and analyzed through buying patterns or events that are scheduled to occur in such areas. Check out the below diagram submitted to the U.S. patent and trademark offices.
Amazon
Amazon plans on such a facility to be loaded with replacement parts and/or inspection equipment, and configured to conduct repairs, servicing operations, or inspections on aerial vehicles. Once a drone undergoes repair or battery replacement, robots would be able to load it with a delivery and send it on its way.
The idea is similar to an Amazon patent that surfaced last year showing how it could use church steeples and street lights as docking stations for its drones, allowing these drones to stop off for a battery charge.
While all of these Amazon ideas are lofty, time will tell whether they come to fruition. The patent filings do offer some keen insight into the company's plans for the future, and we also know that UPS has already tested a drone service, although Amazon's plan seems much more elaborate, and quite honestly, AWESOME!
To comment on this article and other GadgetGram content, visit our Facebook page, or our Twitterand Instagram feeds.