The $99 Nucleus Intercom is the new-age version of the home intercom system, which uses your Wi-Fi network to link multiple rooms, floors and even separate houses half-way across the globe. Available in black and white, the Nucleus Intercom supports Amazon's Alexa voice assistant, so you can give it voice commands as if it were an Alexa speaker.  It's also a good option for novice tech enthusiasts, considering the fact that it's super easy to use.
Nucleus Intercom Design
The Nucleus Intercom is basically a dedicated video-calling box with a very elegant design. It measures 8.1 by 6.9 by 1.0 inches and weighs a feathery 1 lbs. It features an 8-inch, 1,280-by-800-pixel touch screen, a 5-megapixel 120-degree wide-angle camera, a microphone and stereo speakers. It comes with a stand, and can set on a counter or desk, or it can be installed on the wall like a traditional intercom, (mounting brackets included.)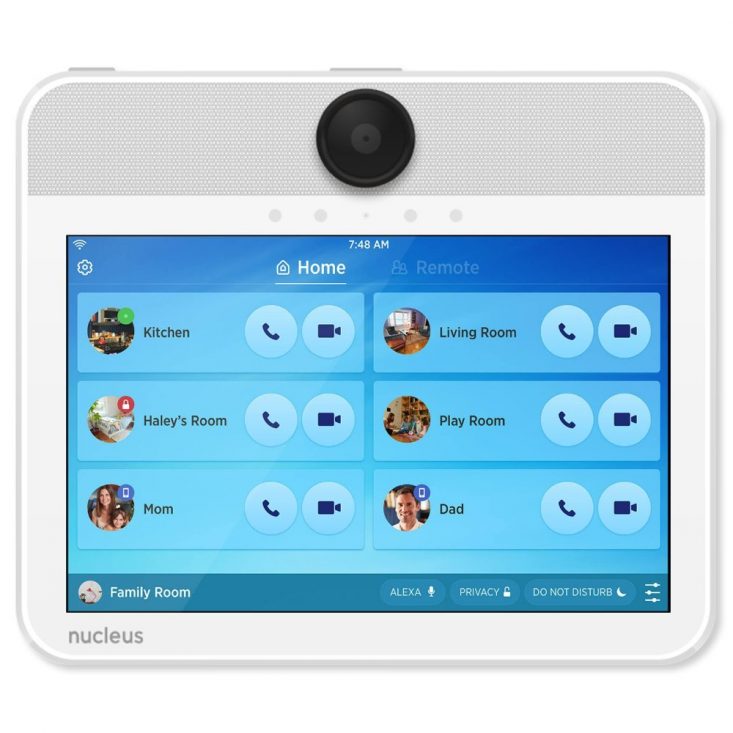 Nucleus is available on its own for a very affordable $99, and you get discounts if you order more than one. With a pair of these suckers, you can keep one in your house, and one at Grandma's or the office for immediate communication.
On-screen controls are shown on the display, obviously. Among the different functions, one of the buttons is the Alexa button, which lets the Nucleus do anything the Amazon Echo or Echo Dot can with the exception of playing music from Spotify and Pandora.
The interface is pretty simple. The Home screen lists all of your in-home devices, while the Remote tab shows you friends' and family's phone and video options. There are a few settings along the bottom of the screen, like volume and brightness.
The Nucleus Intercom also works with the Philips Hue. In fact, the Nucleus has direct integration with the Hue, which means you can use it as a smart home controller for your connected lighting. Nucleus plans to add more features like this in the near future.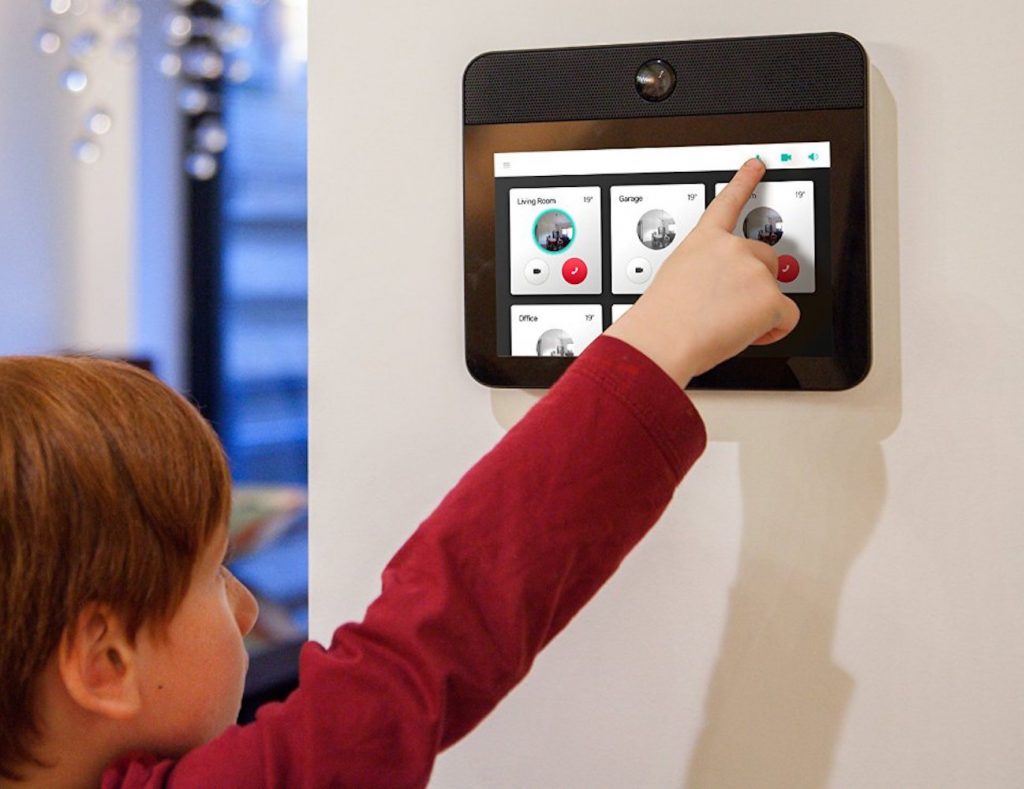 Setup
The Nucleus basically works right out of the box. Plug it in and it automatically boots up on its own. Enter your Wi-Fi info, and the system will check and download any recent updates. Once it's ready, the Nucleus will walk you through a quick tutorial, then prompt you to set up an account and get started. You'll use your email address as your username, and you'll also give your name, your family name and a room name for that device.
After verifying your email, Nucleus will send you a "Home Code." If you set up any other devices, you can skip straight to entering the room name by entering this code.
When deciding how many units to purchase to set up your home and use it as an intercom system, you'll obviously want more than one. If you're primarily using it to check in with family members like your elderly parents, a single Nucleus will work just fine with your cell phone via the Nucleus app for Android and iOS.
App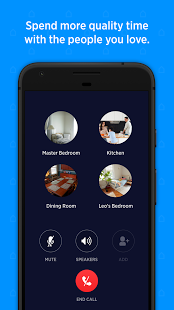 Speaking of the app, the Nucleus works with a free companion app for Android and iOS devices. The app delivers a push notification when someone tries to reach you. You can also call a Nucleus user from the app, but you can only call other Nucleus devices or fellow app users in your network.
The app is a nice bonus. Essentially, it allows you to check in on people while you're on the go, and you can enjoy instant audio and video calls with the people you love. Unfortunately, that's about all the app does, aside from a lighting function or two, but it's still a nice accessory to the system.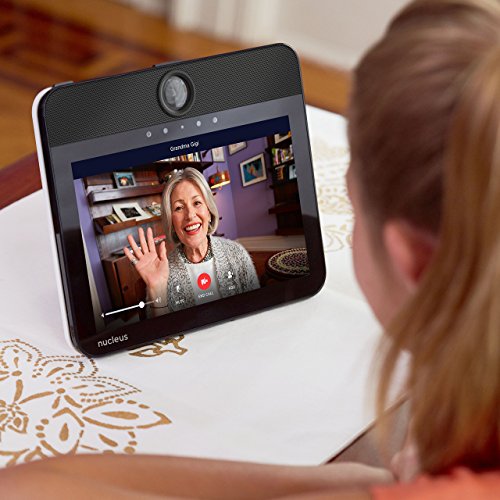 Use 
The Nucleus Intercom is nice because it basically takes one push of a virtual button to connect to someone. No need to thumb through various menus and contacts to connect. All of your main contacts appear on screen. Tap that person, and Nucleus connects you to them.
There's a physical camera guard for privacy and two privacy-oriented operation modes, Privacy and Do Not Disturb (DND). In Privacy mode the Nucelus rings and you'll need to manually answer it. In DND mode, the device essentially goes into "sleep mode", where no notifications are audible, and callers see that you don't want to be disturbed.
The Nucleus' main screen offers two categories, one for home users and one for remote users. You can place people in either category, but those in the remote network don't get the choice of auto-answer. Rather, it's basically like Privacy mode, which is always on for them.
Video quality is better than we expected, especially for a $99 product price point. It adapts decently to different lighting conditions, and audio sounds awesome. One thing to note: If you have privacy mode disabled, any call will automatically answer, which can be a nice feature if you're in the kitchen and washing dishes for example. It also allows you to look in remotely on the kids, especially if you're away and you don't want to relying on the kids to answer.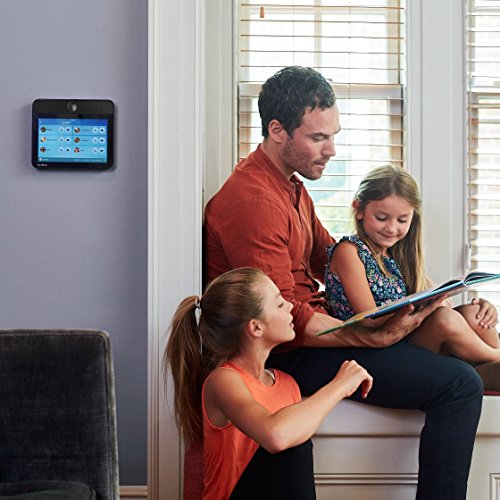 Bottom Line
The Nucleus can work both as an in-home intercom system and as a family communication system. With Nucleus, you don't need to tear into a wall to install, and connecting with loved ones has never been easier thanks to the device's ability to not only connect with anyone in the home, but also connect with anyone in the WORLD!
Additionally, the user interface is well designed and well laid out, and if you're a working parent, being able to click on the app and connect with your child automatically is a pretty nice option to have. If you're a grandparent, the Nucleus is definitely for you so you can keep in touch with the grand kids.
Finally, the price is superb at $99. For that price, you can equip your whole house with an elegant video intercom system without draining the ol' wallet. You can purchase the Nucleus Intercom for $99 here.
To comment on this article and other GadgetGram content, visit our Facebook page, or our Twitterand Instagram feeds.