Certainly the new Tesla Model 3 has everyone pumped of its release, and everyone who pre-ordered the car is waiting with bated breath for the announcement. The Tesla Model 3 promises this chic looking EV innovative technology and even affordability.
While the Tesla Model 3 has been advertised as a long range EV available for less than $40K, there are several add-ons to consider including 310-mile long-range battery package ($9,000 for this upgrade, but 220 mile battery range is standard), the premium package ($5,000), enhanced autopilot ($5,000), 19-inch sport wheels ($1,500), and red paint ($1,000). The final tally on the full Monty version brings the price to $56,500, before destination charges ($1,200), and before tax incentives (currently $7,500 federal, plus whatever your state offers).
People who ordered all of these options for their Tesla Model 3 will be among the first category of vehicles scheduled for delivery. Of the more than 500,000 pre-orders, those who chose well-equipped Model 3s have begun to receive delivery. In late 2018, dual-motor, all-wheel drive examples will begin rolling off the assembly line. Finally, in early 2019, standard battery, non-premium units will reach customers.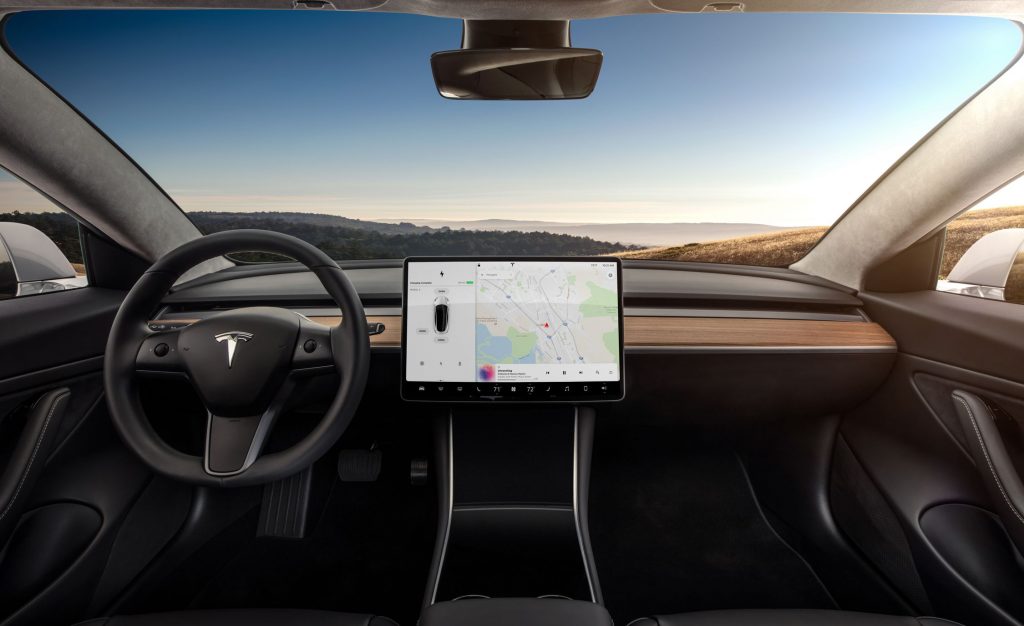 Technology
Inside the Tesla Model 3, drivers have two points of engagement: the steering wheel and the prominent center user interface screen. The only buttons on the entire dashboard are the two controllers on the steering wheel, plus the government-mandated hazard-light switch on the roof. Each door has its own release button and window switch. This makes for a minimalistic but very manageable set of controls.
The success of Tesla's Spartan atmosphere relies on its omnipotent 15-inch center touchscreen, which is very user-friendly, vivid and responsive. Google Maps powers the navigation system, and nearby Tesla Superchargers are shown along with the number of available charging stalls. To reduce any sense of range anxiety, the map shows precisely how much battery power or range remains once you reach your destination, and any trip that will otherwise drain your battery adds a stop at the most convenient charging station.
Tesla also offers over-the-air updates to their computer, so if there is a glitch, it likely will repair itself without any in-person service visit. Additionally, Wi-Fi, Bluetooth, HD radio, and other conveniences are on-board. There's also autopilot! Tesla cautions that, in its current form, autopilot is merely a Level 2 autonomous system and should only be used as a highway driving aid to reduce fatigue. Autopilot finds lane markings, notes the speed and position of surrounding vehicles, and moves you along in the safest, most efficient way possible.
The premium package Model 3 offers premium audio, open pore wood trim, microfiber suede headliner, a tinted UV and infrared protected panoramic glass roof, heated front seats, dual-zone automatic climate control and comfortable leather seats. Without a transmission tunnel or engine, the Model 3's interior volume is tremendous. Five full-size adults fit with leg and headroom to spare. The combination of a front and rear trunk affords a generous 15 cubic feet of cargo capacity as well. The exterior isn't bad either. The Tesla Model 3 is very sharp and upscale.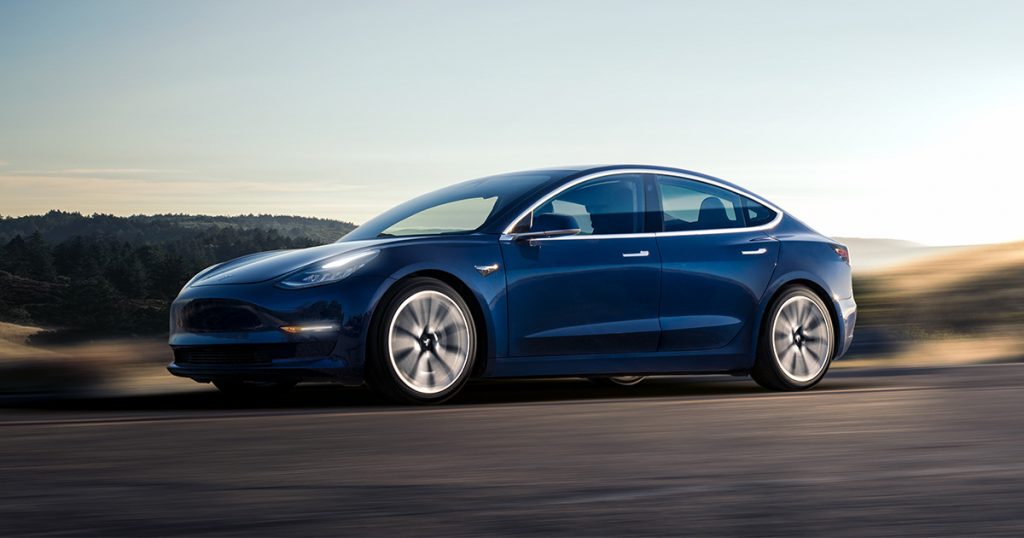 Driving the Tesla Model 3
The Tesla Model 3 is made of aluminum and high-strength steel. The standard Model 3 weighs 3,550 pounds and the long range checks in at 3,838 pounds. With the batteries integrated beneath the floor, a rear-wheel drive configuration, and a 48:52 front-to-rear weight bias, the Model 3 is a classic sport sedan. It also goes from 0-60 mph in a speedy 5.1 seconds and achieves a top speed of 140 mph. The low center of gravity lends itself to impressive cornering stability, and combined with a variable-ratio steering rack that has three selectable levels of resistance, the Tesla Model 3 is a blast to drive.
The Tesla Model 3 also has regenerative braking. This technology not only saves your brake pads and rotors, but it's also a good way to extend your range over time. Those who prefer a smoother transition off the throttle can select a low setting for the braking regeneration. The Tesla Model 3 offers a choice of brake holding, which allows you to take your foot off the brake when stopped and not worry about the car rolling forward), or "creep" mode to mimic an internal combustion car in gear.
Tesla charges a certain fee per kWh that varies by your state of residence and sometimes by charging speeds. For now, this minimal rate is nowhere close to the cost of filling up a tank of gas, but the process still takes longer – 130 miles of range is restored in 30 minutes for standard Model 3s and 170 miles in 30 minutes for long-range versions. If you install a 240V charger at your residence and charge overnight, you may only need to visit a fast charger once in a while.
There's also an app for the Tesla Model 3 and all other Tesla's. With this app, you can pop the charger port, flash the headlights, honk the horn, lock or unlock the doors, open the two trunks, or even remotely set the climate control. You can also monitor the Model 3's charging progress with this app.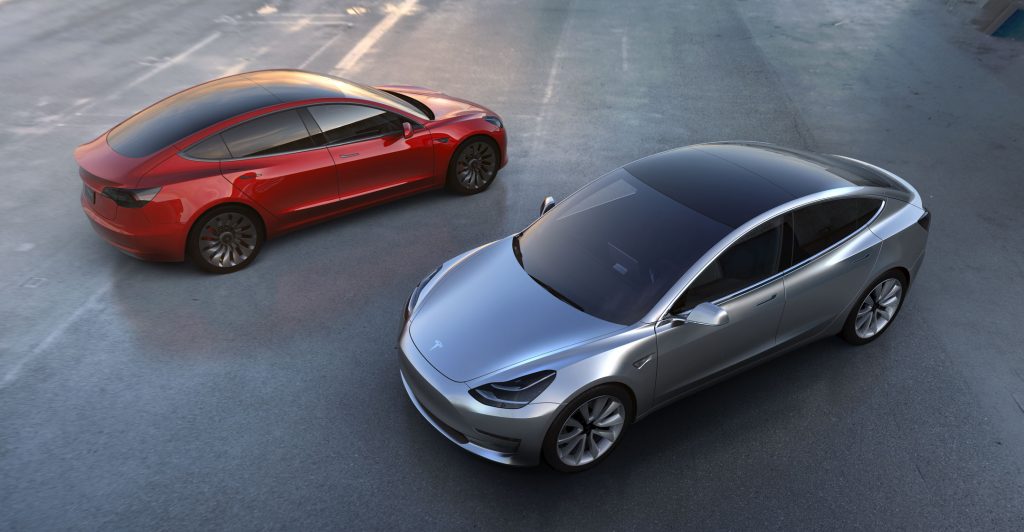 Bottom Line
The Tesla Model 3 is a true winner. The performance, ride quality and conveniences are second to none. Tesla sweetens the bot with class-leading driving aids and infotainment. With an available range of 310 miles and a host of excellent charging options, range anxiety is all but a thing of the past. Of course availability has been in the news for months and in the near term, only those who put in early orders for the Tesla Model 3 or those who have the means to load their vehicle with options can expect a Model 3 delivery this year. But based on everything we've seen from the Model 3, it's worth the wait.