FY6600 series dual-channel function/arbitrary waveform generator is a set of function signal generator, arbitrary waveform generator, pulse signal generator, frequency sweeper, counter and frequency meter in one function.
The instrument has achieved combination for ease use, excellent technical indicators and other functions in the signal generation, waveform parameter measurement and scanning and usage.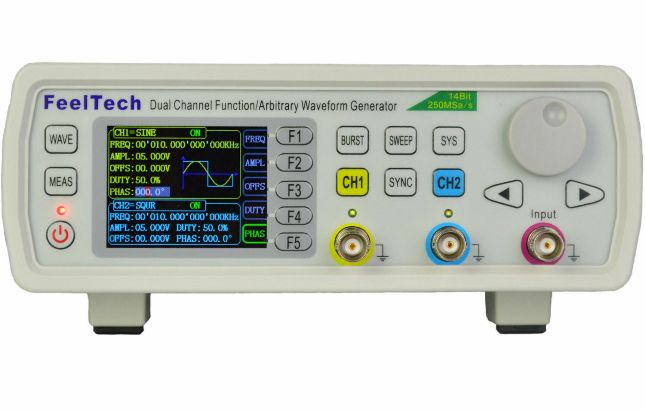 The instrument adopts DDS direct digital synthesis technology to produce accurate, stable, low-distortion output signals. All parameters are calibrated by internal programs, standard PC software; all functions of the instrument can be controlled by the host computer software and also can use the upper position. The machine software saves the arbitrary waveform and saves the output waveform to the signal generator. The communication protocol is open, making the secondary development very simple, large-scale integrated circuit, surface mount technology, high reliability, long service life and output short-circuit protection. All signal outputs can work 60s under load short-circuit conditions.
FY6600 series waveform generator has rich shortcut keys that greatly simplify the complex operation process and greatly enhance the operability of the instrument. It will help users to quickly complete the task. The users do not have to spend a lot of time to learn and become familiar with the operation of the instrument.


The arbitrary waveform generator is used for the test and as ideal measurement equipment for electronic engineers, electronic laboratory, production line and teaching and scientific research.
The FY6600 Series dual channel function/arbitrary waveform generator has the humanization keyboard layout and instructions. It provide visional intuitive operation interface. It can display all the parameter for dual channel simultaneously.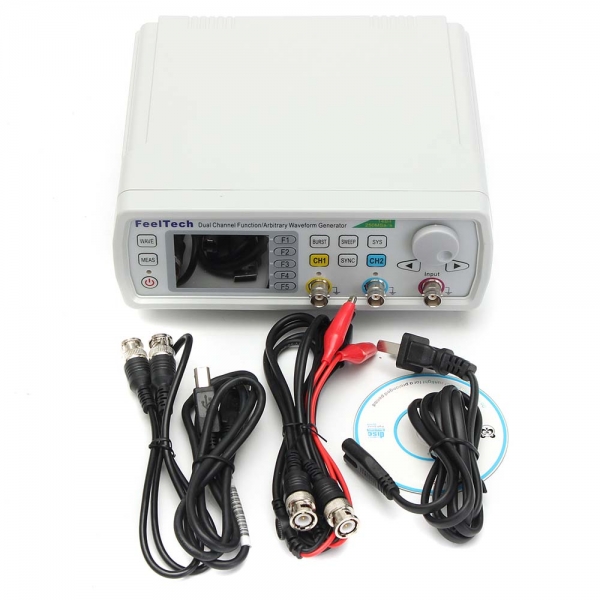 The FY6600 uses a professional 14Bit high-speed D/A chip instead of a 12-bit D/A resistor. Network built with several inexpensive resistors. The display interface uses 2.4 inch TFT color display. High resolution: 320*240. The higher the resolution, the smoother the waveform details. Abundant shortcut keys greatly simplify the complex operation process and enhance the instrument. Bias level can be adjusted arbitrarily. It has practical VCO function and every function has separate operation interface.
The instrument not only supports the internal parameter settings on the signal frequency, amplitude, duty cycle, bias level parameters of the scan, but also supports the external analog voltage on the instrument output frequency, amplitude, duty cycle, bias Level modulation. It is not only for the user to preset 33 commonly used waveform signal, but also provide users with 64 sets custom waveform storage space.
To comment/follow us on social media sites, visit our Facebook page, or Twitter and Instagram feeds.