Kopis 1 is a high-performance ready-to- fly FPV racing drone from Holybro. Kopis 1 gives all the performance, looks and durability of a hand-built machine, without ever having to pick up a soldering iron!
Design
The Kopis 1 has low-deck design that means centralized mass and excellent handling. It has the counter-sunk screws for great appearance and smooth finish.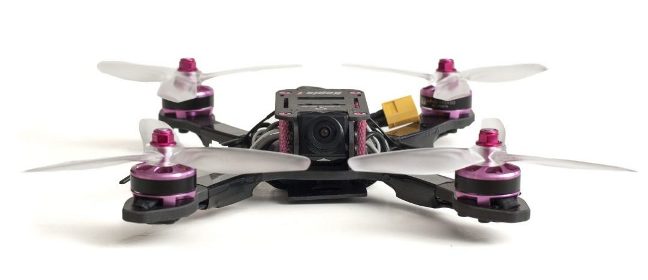 Holybro Kopis 1 has stretched-X motor layout which is the choice of top racers because the rear props are further from the "dirty air" coming from the front props. This results the smoother cornering and higher top speed. Kopis 1 is made from 5mm full 3K carbon fiber twill and its Weight is 300 grams without battery. The FPV antenna is in a unique location behind the quad, to protect against damage.
Specifications
FPV Racing Drone includes Kakute F4 flight controller that has soft-mounted gyro for great filtering of vibration. 5.8 GHz Atlatl video transmitter is the other transmitter that controls the VTX channel and transmit power from the OSD using your transmitter sticks. It also has MMCX Antenna connector for easy, secure connection. It won't break or come loose like the IPEX connector used on other VTX. The both Kakute flight controller and Atlatl video transmitter gives perfect integrated control of all quad copter systems.
Holybro kopis 1 has RunCam Swift Mini FPV Camera with high resolution of 600TVL. Weight of runcam is around 12g. It is an adjustable camera tilt from 0 degrees to 90 degrees uptilt.
Tmotor AIR40/2450kv motors give a great balance of raw speed and flight time. They won't kill your batteries either.