The Fujifilm X-T30 camera arrives just 6 months after the flagship Fujifilm X-T3, bringing with it many of that camera's advanced specifications and features for a lot less money. At $900 for the body only, or $1,000 with a basic kit lens, the X-T30 may leave some X-T3 customers wondering what they paid $1,500 for. It has the same sensor, same processor, same autofocus system, and similar video capabilities, all wrapped into a smaller, lighter body.
There are differences, however, mainly in the build quality and control layouts. The X-T30 also has small tweaks that feel like lateral moves more than improvements. Still, there's little that separates the X-T30 technically from the X-T3. As a primary camera for beginners and enthusiasts, or a secondary camera for professionals, the X-T30 is an outstanding value.
Design
The Fujifilm X series has always put modern digital technology into an analog-inspired shell. Physical shutter speed, exposure compensation, and aperture on the lens using dials are used in place of multifunction command dials, modifier keys, and on-screen displays. And the classic look, along with the satisfying tactile feedback, is what makes Fujifilm cameras stand out from the crowd. Yes, it's a high-tech product, but the tech is there merely to complement the engaging shooting experience.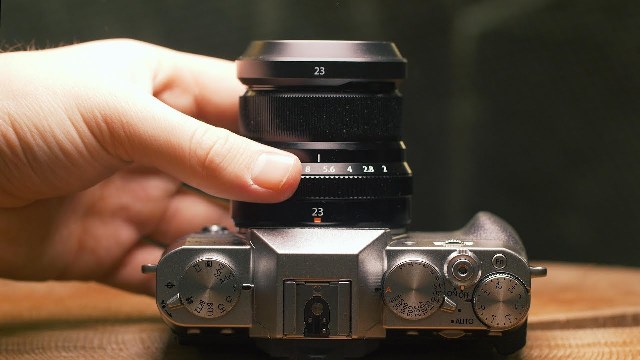 The four-way button cluster on the back has been replaced with an autofocus point selector joystick, and the top plate is decorated with the type of single-function, direct-access controls we've come to expect from the series. Customers who want to throw that all away can toggle the Auto switch, which forces the camera into a fully automatic exposure mode regardless of where the various dials are set. This is one feature that makes the X-T30 perfect for beginners.
Compared to the X-T3, the X-T30 is smaller and not weather-sealed. It makes do with a single SD card slot but does use the same battery as the X-T3 (and the X-T2 and X-T20 before it). It lacks an ISO dial and has fewer buttons overall.
Features
Fujifilm's decision to separate its midrange and upper-tier cameras on physical design rather than technical capability is an interesting one, but one that should make X-T30 owners happy. If you don't need dual card slots or weather sealing and you can get by with a less robust control layout, you will sacrifice little by choosing the X-T30 over the X-T3.
You get the same backside-illuminated, 26-megapixel X-Trans sensor, the same X Processor 4, and the same 425-point phase-detection autofocus system that effectively covers 100-percent of the frame. Face and eye detection work in both continuous autofocus and video modes, and performance is great with newer XF lenses.
The X-T30 is a bit slower than the X-T3 in terms of both shutter speed and continuous shooting rate. Mechanical shutter speed tops out at 1/4,000 second, a stop behind the X-T3, but the electronic shutter still works up to 1/32,000. Burst rate manages a respectable 8 frames per second with the mechanical shutter, down from 11, but you can take snaps at 20 fps using the electronic shutter — or 30 with a 1.25x crop.
Video quality is also good, and if you're fortunate enough to have an external recorder, it's really good. 4K is recorded from the full width of the sensor at 24 or 30 fps, and internal recording tops out at 8-bit 4:2:0 and 200 megabits per second, rather than the 10-bit, 400Mbps codec of the X-T3 (which can also shoot 4K at 60 fps). The X-T30 also allows for clean output over HDMI.
Image Quality and Connectivity
The 26MP X-Trans sensor performs great, with excellent dynamic range at the base ISO of 160, producing some of the best RAW files around from an APS-C sensor.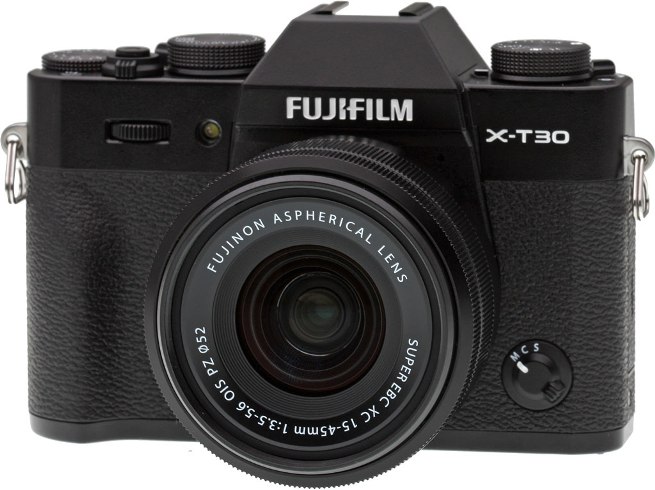 The X-T30 has just four points of physical connectivity: A hot shoe, a USB-C port, a 2.5mm microphone jack, and a Micro HDMI port. That microphone jack will require an adapter to work with standard 3.5mm microphones, and there is no dedicated headphone jack, but you can connect headphones to the USB-C port via an adapter.
Wireless connectivity is a combination of Bluetooth and Wi-Fi. Bluetooth maintains an always-on connection with your mobile device, which can work as a remote trigger in this mode, but Wi-Fi is still required for transferring photos. Thankfully, connecting to Wi-Fi is automated via the Bluetooth connection, which saves you from having to navigate to your phone or tablet's Wi-Fi settings and manually connecting to the camera.
Fujifilm also redesigned its mobile app with the launch of the X-T30, and it's a big improvement. It is both faster and easier to navigate now, and if you own multiple Fujifilm cameras, it lets you seamlessly switch from one to the other.
Bottom Line
Despite the changes to the control layout, this is still a very impressive and capable camera. And for under $1,000, it's even more impressive. When pushed to its limits in both still photography and video, the X-T30 exactly matches the quality of the $1,500 X-T3. Yes, best-quality video requires an external recorder, but the fact a camera in this class can shoot at this level of quality is astounding.
Additionally, the X-T30 offers a shooting experience that distills the practice of photography into its most important and engaging aspects. And that is perhaps Fujifilm's greatest strength. For all the features and power, nothing ever gets in your way, and nothing distracts you from the essence of the art. A camera that pours this much tech into a design that allows you to completely forget about it is quite a feat.
This is one of the best bargains in cameras right now. It can meet the needs of a wide range of photographers, from beginner to professional, photographers to videographers. This is both an excellent choice as a first interchangeable lens camera, and a perfect option as a backup camera for current X-T3 owners.