Origin's new Neuron desktop tower promises levels of performance that rival their powerful Origin Millennium in a decidedly more compact mid-size tower. This gaming desktop is packed with power and can be configured with up to Intel's 18-core X-series processor, dual-Nvidia GeForce RTX 2080 Ti graphics, and plenty of storage and memory to give you the gaming experience like none other.
Design
Available in red, black, or white standard colors, or a number of upgraded metallic paint finishes, Origin's Neuron PC may look like a playful consumer desktop tower with a tinted tempered glass side window, but it's much more.
With a simple polygonal-shaped steel box, the Neuron comes with flat back and side panels along with a faceted front, adding a little bit of visual interest to an otherwise minimalist design. The desktop measures just 15.25 x 16.5 x 6.75 inches, making it more compact than other mid-sized towers. Though the all-metal construction adds to the Neuron's premium style and gives it extra durability, the unit is still portable at 18 pounds.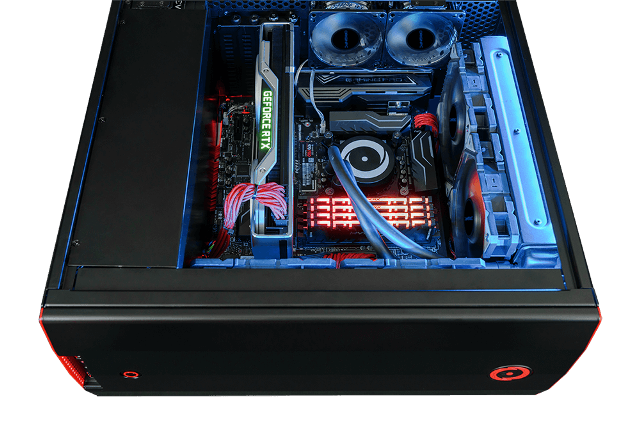 Despite the fact that all four competitors support similarly powerful specs, including the ability to utilize two graphics cards, the Neuron has the simplest design. Hopefully, that means it feels as modern today as it will ten years down the road. Free of obtrusive vents, aggressive grills, and harsh angles, Origin's design will help keep the Neuron from looking dated over time, which is an important consideration given the unit's price and upgradeability.
If you want to add more flare, Origin PC offers plenty of customization options. Gamers can choose to laser etch a custom image to the tempered glass panel, and various RGB lighting elements can be added to the interior.
Another highlight to the Neuron's design is the tool-less access to the internals via the side glass panel. To access, you simply have to lift open the glass door via the notch located towards the front of the PC. Doing so will allow the glass door to swing open on its rear-mounted hinges.
Inside, most of the PC's components are neatly organized in two compartments. The top component, which is more open, houses the motherboard, graphics card and vents. Cable management is top notch, as expected, designed to showcase liquid-cooled CPU, GPU, and RGB-lit memory cards. A closed off bottom compartment neatly hides away the power supplies and hard drive bays.
The Neuron's two front-facing USB ports, audio jacks, and power button are all located towards the bottom. There are also four detachable magnetic feet on the bottom that can be removed and attached on the top of the case. This allows the Neuron to be inverted to make the ports easier to access. Similarly, to use the Neuron as a home theater unit, you can attach the feet to the side panel to give it a horizontal layout.
There are more ports on the rear of the unit, including a USB-C port, five USB-A ports, HDMI, DisplayPort, ethernet jack, external Wi-Fi connectors, two legacy PS-2 ports, and additional audio connectors. However, depending on the graphics card you choose, your selection of ports may vary.
Performance
Depending on your budget, the Neuron can be configured with as much power as you can afford. In fact, you can spend as much as $13,000 when fully configured with multiple GPUs and solid-state drives. The PC can be outfitted with processors from either AMD or Intel.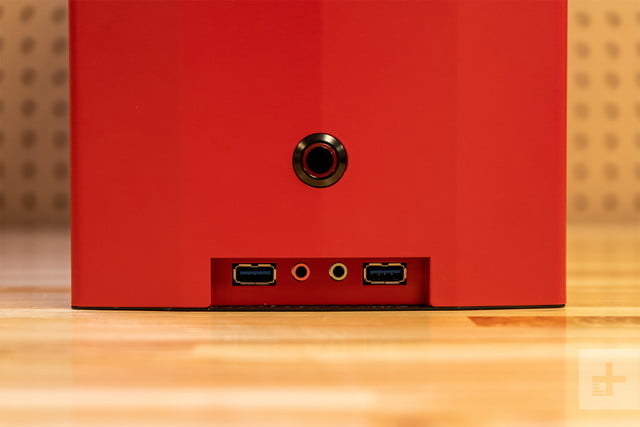 Almost any configuration you choose, even up to the latest 9th-gen liquid-cooled Intel Core i9-9900K processor on a mini-ITX MSI board, it'll prove to be plenty fast for a majority of people, including demanding gamers. Creatives with a need for speed can upgrade to AMD's 16-core Ryzen Threadripper or Intel's beefy 18-core Core i9-9980XE silicon for chart-topping performance.
Performance is competitive against similar Core i9-equipped system. Thanks to the presence of liquid-cooling, processor throttling does not seem to be an issue despite the Neuron's compact case design, and Origin's use of six fans to circulate cool air inside helps with thermal regulation.
While performance or heat are of little issue with the smaller case on the Neuron, gamers who like to tinker with their PCs to make internal upgrades may find less room to maneuver inside given the smaller size of the mini-ITX board. The Neuron shares a similar Samsung 970 EVO series solid-state drive but it ships with a better M.2 970 Pro drive, which offers slightly better read and write performance on the 512GB capacity. Origin offers a number of SSD, PCIe SSD, and PCIe M.2 drive options for greater flexibility in capacity and performance.
Those who need additional storage but don't want to spend a ton of money on a 4TB Samsung 860 Pro SSD can add up to five additional hard drives or solid-state drives to the Neuron.
With support for graphics cards ranging from an Nvidia GTX 1660 Ti and up to a single GeForce RTX Titan card (or dual RTX 2080 Ti Blower cards), the Neuron is clearly targeted at gamers who demand the best performance. Users who don't want to make the up-front commitment on a dual-card setup will find plenty of space to add a second card in the future.
With its RTX 2080 Ti card, gaming performance is solid on the Neuron as expected. Even in graphics intensive titles, frame rates are exceptional. At 4K with High details, the game performed at almost 70 FPS. Gamers who demand more performance can choose to upgrade to Origin's overclocked CPU and GPU solutions when configuring their systems.
Bottom Line
Origin PC's warranty policy comes with lifetime telephone support, free labor, and one-year coverage on parts for the Neuron. Origin's upgraded Evolve plan offers owners more flexibility when they make future upgrades. If the package is added, owners will be given credit equivalent to current market value when the original parts are sent back.
The Neuron is a powerful pre-built PC that comes with plenty of option for customizations. Though the base price starts at just $1,430, upgrading the processor, graphics card, or storage quickly adds to the cost. When fully equipped, the Neuron can cost up to nine times as much, topping out at $13,000, giving gamers and creative's insane levels of performance in a very compact and stylish package.
Fortunately, for gamers who may not want to invest all their savings into the rig from day one, the Neuron's upgradeable design means that you can add as much power as you need to get the performance you want down the road.