Schiit Audio broke the mold with its Aegir amp. It's small, solidly built and sounds like a bona fide high-end amp. The price is right too, and it's about a fourth the size of traditional amps with its power.
The Aegir is $799, and looks like a near twin of the Schiit Vidar ($699), but while Vidar is a 100 watt per channel stereo amp, the more-expensive Aegir is just 20 watts per channel.
While the two amps appear similar, the Aegir is the more sophisticated design, and sounds better than the Vidar up to medium loud volume levels. Not everybody wants maximum loud, or can get away with that, so for them putting sound quality ahead of sound quantity is a good move.
I'm Aegir uses a rather advanced design not typically seen in such an affordable amp. It includes power ratings of 20 watts per channel into 8 ohms, doubling to 40 watts per channel into 4 ohms. For 4 or 8 ohm speakers, the Aegir's first 10 watts per channel are pure Class A watts, from 10 to 20 watts Schiit describes the power as "Class A like" watts. Meaning they don't conform to the strict definition of Class A designs.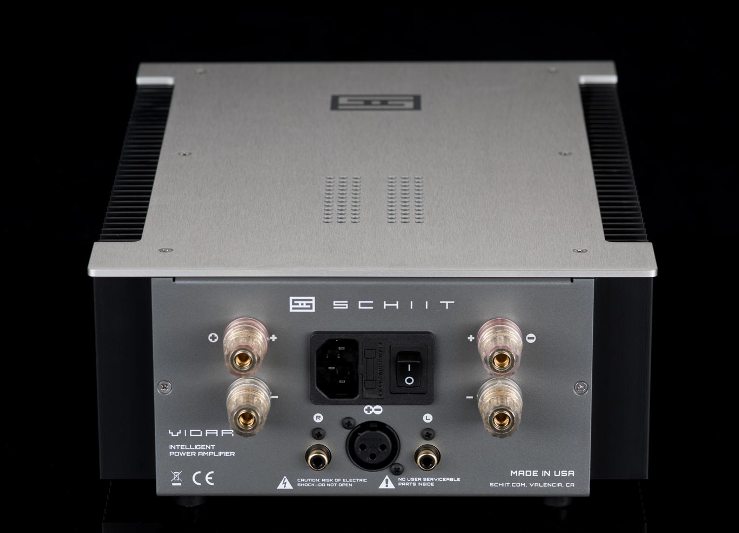 Aegir is smaller than most high-end amps, a mere 9 by 13 by 3.9 inches, but it weighs a hefty 27 pounds. Even with the Aegir's finned heat sinks running the full lengths of the chassis sides, the amp runs warm to the touch, so don't plan on tucking this amp away inside a closed cabinet.
The amp's rear panel hosts a set of beefy looking gold-plated speaker cable binding posts, stereo RCA inputs and a single XLR input for use when an Aegir is run as a mono amp (the RCA inputs are only used for stereo operation). The front panel power button toggles between standby and power on settings.
The Aegir is a power amp and must be matched with a preamp. Having said that, it makes music sound authentic, rich and perfect for audiophiles.