Nowadays advanced armies already display a range of techniques for reconnaissance missions, featuring recent technology like remotely controlled drones that allow close-up exploration of any battle zone. These techniques are the key behind the safety and security of soldiers operating inside dangerous zones, as well as those responsible for gathering the important data. The U.S. Army has just started using FLIR Systems' pocket-sized Black Hornet drone, a reconnaissance device that packs a ton of incredible features for such a tiny gadget. The FLIR Black Hornet 3 is heading to Afghanistan, with the 82nd Airborne Division. This is the first deployment of the tiny drone in the high-risk country.
The FLIR Black Hornet 3 has been in development for several years. It can be remotely controlled, and it's equipped with a camera. The U.S. Army started testing the drone three years ago. Since then, FLIR Systems has been signing additional deals with not only the U.S. military but also the British and French armies. Recently, the U.K. government gave a clear demonstration of its belief in the technology after placing an order for an additional 30 Black Hornets. This specific purchase cost averaged around 1.4 million British pounds (around U.S. $1.8 million), which means about $60,000 per drone. Despite the expensive cost, the flying machine offers many advantages over any cheaper and more conventional drone technology that's currently available.
The FLIR Black Hornet 3 is the industry leading airborne reconnaissance, surveillance and target acquisition NANO-UAV, that was developed specifically for the dismounted soldier. The FLIR Black Hornet 3 is able to identify all threats on the battlefield and provides real-time intelligence. It allows any group of soldiers to remain covert while improving their situational awareness, since it's able to recognize all threats around them beyond their visual line of sight.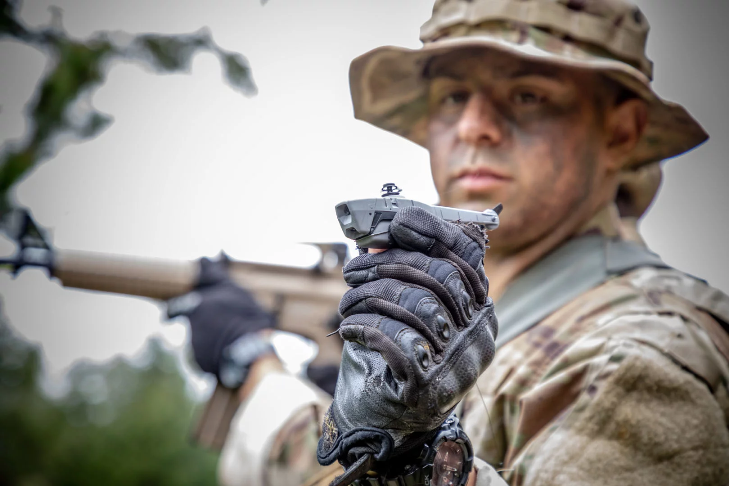 The tiny twin-rotor FLIR Black Hornet 3 features a length of 6.61 inches (16.8 cm), making it easy to transport, and extremely hard to spot after it's in the air. It's also super-silent, featuring increased stealthiness when exploring enemy territory. It's incredibly light weight, weighing only 1.16 oz (33 grams).
Its flights can last up to 25 minutes, and the drone can travel at up to 20 feet (6 meters) per second, meaning 13.42 miles per hour (21.49 KM/h). The tiny drone can live-steam video and HD still images through an encrypted data link connected to an operator that can be located up to 1.24 miles (2 KM) away. The FLIR Black Hornet 3 can withstand winds of 15 knots and gusts of 20 knots and is able to fly during inclement weather. It features 3 camera modes: color day camera-mode; fused thermal camera-mode; and nighttime color camera-mode. This covers any possible need, making it fit for any situation. It features a GPS system for both launch and landing, and it can operate indoors. Additional components can be added according to the specifications of each mission.
While the Black Hornet can be carried as a single unit by one soldier, FLIR Systems also offers a compact launch unit, which can be attached to any military vehicle and used to deploy up to four of the drones at a time.
Last year, Ole Aguirre, an executive at Oregon-based FLIR Systems, talked about how the Black Hornet can be particularly helpful in urban environments to scout rooftops, streets, and buildings for any snipers or assault groups, enabling better-informed decisions during crucial moments, right before having soldiers taking up new positions.
FLIR's Black Hornet 3 close deployment to Afghanistan highlights the continuous growing importance of the use of drone technology on the battlefield.