What are the benefits of a fitness smartwatch? Fitness smartwatches can do many things that a smartphone can't. Benefits include tracking your heart rate, sleep, activity and overall fitness level. Some even pack additional sensors like compasses or measuring tools.
Last year, sports technology company Coros gained popularity fast in the fitness smartwatch market thanks to the amazing performance offered by its first fitness smartwatch, the Pace. The Pace was then followed up by a second fitness smartwatch; the training-focused Apex watch. But just because Coros is a newcomer in the fitness smartwatch market, that doesn't mean that the California company is looking to stop from jumping headfirst into new categories with watches that'll go above and beyond. This brings us to the Vertix, Coros' third and most adventurous smartwatch. The Vertix is a colossal fitness smartwatch that targets the adventure seeker looking for a watch that overcomes any limitations.
The Vertix fitness smartwatch comes in a sturdy utility box, which is a testament to the Vertix's featured sturdy build, both inside and out. It will survive any rugged treks out in the wild thanks to its durable titanium frame and bezel. And the watch's color touchscreen display features an outer layer made of scratch-resistant sapphire glass that prevents unsightly blemishes. Lastly, the Vertix watch is waterproof up to 150 meters protecting you from heavy rain, so you don't have to worry about getting it wet. The watch can be paired up with a smartphone through the Coros App.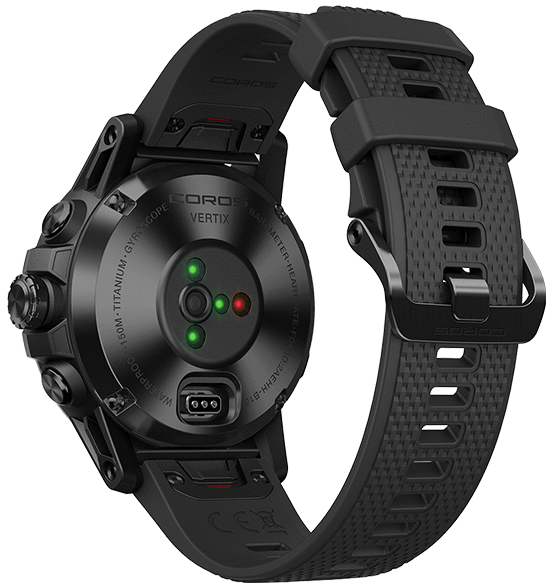 The Vertix features a pulse oximeter for 24/7 altitude acclimation monitoring and offers an impressive battery performance, even at extreme temperature. There aren't many watches out there, if any, that can claim to last for 21 hours in GPS mode at -22 degrees Fahrenheit like the Vertix does. But for explorers that take their adventures to moderate temperatures, they can count on an impressive 45 days of battery life under normal usage. The Vertix also features ultra-light durability, weighing just 1.90 oz (54 grams), making it the lightest watch in its class.
Regarding its GPS mode, it's certainly made for extreme athletes. The Vertix works for 60 hours when in regular GPS mode and for an unbelievable 150 hours when using the low-power UltraMax GPS mode. Having the possibility to record more than six days of continuous tracking is simply amazing; that's longer than any other adventure watch on the market and covers almost any multi-day long distance running race. The Vertix also includes wrist-based navigation.
In terms of the watch's build itself, there are three buttons as well as a digital crown for accessing all the system's functionalities. The Vertix will help you staying at top fitness by collecting detailed training metrics and by analyzing your performance. Coros' new fitness smartwatch is packed with many different sensors, such as a heart rate monitor, a compass, and a barometric altimeter for accurate elevation readings.
Coros began shipping their new Vertix watch on June 4, so you can already get yours. It's important to note that there a is high demand, and all models may experience shipment delays. The Coros Vertix is currently priced at $700 and is available in four colors, including an Icebreaker option that has a clear, see-through casing. You can get it here.