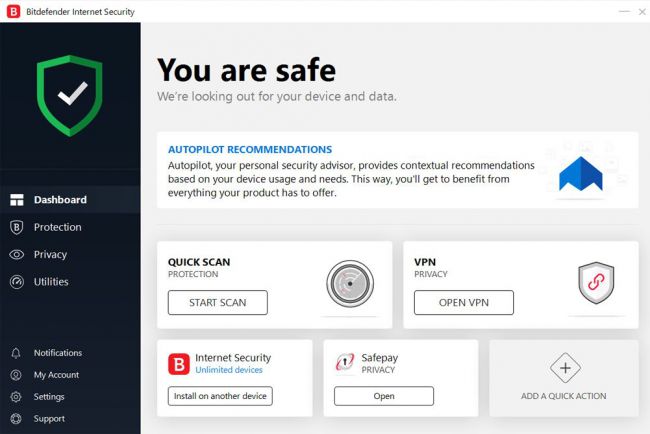 Bitdefender is one of the top premium internet security solutions out there. Bitdefender Internet Security 2019 is their flagship software suite, and it's priced at an accessible value. It comes with some user licenses as well as a handful of included security tools, offering great performance without causing your devices to become slow.
Bitdefender Internet Security 2019 has earned high scores in both detection and performance tests, as well as in third-party testing labs, reaching an overall protection score of 100 percent. It does exceptionally well when it comes to detecting and removing internet threats, all this while barely using any computer resources. The company also improved the security solution from its predecessor, adding extra protection features that include parental controls and a personal firewall. One of its other solutions, called Bitdefender Total Security, offers some extra features, like online backup storage and cell phone protection.
Bitdefender Total Security and Internet Security include the same antivirus protection with Bitdefender Antivirus 2019. Bitdefender automatically blocks any detected threats that attempt to download from the internet to your computer. It preforms great when scrubbing threats before they can even touch your system, easily detecting most of them. Some of these threats are sent to the Bitdefender quarantine folder for you to consider what action to take, before permanently deleting them. For most of the websites that are known to have malware links, virus downloads or hidden phishing schemes, Bitdefender Internet Security 2019 is able to block the threats, displaying a warning message in the corresponding browser tabs.
Since Bitdefender uses browser extensions to help stop internet threats and Microsoft Edge doesn't allow third-party extensions, Bitdefender Internet Security 2019 might have difficulty stopping these threats. This is a common occurrence with most internet security programs, but usually, any threats that do sneak through can be found and destroyed later by running a virus scan. In case Microsoft Edge is your primary web browser, using Trend Micro might prove better, simply because its web reputation technology allows it to detect and block threats without using any browser extensions. But in case you prefer Mozilla Firefox or Google Chrome, Bitdefender is a great security choice, and its also among the top 3, even with Microsoft Edge.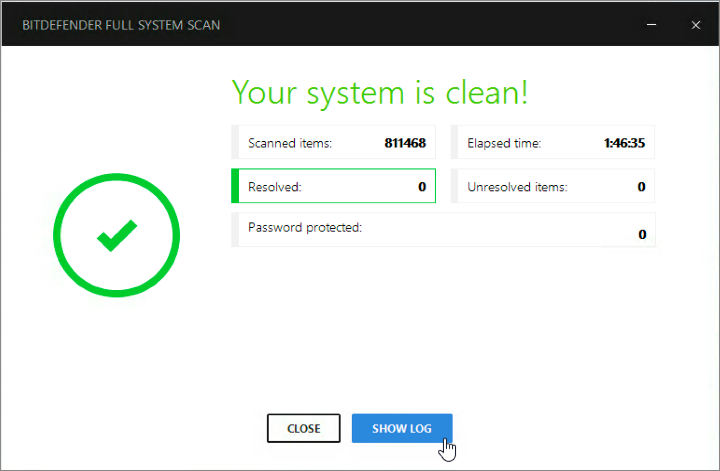 Bitdefender Internet Security 2019 offers more features than most of the existing computer protection programs, and comes with a minimum of three user licenses, making Bitdefender a great choice for computer protection. It alerts users about threats on social media and scans removable media to block malware entering through USB devices. There's also a gamer mode/silent mode that postpones any full scans or pop-up notifications, allowing you to finish watching a video or a gaming session with no interruptions.
On the downside, Bitdefender usually takes longer than other programs to fully scan computers. While other security solutions finish in less than five minutes, Bitdefender usually takes around 20 minutes to do the same. But it's not entirely bad; a more thorough malware search means better protection, even when costing users more time. Honestly speaking, who wouldn't prefer extra security for just a few more minutes of waiting?
Bitdefender Internet Security also doesn't back up your computer information online. Your best option is to create a bootable rescue CD to manually reset and rescue your system after a virus attack, sadly without any guarantees that all your files be will restored as they were before the security breach. Upgrading to Bitdefender Total Security offers users the possibility to back up 2GB of data online; which is enough to save around 300,000 average-size files.
It's important to note that Bitdefender Internet Security 2019 doesn't offer any protection to mobile devices, while upgrading the solution to Bitdefender Total Security 2019 provides this feature. Even so, the mobile security solution is somewhat limited if you need to protect iOS devices. You will have to download a separate program to your mobile device; and there are different versions available, both for Android and iOS. Also, the iOS security solution offers less tools than the Android version. While Android phones and tablets get web protection, account privacy, battery saver, anti-theft, app lock and a VPN, the current security solution available for iPhone and iPad just offers anti-theft, account privacy and a VPN.
Still, Bitdefender Internet Security is one of the best internet security suites, having earned a perfect score for overall malware protection. It includes a personal firewall and social media protections, as well as parental controls that help parents keep their kids safe online. While Bitdefender Internet Security 2019 doesn't offer online backup services or mobile protection, both features come with Bitdefender Total Security for a slightly higher price. If you're interested in purchasing Bitdefender Internet Security 2019, it's currently discounted, priced at $35. In case you want to know more about any of the other available bitdefender security solutions, visit their website here.