A memory card reader or USB card reader is a small USB plug-and-play device for reading, copying and backing up the data on any portable flash memory card such as a CompactFlash (CF), Secure Digital (SD), MultiMediaCard (MMC), MiniSD, MicroSD, SIM or others that are used in a wide variety of consumer electronics products. Most card readers also offer write capability, and together with the card, this can function as a pen drive.
While it might be hard to "put new USB hubs under the spotlight" when they're easily found everywhere, Sony has released an indispensable solution made for pro photographers. The company just announced its new MRW-W3 hub, stating this is the "world's fastest" UHS-II SD (and microSD) card reader, able to support read rates up to 300MB/s. Whether or not it lives up to the company's claim, it should easily be able to transfer your camera's huge picture files and 4K videos. But that's not all. This isn't a one-trick pony solution, since the device is also able to handle many other needs while users are on the road.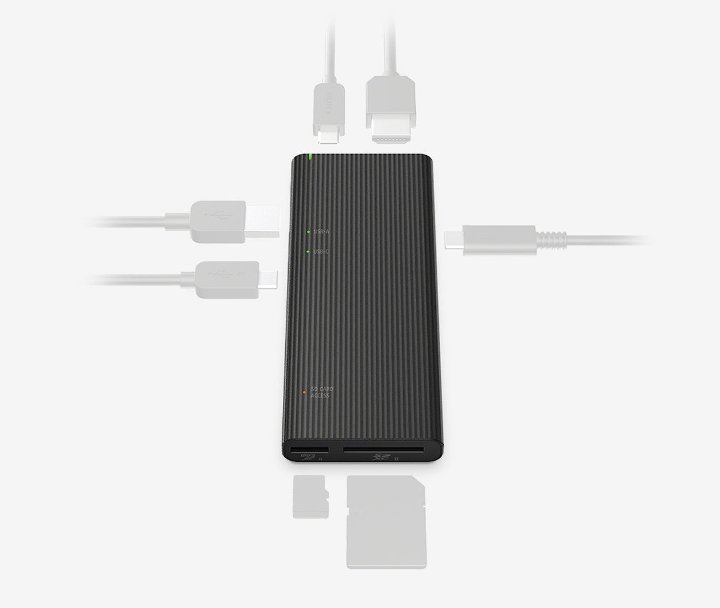 The hub supports 100W power delivery, proving able to handle monitors or any other particularly demanding peripherals. In terms of connectivity, it's very versatile with its USB-C and USB-A connectors, easily connecting to new or old devices. And there's also a HDMI output for video up to 4K at 30 frames per second. The case itself is resilient, featuring an aluminum "wave" design that improves grip and reduces scratches, while also rated at IP68 dust and water resistance.
Sony's MRW-W3 hub release date is not yet announced, but the company's innovative solution should be available sometime in the Fall alongside the new SF-M Tough SD cards (in 64GB, 128GB and 256GB capacities), which will be able to take advantage of the hub's speeds. It's set price was also not announced yet, but in case you own any high-end mirrorless or DSLR camera that puts hard demand on even the fastest card readers, the price of the USB hub won't be concerning.