Smartwatches are essentially meant to shortcut the amount of times we glance at our phone. If you haven't used a smartwatch before, this is a great time try one out. Kospet is a high-end smartwatch brand that's committed to become the best of the best. Recently, the company released an improved version of its Optimus Smartwatch with a lot more functionalities.
The body of the new Optimus Pro Smartwatch resembles the earlier model and is made from a combination of ceramic and metal material. It features slim bezels and highly flexible bands that can be easily changed. The bands are available in four different colors – leather black, silicone black, brown and metallic – all measuring 0.94 inches. The dial features a round shape and offers great visibility, but it's only available in one color – matte black. The Kospet Optimus Pro AMOLED screen, which is 1.39 inches, offers a resolution of 454 x 454 pixels with 372 PPI, and features touch screen functionality. The smartwatch is both durable and scratch proof.
Regarding its controls, on the right side of the display you will find a couple of buttons to turn the watch On/Off and control its functionalities. On the back side of the dial, there's a SIM card slot, a heart rate monitor and magnetic contacts. It supports IP67 waterproof and can be immersed in 39.7 inches of water without flow for more than 30 minutes, making it also resistant to heavy rain.
The Optimus Pro is equipped with an 8.0MP camera that's able to capture high-quality pictures, making this watch a great companion to have around during special moments.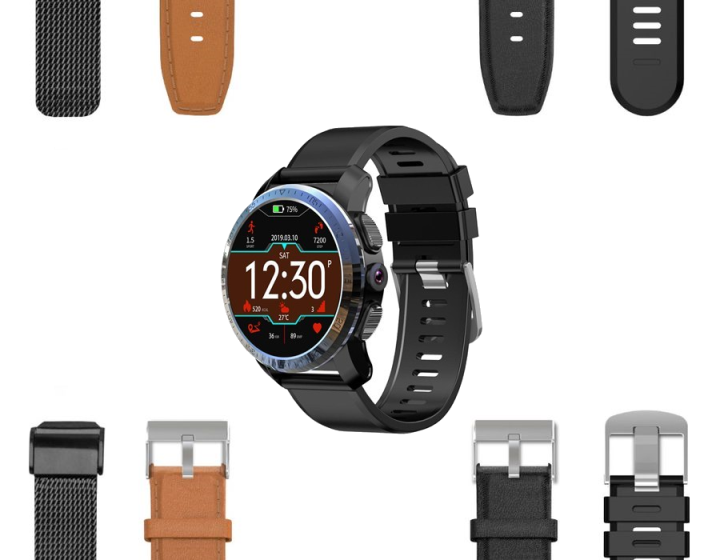 Regarding its battery, the Optimus Pro comes with an 800 mAh Lithium polymer battery. Fully charging it only takes one hour, making it able to run for 2-3 days without any performance issues, or around 7 days in standby mode.
Its two different processors allow users to switch between two modes: Smart Watch Mode and Persistent Mode. Its MTK6739 1.25 GHz processor is used to run any apps while its NRF52840 processor takes care of simple data processing for functions such as time display. Its sports management App lets you track your heart rate, calories, and record your entire traveled distance. The Kospet Optimus Pro features 3GB of RAM and 32GB of ROM. It supports Android smartphones and allows users to download their favorite apps from Google Play Store. It's also compatible with many third-party apps, without showing any performance issues.
To connect the smartwatch to a smartphones, users just need to install the WiiWatch 2 app by scanning a specific QR code, and then simply turn on Bluetooth on both the smartwatch and the smartphone. Lastly, by using WeChat, you can connect the devices. The Optimus Pro can also be connected to Bluetooth earphones; it's very useful for people that receive a lot of phone calls or that usually listen to music.
The Kospet Optimus Pro Smartwatch offers an ultra-modern look, making it great for both formal and casual occasions. The Optimus Pro also offers numerous face settings via download, giving it tons of looks. It's currently priced at $160. You can find it here.