Technology never ceases to surprise us. When talking about a water leak detector, one would expect that it would do exactly what its name states: It should alert users about any bursts or leaks occurring on any pipe, toilet, appliance, or water heater, allowing for users to take action before the situation gets out of hand.
Sencentric is a company that provides simplified environmental monitoring. Last year, the company released its water leak detector called SimpleSENCE. However, it does lack some features that are found on other water sensors, like an extension cable for leak detection or tie-ins with more comprehensive smart home systems. The small ergonomic size of the SimpleSENCE detector with wrap-around water sensors allows for optimal placement in any leak-prone area. Despite its small size, the device isn't wall-mountable and there's no water-sensing cord to increase the area of detection around tight spaces, like underneath a refrigerator or washing machine.
Since SimpleSENCE connects to your phone over Wi-Fi, it doesn't need a separate personal area network hub to connect to in order to send out alerts. Hub-based sensors are usually a bit cheaper, but if you only have one or two sensors and don't need a hub for other smart home devices, you'll be better off by just skipping the hub.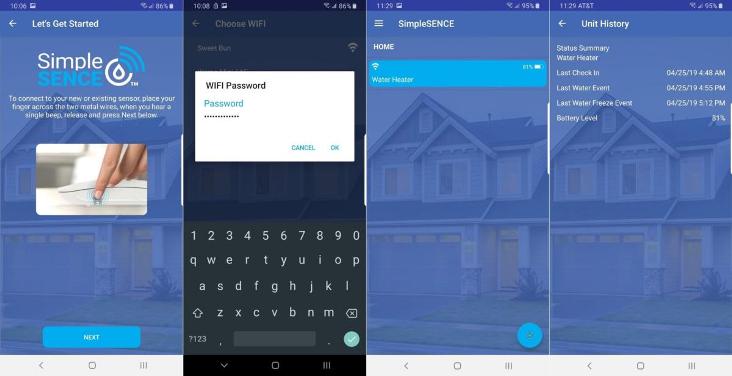 To set up the SimpleSENCE, you must download its app for Android or iOS. Then, just hold your finger over the two metal contacts on the side of the sensor and use the app to enter your Wi-Fi credentials.
After setting up the sensor, users can monitor battery life (that lasts around 2 years on AAA batteries, according to the company), view the most recent water leak or freeze events, assign the sensor to a different location (allowing you to know which room is having problems), and set up alerts for additional contacts. While the app only shows the most recent leak event instead of showing a full history of them, you can still check your email or SMS history for all past occurrences.
If any leak events occur, SimpleSENCE's siren goes off within 15 seconds, while also sending an alert via both email and text message. While the device's battery life lasts for around 2 years, users will also receive a low-battery power notification on their smartphones if the water leak detector's battery is starting to become low. SimpleSENCE's siren can reach around 75dB, making it only audible if users are on the same floor, so they'll need to rely on SMS and email alerts. The app also sends an alert whenever the sensor loses Wi-Fi connectivity.
The SimpleSENCE is also equipped with a temperature sensor that monitors ambient temperatures, especially in cold weather areas that are prone to bursting pipes, but users won't get any temperature readings on the app. Instead, the device will send an alert when it detects a temperature lower than 34 degrees Fahrenheit. However, SimpleSENCE doesn't measure humidity levels, meaning you won't be able to fully monitor these to help avoid the growth of mold.
SimpleSENCE also doesn't connect to IFTTT (for additional smart home automations) like some other water leak detectors do, so you can't create chains of simple conditional statements, known as applets. This means that SimpleSENCE doesn't work with any other smart home services, so users can't program the device to trigger a phone call, blink or change the color of their home's smart bulbs, or sound an external siren when a leak occurs. Sencentric assures it plans to integrate the device with other smart home platforms in the future. Lastly, it's important to note that SimpleSense does not connect with smart water valves to shut off the water supply in case of an emergency.
Since SimpleSENCE's misses on a few of extra features, but it is a decent an affordable solution on the market. It's usually sold for $70, but it's currently discounted, going for $56. You can find it here.