All the digital music you listen to, whether it's downloaded or comes from popular streaming services can sound incredibly alive, spirited and dramatic, when compared to the flat and lifeless sound you get directly from a PC. But in order to play your music at a whole other level, you'll need a USB DAC.
A USB DAC converts digital audio signals from the computer to analog signals for the amplifiers and speakers. Although an analog connection can be made via the outputs on the computer's sound card, purists maintain that external USB DACs provide superior conversion and better sound quality. One of the latest USB DACs to be released comes from Henry Audio. This little box makes your soundtracks sound much more alive than you have ever heard them before.
The Henry Audio USB DAC 128 Mk 3 is a small unit, featuring a somewhat sturdy chassis. It's equipped with four rubber feet that help it stay in place, so you can have it stand wherever you prefer. Despite the fact that it isn't exactly pretty with its not-so-stylish look, the sound it offers is extremely energetic and rhythmic, and the resolution is decent. The front only holds the model names (on the bottom left) the logo (on the middle) and a power LED (on the bottom right). And within this price range, there are few competitors to Henry Audio. If you're among those who prefer to listen to their music on a PC, then this USB DAC is made for you, since it rejects the internal sound card, translating the digital zeros and ones to analog audio with great accuracy.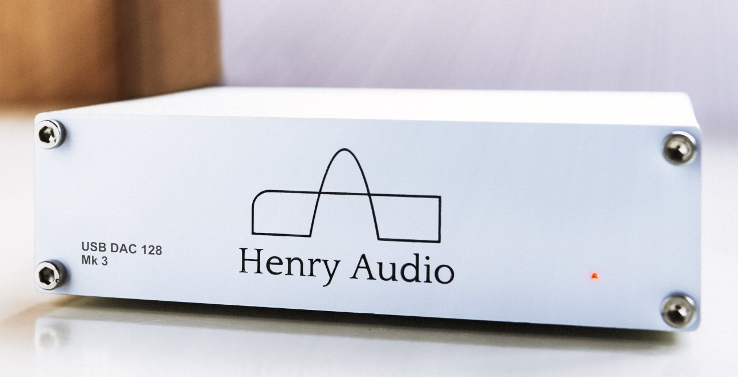 In terms of features, there are only a couple of things to point out. The rear has a type B-USB Input, buttons for Programming and Resetting the device, and two standard Stereo Analogue Output (Right-Red/Left-White) on RCA, which connect to an amplifier or headphone amplifier. This DAC is specifically designed to bridge the gap between your computer and stereo amplifier. It's also possible to connect an iPhone or iPad to it, but users might need some extra cables and adapters, depending on the inputs/outputs of the devices. The Henry Audio USB DAC 128 Mk 3 is upgraded from its predecessors that used a micro USB connection, meaning the PC is now connected to it via a standard USB cable, which also feeds the audio converter with power.
The DAC features an asynchronous design, meaning that as soon as the USB connection is made, the DAC takes over the responsibility for timing from the noisier, less accurate clock in your computer, making the DAC's clock the one to be used. This offers a massive difference to the sound quality. The Henry Audio USB DAC 128 Mk 3 works with asynchronous USB Audio Class 1 and 2, and supports sample rates up to 192kHz.

There is little doubt that the DAC 128 Mk 3 has become even better. While its predecessor (MK II) is already very good and well-balanced in the sound, the Mk 3 sounds even better. The music has outstanding rhythm, completely changing the atmosphere of the room.
If you are using PC or Mac to play your soundtracks and want to get great sound at a reasonable price, consider getting the Henry Audio USB DAC 128 Mk 3. The sound is extremely rhythmic, plays at good resolution, and is infinitely better than the computer's built-in audio output. Henry Audio's little USB DAC 128 Mk 3 is created by music lovers with one goal in ear; to make it as easy and affordable as possible to give you a HiFi sound quality, which is outstanding.
If you're interested in getting your hands on the Henry Audio USB DAC 128 Mk 3, it is currently priced at $300. You can find it available on Henry Audio's official website, on this page.