Pure Daily Care promotes natural beauty by combining the most modern technologies into easy-to-use, at-home products. Pure Daily Care technologies harness the healing power of naturally occurring phenomena like steam, electricity, and light, drastically improving your skin profile without the use of cosmetics. With the Pure Daily Care Aromatherapy Ultrasonic Diffuser with Essential Oils you can harness the healing power of nature. This set (Pure Daily Care's Ultimate Aromatherapy Bundle) comes with a decorative ultrasonic diffuser and 20 essential plant oils made from real plants.
The ultrasonic diffuser measures 15 inches long by 10 inches wide by 9 inches tall, featuring a water capacity of 400 ml. Its decorative printed wood grain design matches well with most decor styles. There's also an integrated LED light within its wood grain design, adding a soft glow and a soothing ambience to any space. This LED light features Customizable Ambient Light Modes for your relaxation, so users can choose from 7 different ambient light modes with two intensity settings, ultimately offering 14 different light combinations.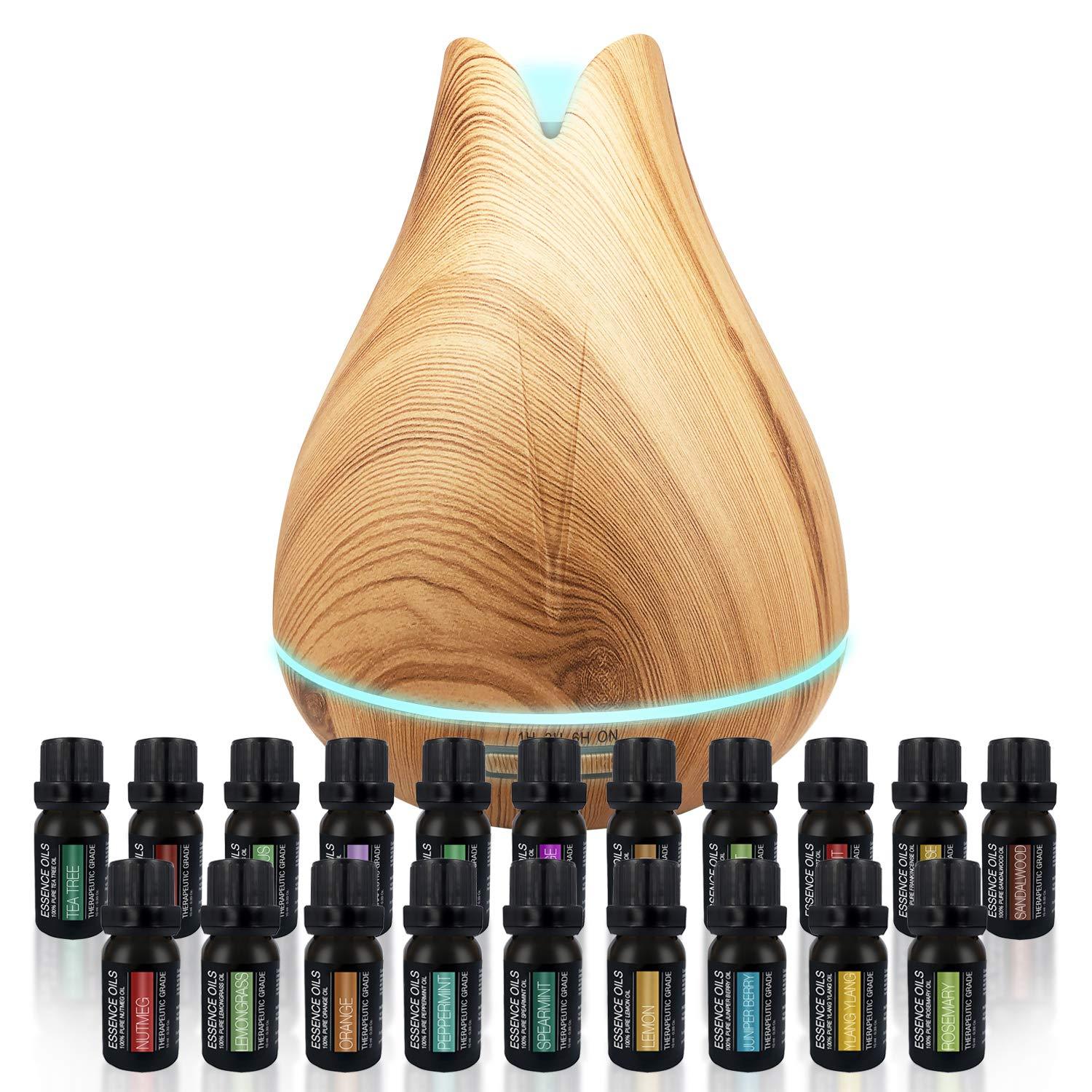 The ultrasonic diffuser purifies and moistens the surrounding air by instantly atomizing water and oil molecules, making it easier and healthier to breathe for up to 12 full hours. Users can choose between various built-in timer and mist settings, featuring 4 timer settings for customized operation. The ultrasonic diffuser comes equipped with an Auto Shutoff Sensor, capable of automatically powering the device down when the water level is too low. The ultrasonic diffuser features a BPA-free (bisphenol – found in polycarbonate plastics and epoxy resins) construction.
The ultrasonic diffuser comes with 20 essential plant oils, and each one contains 10 ml of natural plant oil. These essential oils are made from high-quality natural plants, straight from local harvests. They're made from whole leaves, stalks, and roots, with no added fillers or additives. All of these oil blends are used to promote relaxation. The included 20 essential plant oils are diverse, and all responsibly sourced from around the world, including different fragrances like: lavender, eucalyptus, tea tree, orange, peppermint, lemongrass, jasmine, nutmeg, clove, spearmint, frankincense, cinnamon, lemon, sandalwood, ylang-ylang, clary sage, grapefruit, bergamot, rosemary, and juniper berry.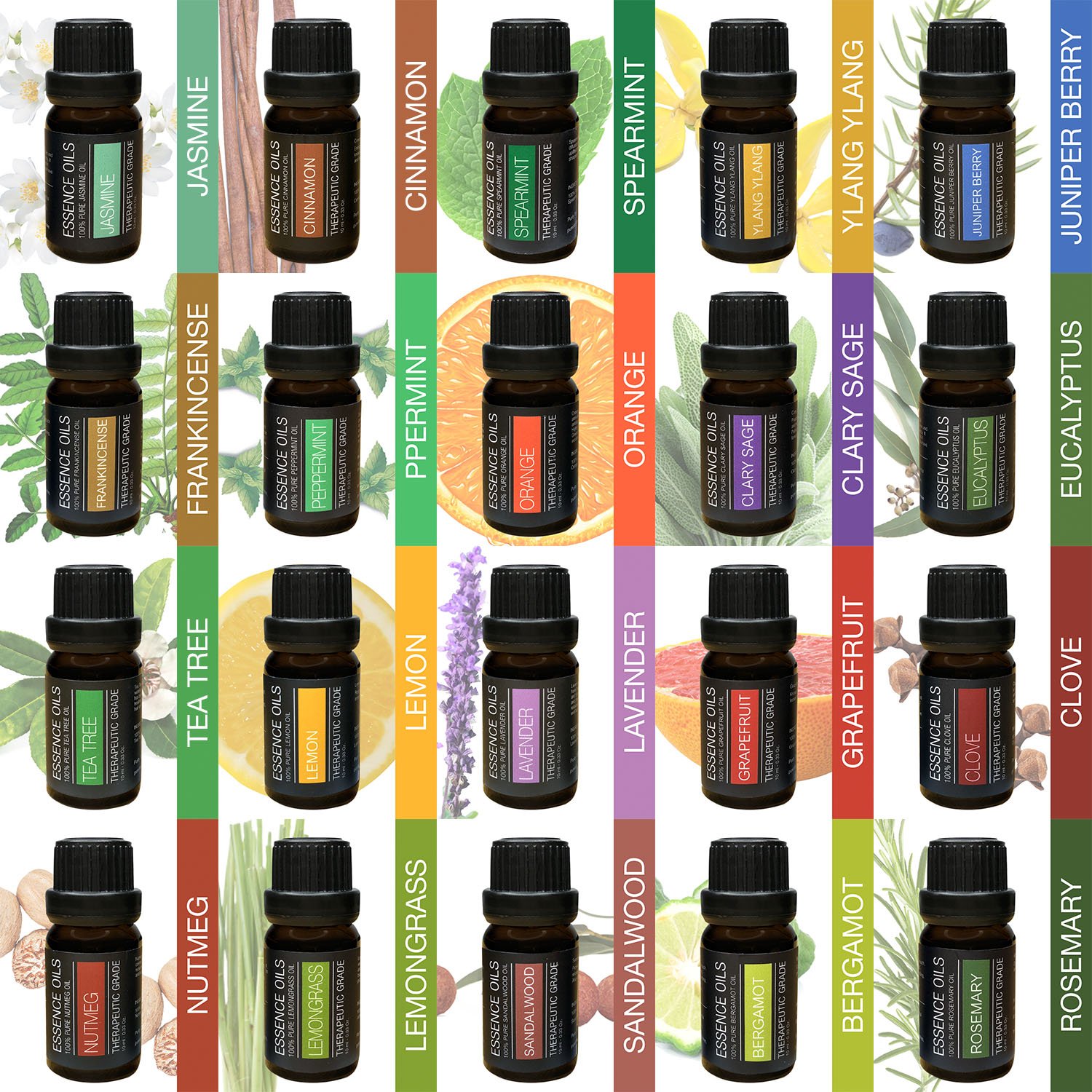 The 20 essential plant oils provide users a wide range of natural therapeutic effects. The Sandalwood Oil helps to promote relaxation and mental clarity. The Lavender Oil helps users achieve a deeper and more restful sleep. With a citrus blend of Lemon, Orange and Grapefruit Oils users can boost their energy. Tea Tree Oil helps to improve immunity. Both Spearmint and Peppermint Oils help users to enhance respiration. And these are just some examples; there are other oils that offer different benefits.
With Pure Daily Care's Ultimate Aromatherapy Bundle (1 Ultrasonic Diffuser + 20 Essential Oils) users can melt their stress away. This little device can make a huge difference in your life. It helps you feel more relaxed, all the time. It's the perfect gadget for anyone that suffers from night terrors, helping them to sleep through the entire night, with no bad dreams at all. That's the amazing power of aromatherapy.
If you're looking to get Pure Daily Care's Ultimate Aromatherapy Bundle, that comes with 1 Ultrasonic Diffuser + 20 Essential Oils, it's currently available for $49. You can find it at Pure Daily Care's official website, by clicking here.