If you're all about vaporizers and vaping, you might be interested in the Dr. Dabber SWITCH Vaporizer, the next generation of vaporizer.
This state-of-the-art vaporizer utilizes patent pending induction heating technology as a clever solution to many of the most common issues affecting conduction vaporizers. The Dr. Dabber SWITCH Vaporizer delivers unparalleled performance with absolutely no compromise, all thanks to its extended battery life and multiple functionalities.
Its incredible efficiency results in a stronger effect when compared to other vaporizers. Not only does it vaporize any dab in seconds, it produces amazing tasting vapor while doing so.
Dr. Dabber is a fast growing, dynamic vaporizer company based in Las Vegas, Nevada. Although Dr. Dabber is a young company (established 2013), they've quickly become one of the leaders in the vaporizer industry, with distributors in Canada, UK, Netherlands, Switzerland, Germany and South Africa.
Now, let's take a detailed look at the Dr. Dabber SWITCH Vaporizer.
Specs of Dr. Dabber SWITCH Vaporizer

Design
The SWITCH Vaporizer features a stylish design, coming with a quality tactile satin finish. The device is 10 inches tall without its bubbler attached and 13 inches when the bubbler is connected to it, making it bigger than most water bottles. But that doesn't make it an unwieldy device, since its hourglass shape and a rubberized finish make it very easy to grip.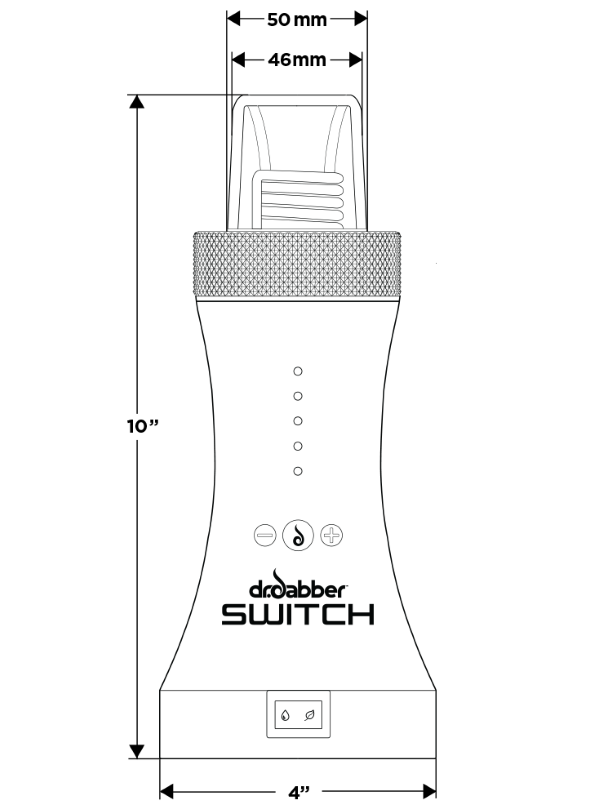 And you have nothing to worry about regarding the SWITCH's size. While it's obvious that the vaporizer is quite large, it's also fairly light, somewhat comparable to the weight of a larger high-quality glass water pipe.
Its base measures 4 inches in diameter, and the glass top (where the percolator attachment is placed – more on that later) measures between 1.81 to 1.96 inches in diameter (where the heating coil for the heating cycles is integrated).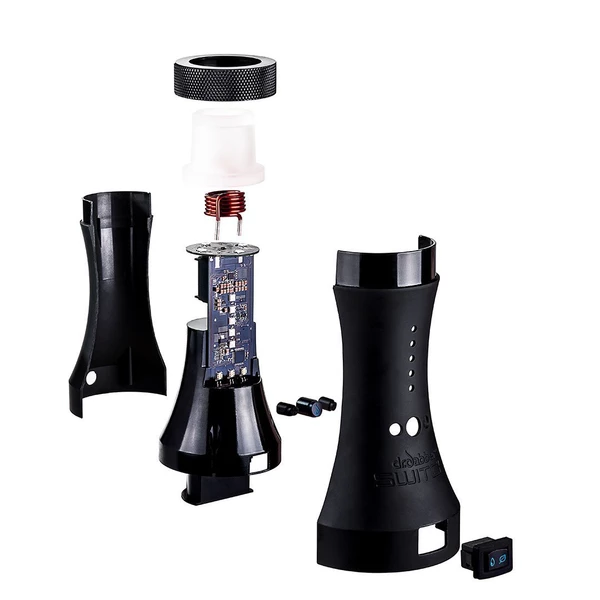 The Vaporizer also features a solid foundation and offers its users a simple and intuitive interface.
Technical Specs
The device is capable of offering an output power up to 120 watts, and featuring 64kb of memory. The vaporizer also features over-voltage, over-current, under-voltage, over-temperature, short-circuit, and reverse-polarity protection, all built into the unit.
Battery Life
The SWITCH offers up to 150 uses when it's fully-charged and recharging it only takes around 60 minutes. The SWITCH even comes equipped with pass through charging (when a power bank can charge itself and other devices at the same time), and this is one of its best features, making it ready to be used whenever you are.
The device comes equipped with a robust charging port (found at the back of the device) & connectors.
WHAT'S IN THE BOX?
The SWITCH comes inside a beautiful sturdy box that's equipped with an handle located at the top, containing every tool and accessory needed, making it ready to go as soon as you get it out of the box.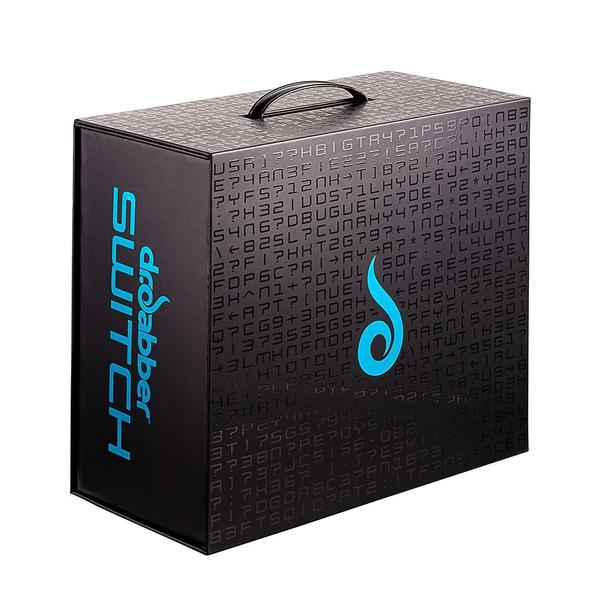 Inside the box users will find: one White Ceramic (for Oil) and one Black Ceramic (for Leaves/Flower – grinded Cannabis) Precision Heating Induction Cups, a Dab Tool/Carb Cap, a Silicone Wax Container, a pair of Reverse Action Tweezers, a Ceramic Flower Filter, and the Instruction Manual, which contains tons of information (pictures, diagrams, etc) to help users learn how to use the device.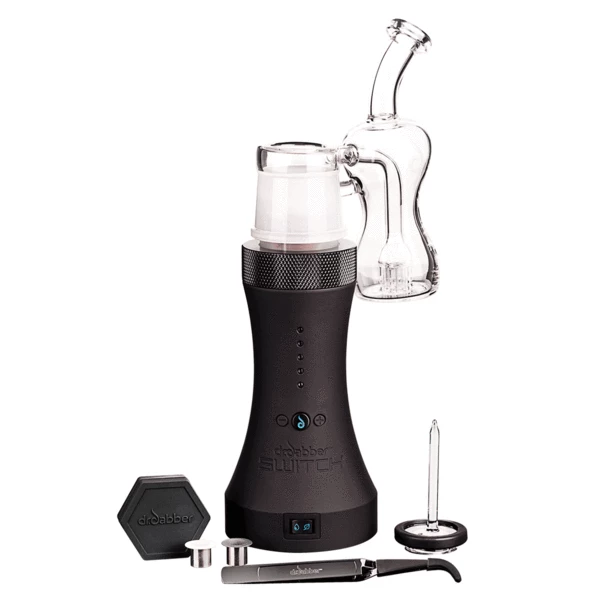 Both the White Ceramic and Black Precision Heating Induction Cups are made of titanium, making them capable of working with induction heating, but they're also coated with ceramic, making them great to preserve the high temperature.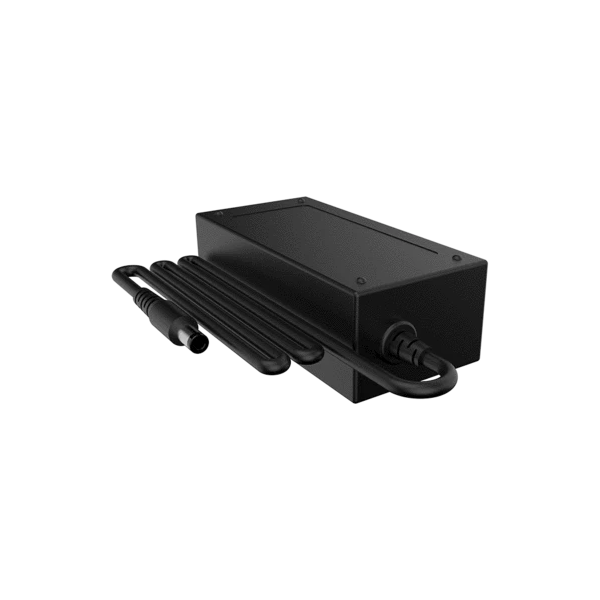 The SWITCH also comes with a 50mm Ground Glass Percolator Attachment, displaying a beautiful hourglass profile, made of heavy-duty borosilicate, and an included power adapter that plugs into any wall power socket.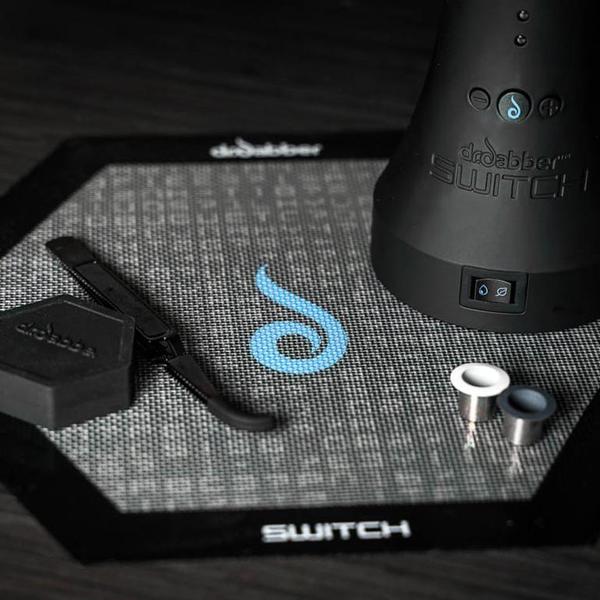 HOW TO USE THE SWITCH FOR OIL AND FLOWER?
The Dr. Dabber SWITCH Vaporizer is "The Next-Level" Vaporizer. The video embedded below will guide you through each and every step on how to use the SWITCH for Oil and Flower.
VAPOR QUALITY
Thanks to its induction heating technology (4-6 seconds on lower temperature settings/12 seconds on higher settings), the SWITCH is significantly faster than any other non-induction concentrate vaporizer.
Vapor Quality with Wax
If you're assuming that an advanced extract vaporizer like the SWITCH would produce some seriously good vapor, you are certainly right, and the SWITCH will 100% meet your expectations. This is a premium quality product, and while the price tag is high, you're getting every bit of what you're paying for.  Regarding its vapor quality, when using wax, both the flavor and aroma are excellent, especially with the SWITCH's lower, flavor-optimized settings.
Vapor Quality with Dry Herb
Regarding its Dry Herb vapor quality, the SWITCH is bound to get mixed opinions, mainly because the device can't flawlessly match the best dry herb vapes. When using dry herb, the vapor quality the SWITCH produces is just decent, but nothing mind-blowing either. It's also safe to say that anyone who's mainly focused on dry herb vaping won't be too impressed, but people that have never used a weed vape before might be completely delighted.
Taking all that into account, it's suggested that you stick to concentrates when using the SWITCH.
Also, it's important to note that while the lower temperature settings definitely work with wax, the higher settings are better for cloud production. The vapor may not be as flavorful on higher temperature settings, but the water bubbler guarantees that the vapor doesn't become too hot or harsh, keeping it cool no matter the temperature.
CLEANING AND MAINTENANCE
While the SWITCH isn't difficult to clean, it will definitely take you a decent amount of time if you want the job well done, mainly because it comes with so many different attachments. But that's not necessarily a bad thing, since more attachments directly translate to more features.
Starting with the device itself, its glass attachments, filters and induction cups, all these can be easily cleaned with cotton swabs soaked in isopropyl alcohol (commonly known as rubbing alcohol). Remember to let both the device and all of its attachments cool off before cleaning them, as well as letting them dry properly before using them again after you're done.
The SWITCH also features a self-cleaning cycle, allowing you to easily clean the ceramic nails. This can be used at any time that you find remaining stubborn residue in the induction cups. All you have to do is set the Switch to the highest setting using the plus button, wait for the maximum temperature to be reached, and continue holding down the button for an extra five seconds. The device will start its self-cleaning cycle, and you can stop it at any time by simply pressing the power button.
Keep in mind that this cycle should only be used to clean the ceramic nails and not the optional quartz one.
Features of Dr. Dabber SWITCH Vaporizer

Multiple Modes for Multiple Materials
The Dr. Dabber SWITCH features multiple modes for multiple materials, including: Leaf Mode, Oil Mode, Advanced Modes (25 settings for Oil & Leaf), and Crystal Mode (an additional accessory is required).
The White Ceramic Cup is used for oil and the Black Ceramic Cup is used for Leaves (these Precision Heating Induction Cups can are be seen in the sample video).
Insane Heating Speed & Customizable Hold Times
The SWITCH is capable of offering its users an insane heating speed, and just like its battery features, it's always ready for another go. The device features an average heat up time of just 4 to 6 seconds, making it insanely fast when compared to any other vaporizer on the market.
The SWITCH Vaporizer offers you extended periods of heat, making your heat-holding times last longer. This allows you to set whatever hold time works best for you.
Self-Cleaning Mode & Auto Cool Down Cycles:
The SWITCH also offers its users a Self-Cleaning Mode, which features a high energy heating cycle that easily burns away any remaining residue in the Ceramic Induction Cups.
The device also runs Auto Cool Down Cycles, meaning users will never have to worry about their device overheating. The SWITCH offers you peace of mind by automatically cooling itself down when needed, protecting its electronics and ultimately assuring an extended lifespan.
Standby Lighting:
Its Standby Lighting mode features 25 LED Light Show Options, as well as a Stealth Mode (no top lights). This mode really "brightens up" the mood in the room, pun intended.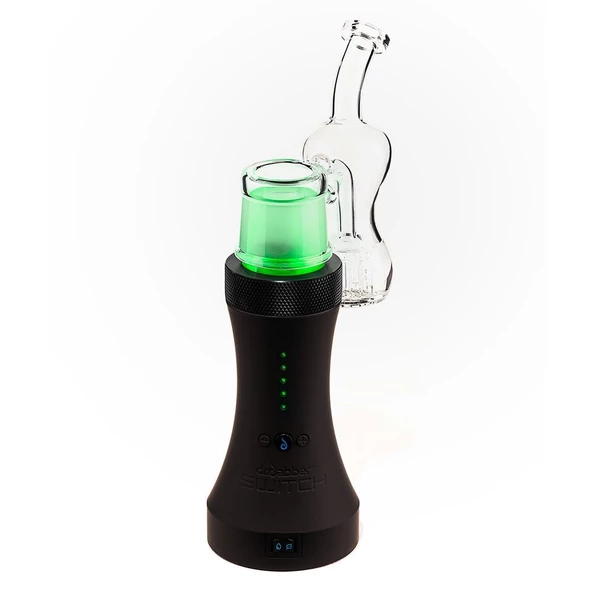 With Solid Green (seen in the picture), Solid Pink, Solid Purple, Solid Blue, Solid Red, and so much more, its Lighting Mode Settings are simply astonishing to look at.
FINAL THOUGHTS
The Dr. Dabber SWITCH Vaporizer features a lightning-fast heating speed that's simply not achievable by traditional convection and conduction vaporizers, plus it can even be used with CBD.
Induction heating certainly seems like the future trend regarding weed vaporizers, proving to be efficient while ensuring a proper vaporization of whatever product you pick.
Pair this functionality with its outstanding battery life, offering up to 150 uses on a single charge with only 60 minutes of charging needed to get a full charge, the SWITCH is the best vaporizer you'll find available.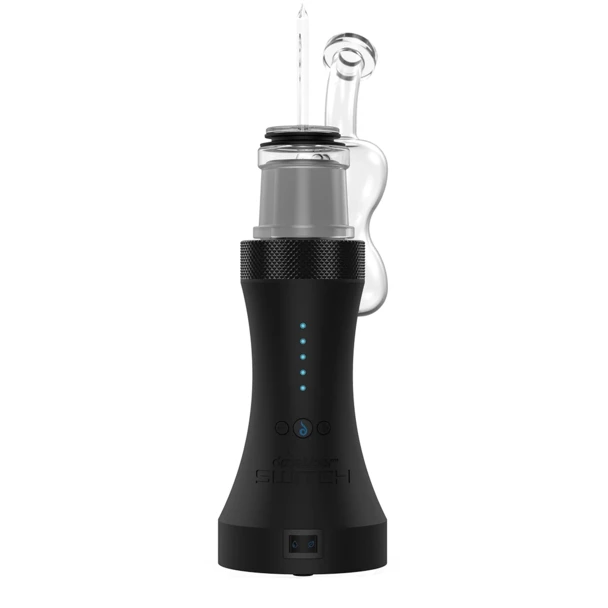 The Dr. Dabber SWITCH Vaporizer's Pass Through Charging makes it capable of endless desktop use. Its simple and intuitive interface makes the device a worthy investment, while its varying temperature profiles are suitable for both newbies and pros, ensuring that you always get the ultimate vaping experience.
Keep in mind that Dr. Dabber products should never be used as nicotine replacement therapy or as a smoking cessation product.
If you're looking to get your Dr. Dabber SWITCH Vaporizer, each unit is currently going for $400. Every electronic component, battery pack, charging cable and adapter is backed by a 2-year warranty. You can order your SWITCH Vaporizer online, directly from Dr. Dabber's official website, by accessing this page.