Dog "crate training" is the process of teaching a dog to accept a dog crate or cage as a familiar and safe location. Advocates of such pet gadgets claim that dogs are den-dwelling animals and that a crate can become a den substitute. If you're looking for a new dog crate for your dog, then you should take a look at what the Diggs Revol Dog Crate has to offer.
The Revol is an award-winning, collapsible dog crate that is easy to set up, transport and store. From getting it set up to cleaning it up, the Revol Dog Crate by Diggs is guaranteed to make your life simpler, safer and better looking.
Diggs is a Brooklyn-based company and a game-changing brand of pet products that challenges the status quo and aims to redefine the expectations of pet parents. The company is focused on developing the "very best pet products" possible, while also offering you a safe pet product that you know you can trust.
While crate training is key for puppies, it may also be a good choice when your pup isn't so little anymore. It creates an indoor escape for dogs and becomes their home within your home. However, standard dog crates are "ugly, hard to use, impossible to store and transport, and worst of all, they can be unsafe." That's where a product like the Revol Dog Crate truly shines.
Let's have a detailed look at the Diggs Revol Dog Crate, the safest dog crate available on the market.
DESIGNS & SPECS
The Revol Dog Crate is much more than a simple dog crate. Starting with its stylish and ergonomic design, the Revol is a beautiful collapsible dog crate that's extremely inviting for any dog, offering your pup a comfortable place to call his own.
The Revol Dog Crate features a sturdy build, making it both stronger and more durable than a standard wire crate, which means that it's built to last. The dog crate gets its sturdiness and durability from its incorporated premium materials, which are reinforced plastic and high-quality aluminum, but also integrates high-strength steel mesh wire for added flexibility.
This makes the crate fully equipped with everything necessary to keep your dog safely contained and out of harm's way. This way, you can give your dog a safe place to stay instead of having him sitting on your couch all day and risk having him chewing on your couch's cushions.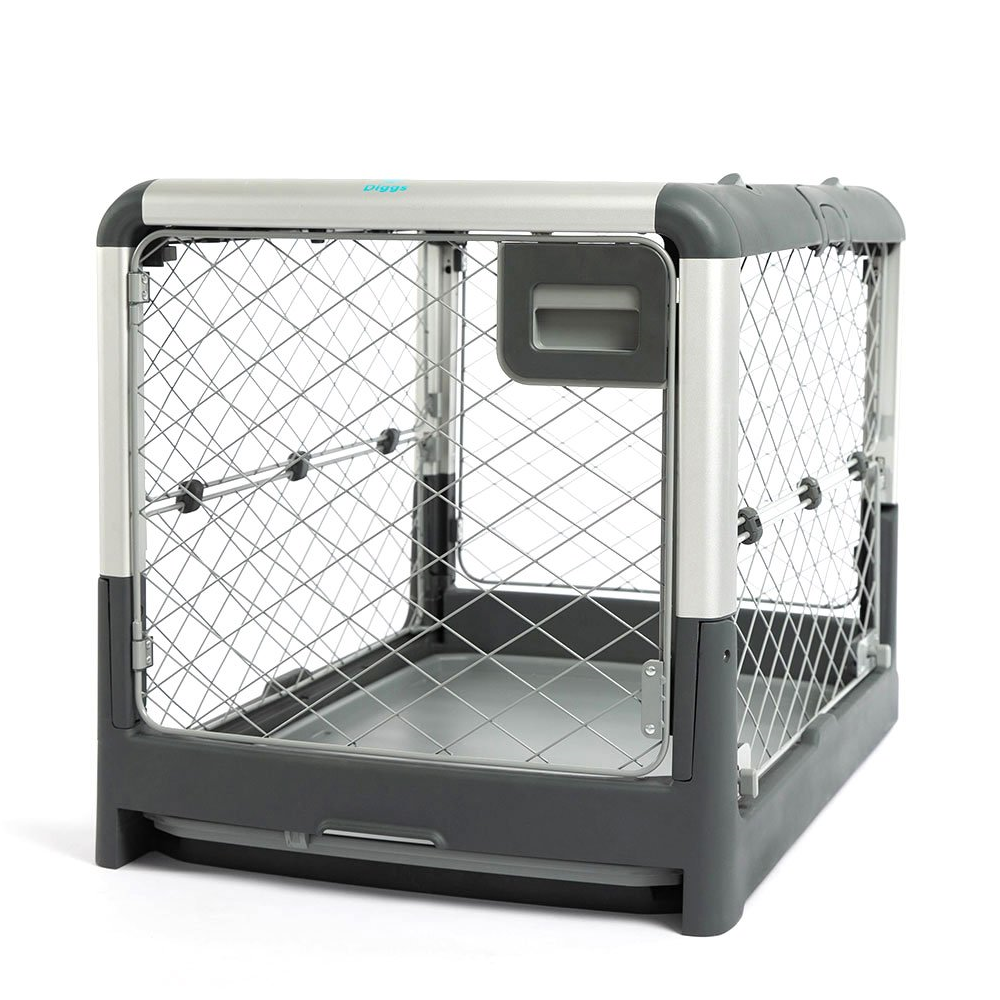 The Revol Collapsible Dog Crate comes equipped with two main doors and three access points (two on its ceiling hatch and one that works as a side-door), but something really nice about it is that it also comes equipped with strong wheels that allow for easy transportation. The Revol Dog Crate also comes with two ergonomically correct handles that allow for easy lifting and carrying, a puppy divider, and even a removable tray for easy cleaning.
FEATURES
Added Safety
The Revol features a safe design that prevents any injury to your dog's jaws and paws, making it completely safe for your furry friend to easily get in or out without ever getting hurt.
Not only that, but thanks to its easy-to-use door locks (located on the top right of the main doors), unique, diamond-shaped mesh pattern and solid, single-piece frame you also won't need to struggle or get hurt while opening the crate.
Ease of care
Thanks to all of its accessibility features (two doors & three access points) and puppy divider the Revol Dog Crate allows you to easily calm and treat your pup without them squirming through an open door.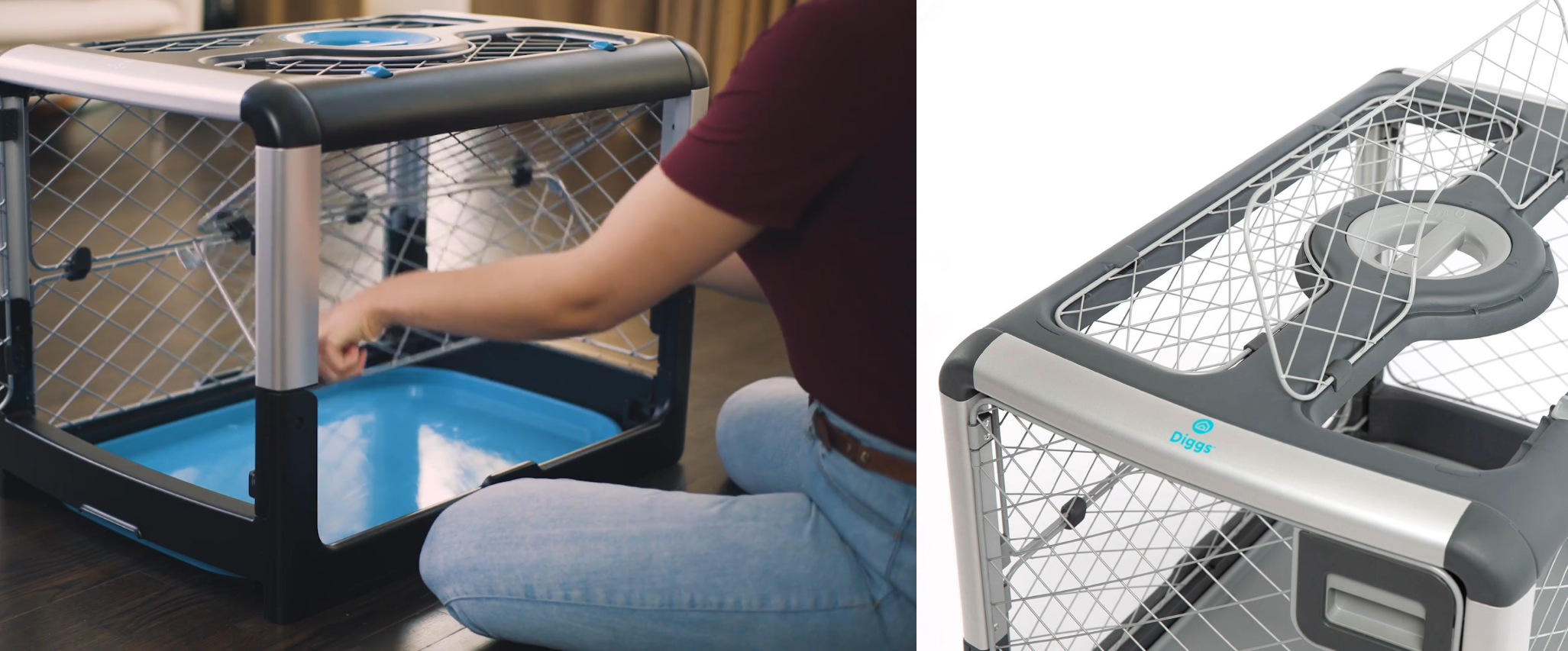 Fast Setup, Transportation & Storage
This is probably the best part about it. Since the Revol Dog Crate is, as said before, a collapsible dog crate, setting it up is also extremely easy.
Take a look at the picture embedded below to see just how quickly the Revol gets up on its feet and back down again to its collapsed form. In just a few seconds you can have a beautiful, stylish space that your dog can enjoy as his own.
If you ever need to move your Revol around, its lightweight and easy-to-collapse frame, two ergonomically correct handles and strong wheels allow you to do just that. This makes it extremely easy to move, toss it in your car's trunk or even store it away in a closet.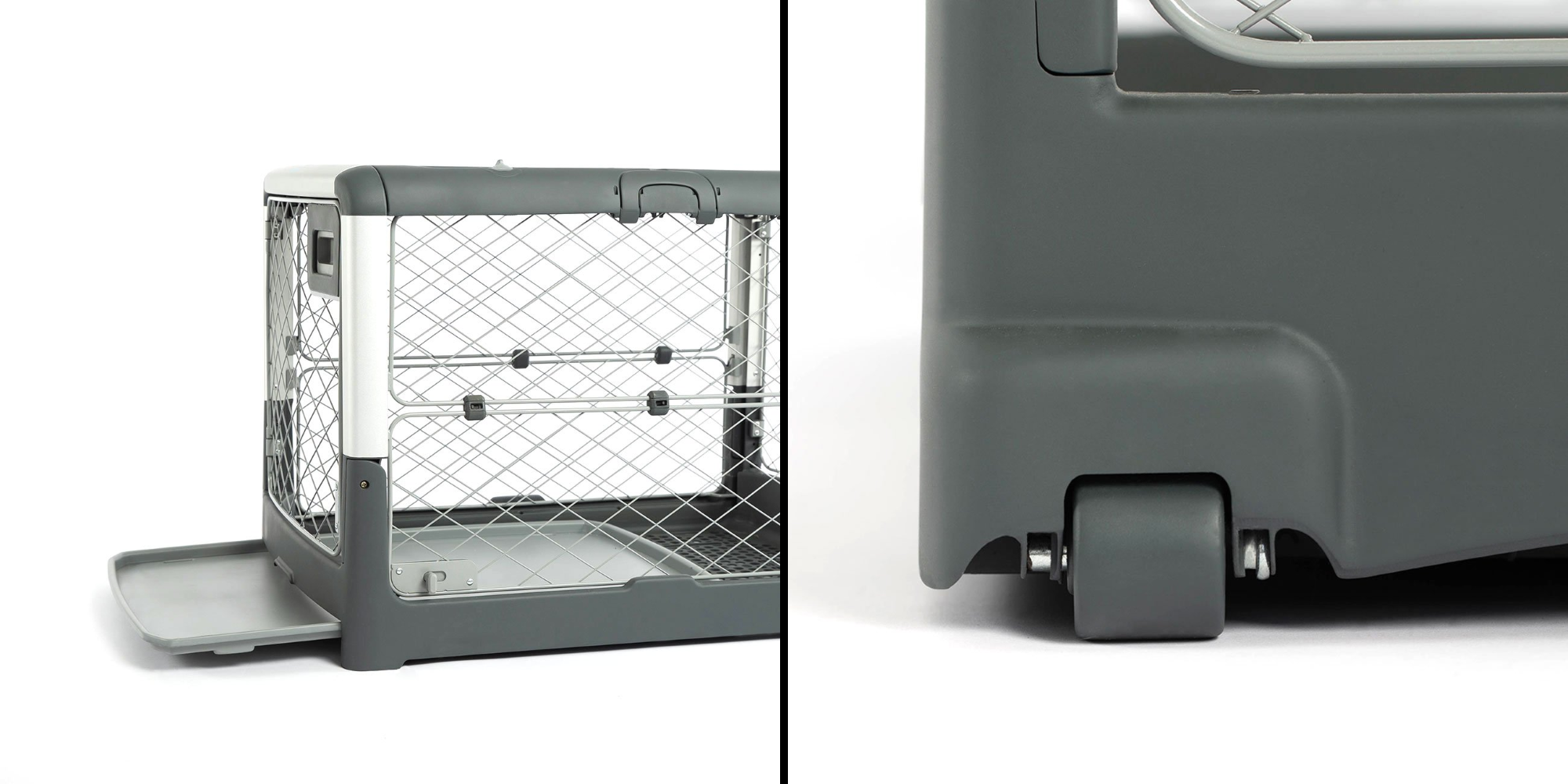 FINAL THOUGHTS
The Diggs Revol Dog Crate is simply the best dog crate that's currently available on the market. This collapsible dog crate is safe, durable and lightweight, ease to transport thanks to its wheels, and features an extremely fast setup.
Its design was inspired by baby industry quality standards, incorporating premium materials and ergonomic easy-to-use doors that make your life simpler and safer.
The Revol Dog Crate looks simple and stylish, extremely inviting, and will surely become your dog's new favorite spot.
"The Revol is designed to grow with your dog. From the potty-training phase to den-loving days, this is your dog's forever home. From crate to great, the Revol is everyone's new best friend."
The Revol Dog Crate is available in two different colors: Blue (temporarily out-of-stock), and Grey.
The Revol is available in three different sizes: Small, Medium, and Large (temporarily out-of-stock). Check the two pictures embedded below to go through both the Small and Medium size measurements (respectively).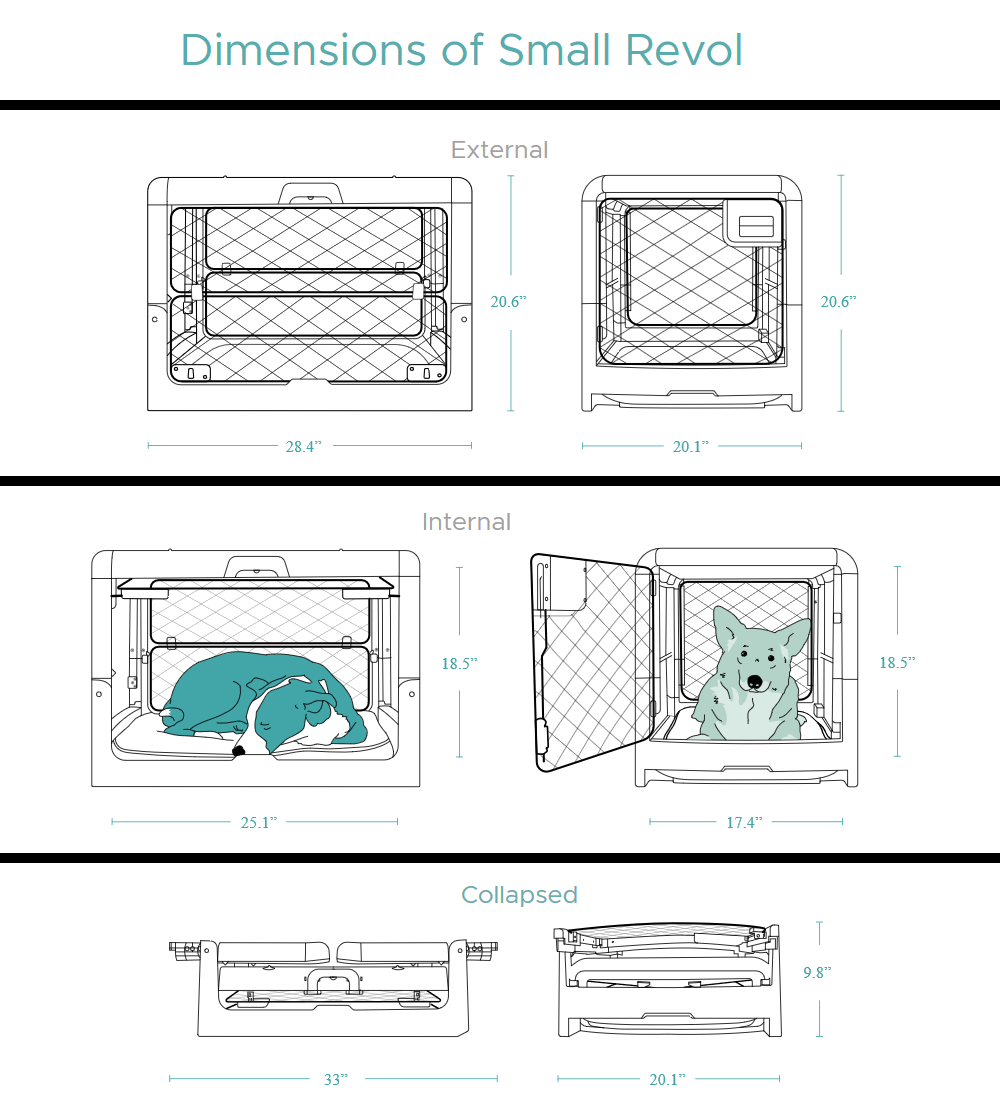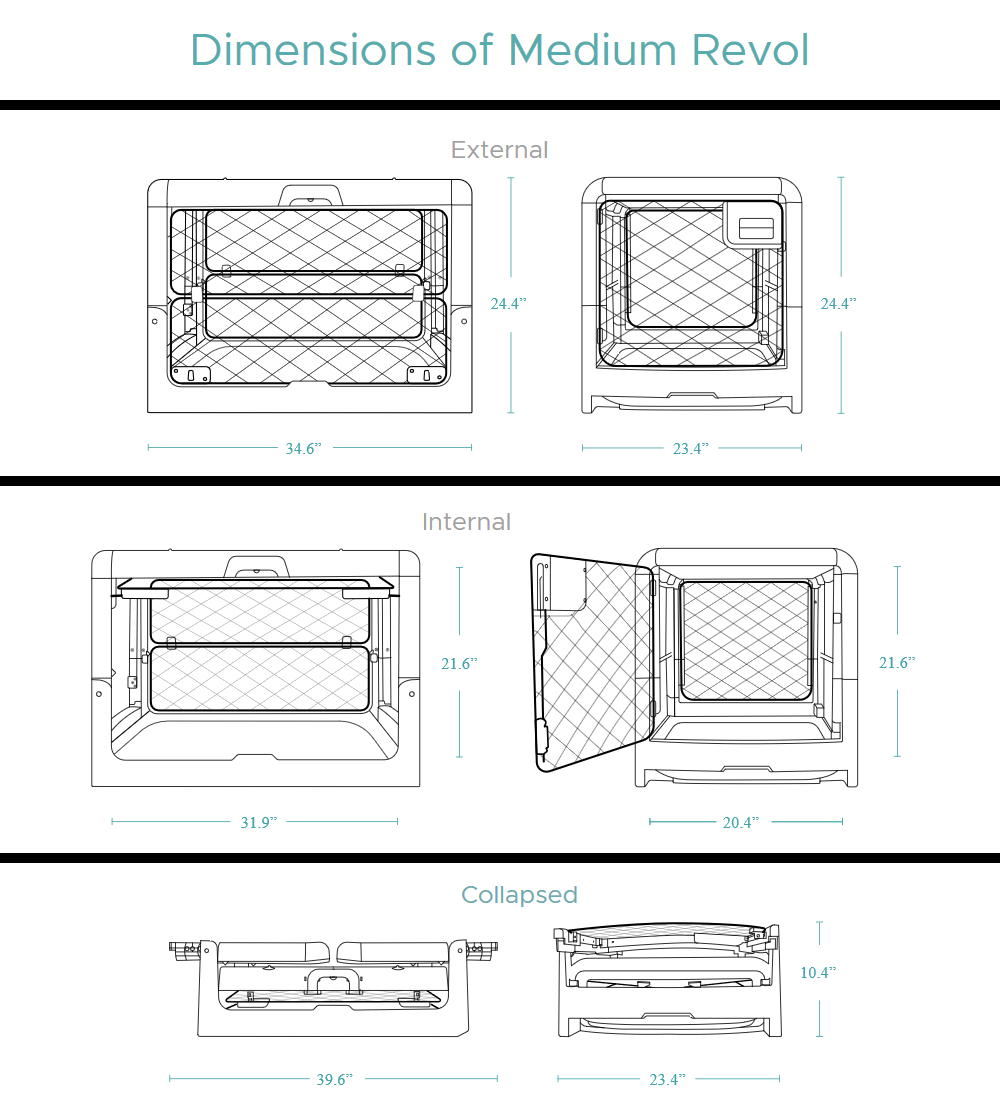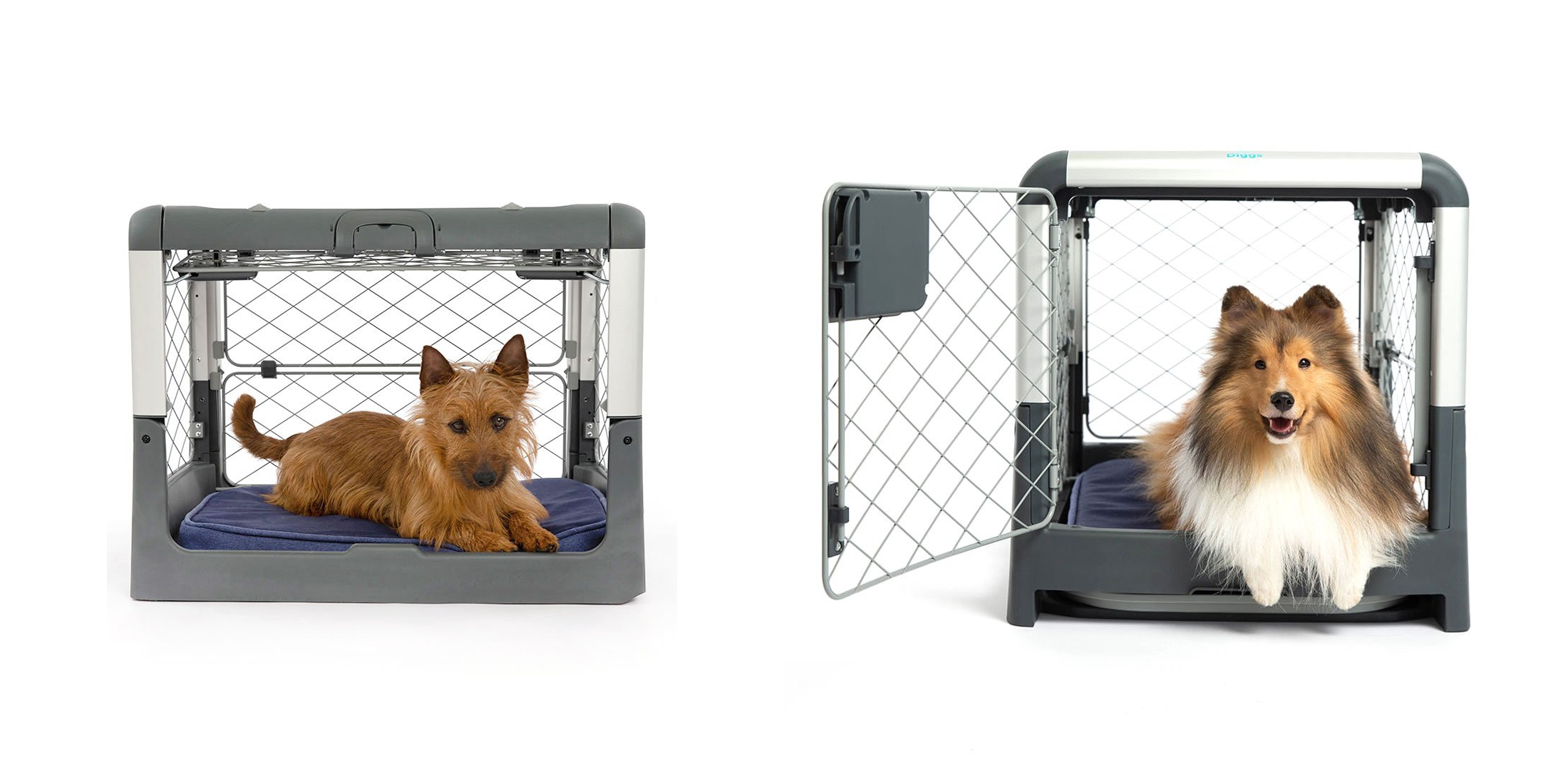 If you're interested in buying it, the Small Revol Dog Crate will cost you $245 each, while the Medium Revol Dog Crate is priced at $325 per unit. You can get one of those two sizes right now, directly from Diggs' official shopping page, which you can access by clicking this link.